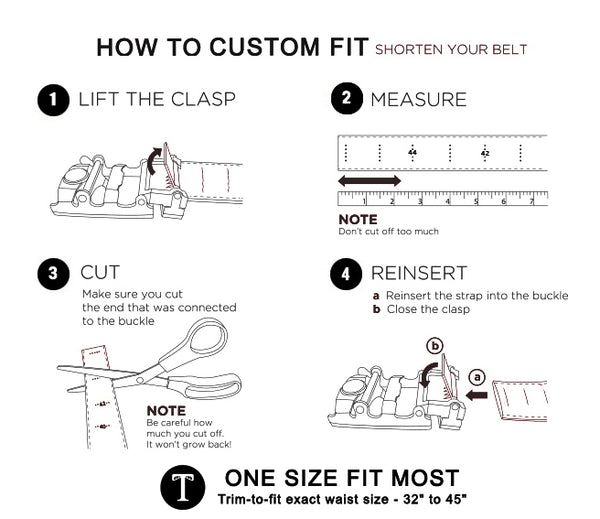 Watch a video tutorial at
 --------------------------------------------------------------------------------------------------------
Tonywell ratchet belt cut to the size guide
Step 1. Measure your waist using a measuring tape or a piece of string. Make sure the tape or string is snug around your waist, but not too tight. Note down the measurement in inches or centimeters.

Step 2. Add 1.5 inches (3.8 centimeters) to your waist measurement to allow for adjustments as it won't grow back!

Step 3. Mark the length on the back of the belt.

Step 4. Use sharp scissors or a utility knife to cut the belt along the marked line. Be sure to cut straight and use caution when handling sharp tools.

Step 5. Attach the buckle to the newly cut end of the belt. Make sure the belt is secure and the buckle is properly aligned.

Step 6. Try on the belt to ensure it fits comfortably. You may need to make additional adjustments if the belt is too loose or too tight.

By following these steps, you can easily cut a belt to the right size and enjoy a comfortable and stylish fit.
----------------------------------------------------------------------------------------------------------
Question:
What do you do if your Tonywell ratchet belt is too long?
How can I make my Tonywell ratchet belt shorter?
Can you shorten any Tonywell ratchet belt?
How long should I cut my Tonywell ratchet belt?
How to custom fit Tonywell ratchet belt?
---------------------------------------------------------------------------------------------------------
Support:
Mail to Tonywell customer service --- support@tonywell.com