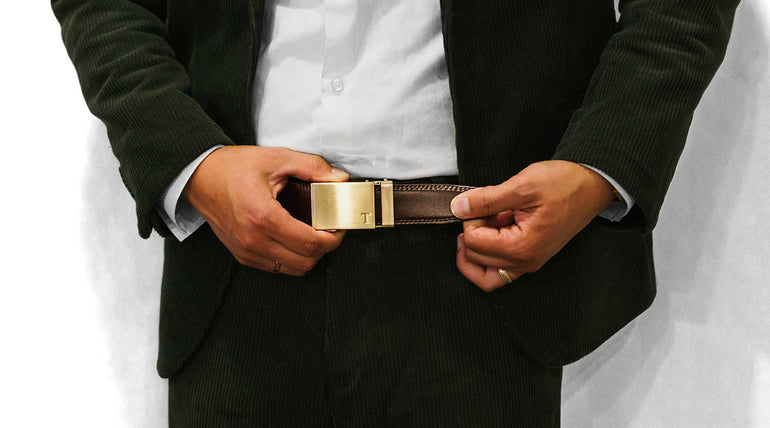 Are you looking to upgrade your wardrobe with the latest fashion trends? Are you on the hunt for the best designer belts for men in 2023? Look no further!
In this blog post, we will explore some of the top picks in men's design belts that are sure to make a statement.
From classic leather and buckle designs to bold printed and beaded styles, we'll highlight all of the hottest looks from today's designers. Keep reading and get ready to shop!
1. ALAKA Dragon Buckle Alligator Pattern Leather Men's Belt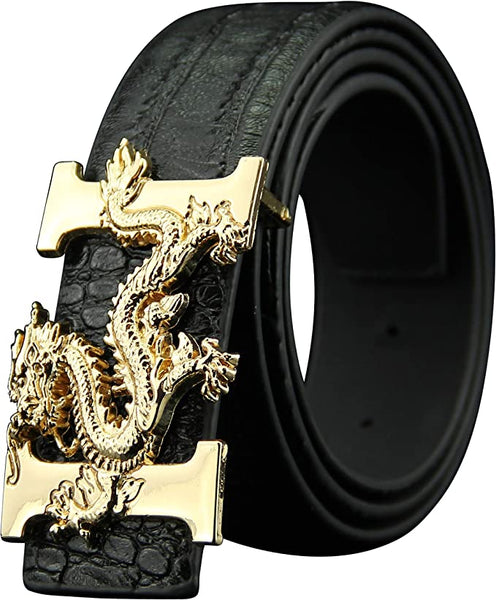 The ALAKA Dragon Buckle Alligator Pattern Leather Men's Belt is a high-end premium dress belt design, ideal for any special occasion or to just add a bit of luxury and flair to your daily outfit.
Its unique decoration makes it stand out, as the perfect marriage between contemporary and traditional styles.
It features an exceptionally comfortable fit on several occasions, due to its length (110cm) and 6 punched holes for optimal fit - all belts are handcrafted thus there may be a 1-2 cm size difference.
This belt will not only help you look sharp but also increase men's glamour by boosting self-confidence while shopping for loved ones or friends who can reflect their ideal figure with this stylish addition in their wardrobe collection!
Plus, this product has built quality that ensures durability even after prolonged use so you can enjoy looking dapper without having to worry about compromising on comfort or longevity of your fashion statement!
2. Nike Men's SG Silver-Tone Buckle with Three Interchangeable Belt Straps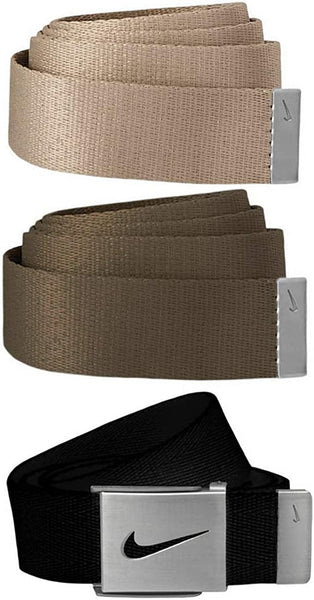 Nike Men's SG Silver-Tone Buckle with Three Interchangeable Belt Straps is the perfect accessory for adding a touch of style to any outfit. This set comes with three web straps and one buckle, so you can easily switch up your look depending on what shirt or pants you're wearing.
Plus, one size fits all up to 42 inches – no more worrying about not finding a belt in the right size!
The 38mm width of this Nike belt ensures a comfortable fit even if you need an adjustable waistband due to fluctuating weight or different sizes when wearing heavier outfits like jeans and sweaters.
And best of all, each buckle has its own bottle opener tucked into the back – making it easy to crack open your favourite beer during summer barbecues or outdoor concerts while still looking sharp and stylish.
3. Tonywell Men's Leather Designer Belt
If you are looking for a stylish belt made of quality leather, the Tonywell Men's Leather Designer Belt is perfect for you. This fashionable belt features genuine leather with no holes to crack or wear out, so it will last through rough treatment.
The double D design automatic buckle adds an attractive touch and makes this belt great for any occasion - be it business or casual pants.
The Tonywell men's leather designer belt offers superior comfort due to its wide 1 3/8" (35mm) strap which fits securely around your waistline without being too tight or loose.
Its unique feature is that it allows you to easily remove the buckle and adjust the size according to your needs – making sure there won't be any bunching cloth at the back when tucked in!
If you want a classic and timeless look, then go for this sleek black and brown designer belt with a silver buckle from Tonywell.
Not only does it make your outfit stand out but also showcases superiority with utmost sophistication as mature men always do!
4. SUOSDEY Rhinestone Belt for Men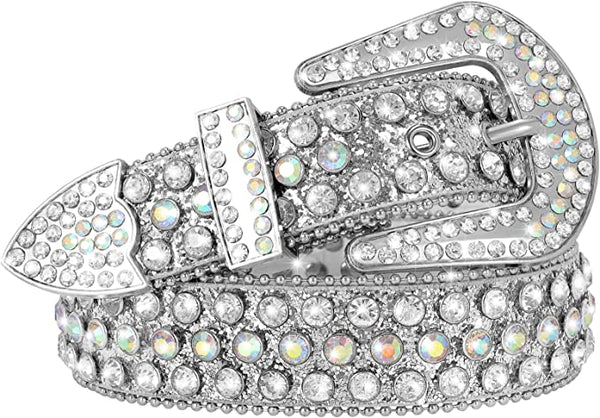 It is a stylish and sparkly accessory sure to add some serious sparkle to any outfit! Crafted with glittering rhinestones, this belt is perfect for all occasions – from festivals, horse shows and nights out to everyday wear.
The buckle of each belt is detachable so you can easily switch up your look on the go.
With an adjustable length of between 28-40 inches, it fits most waist sizes and makes it easy to fit over jackets or larger tops as well as trousers or skirts.
This means you can also rock this piece at formal events such as weddings and parties without having to worry about whether it'll be too small or large.
The possibilities are endless when you have a SUOSDEY Rhinestone Belt in your wardrobe – no matter what the occasion!
5. ITIEZY Leather Ratchet Belt Dress with Click Sliding Buckle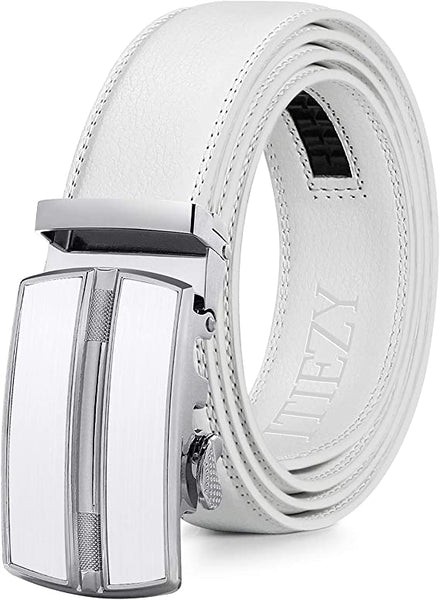 ITIEZY Leather Ratchet Belt Dress with Click Sliding Buckle is a fashionable solution for men looking to add style and sophistication to their wardrobe.
This leather belt has all the features of a classic piece, but with up-to-date modern design elements.
The adjustable buckle allows you to fit it perfectly to your waist size - simply slide the buckle along 1/5' increments for the perfect fit.
The belt itself is made from genuine leather, giving it a luxurious look and texture that will last for years.
It's also scratch resistant, meaning it will stay pristine whatever you get up to in or out of the office! What's more, its automatic ratchet strap width measures at 1 3/8 inches, making this an incredibly stylish accessory that won't go unseen by others.
For those days when several layers are needed come rain or shine - this ITIEZY Leather Ratchet Belt Dress with Click Sliding Buckle can help complete any outfit effortlessly!
6. Tonywell Men's Leather Ratchet Belt with Automatic Buckle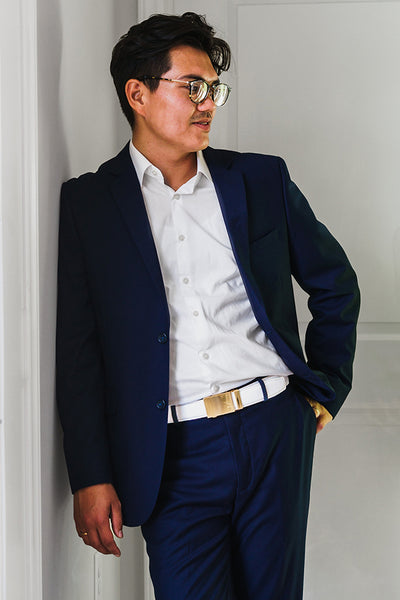 Tonywell Men's Leather Ratchet Belt with Automatic Buckle is designed for men of all ages and sizes who want the perfect fit.
It features a sleek design that suits a 32" to 45" waist and offers plenty of space for adjustment via its 1/4" micro-adjustment which follows your waist size almost precisely, giving you a 500% increase in sizing options to traditional belt-style systems.
You also have the option to trim or cut the length of this belt if it's too long for you – making it customizable without compromising on comfort or style. The total length stands at 51 inches (130cm) including the buckle, while the width comes in at 1 3/8" (3.5cm).
The highlight feature however is its 'ratchet' mechanism which does away with holes found in conventional belts, thus eliminating wear and tear problems over time.
Instead, just slide your desired notch into place quickly and easily by pulling through the leather strap – and once done enjoy secure closure as its click buckle auto-locks itself every time – no need to rethread!
Conclusion
In conclusion, the 6 best designer belts of 2023 are perfect for creating any look. They'll add a touch of style to any outfit, making it both fashion-forward and timeless. With an array of shapes and sizes available, you're sure to find a belt that can work with any ensemble. Whether you need something sleek or playful, these belts will have your back!
 Ready to dress sharp and command respect with the right accessory? Click here to discover Tonywell, the Professional Accessories Supplier.