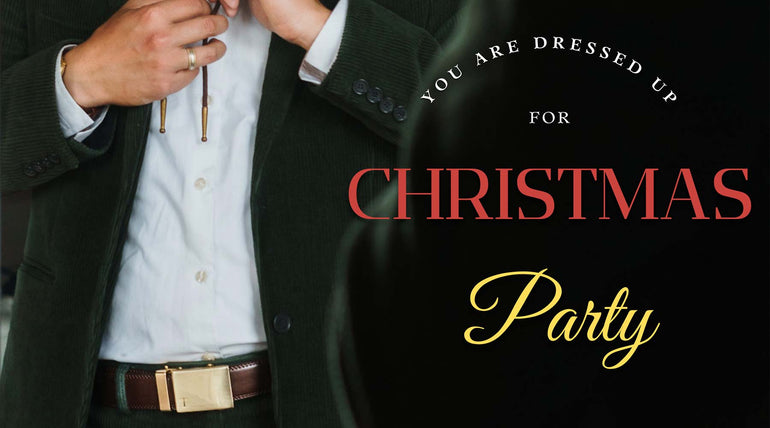 The holidays are here, so it's time to get your holiday party looks together! Whether you're going out with friends, attending a family gathering, or want to look festive for the season, we've got some ideas for how you can dress for the occasion.
Christmas parties are all about being festive and having a good time—and if you want to make an impression on people, these tips will help you do just that!
Here are 10 stylish fashion style tips for men that will have you looking your best at any holiday party.
1. Go classic in a tailored suit
A well-fitting suit is always a sharp choice for formal occasions, and Christmas parties are no exception.
Play it safe with traditional colours like black or navy, or go bolder with patterned fabrics or brighter hues. If you're going to be dancing the night away, make sure your shoes are comfortable enough to last all evening, and matched with your belts!
2. Show your festive side in a holiday-themed sweater
A cozy knit sweater is the perfect way to stay warm and comfortable at any Christmas party.
And there are plenty of options to choose from when it comes to holiday sweaters—whether you want something with reindeer, snowflakes, or Santa Claus himself!
3. Get into the spirit with some plaid pants
Plaid is always popular during the holidays, so why not sport a pair of tartan trousers?
They look great with solid-coloured shirts or sweaters and can be dressed up or down depending on the occasion. Just make sure your shoes coordinate well: black dress shoes for a more formal event, brown loafers or boots for a casual get-together.
4. Spruce up your jeans with a blazer
If you're looking for a more casual style option, dress up your favourite pair of blue jeans with a button-down shirt and sport coat.
This is a great way to show that you're put together without being too formal. Add some festive flair by choosing a plaid or striped shirt, or go for something simple in white or black.
5. Wrap yourself up in a sweater vest
Sweater vests are making a comeback, so why not take advantage of this stylish trend during the holidays?
They look great over shirts, turtlenecks, or even under jackets (for an extra layer of warmth). And there are plenty of holiday-themed sweater vests to choose from—think reindeer patterns, snowflakes, etcetera!
6. Be the best-dressed man in the room with a three-piece suit
A three-piece suit is always a sharp choice, and it will definitely have you standing out from the crowd at any holiday party.
Go for classic colours like black or navy, or choose something more festive; plaids and tweeds are always popular during this time of year. And make sure your shirt and tie coordinate well!
7. Trim up your look with a cardigan sweater
Cardigans are another great option for keeping warm at Christmas parties (and they're stylish too).
They can be worn over shirts or turtlenecks and come in many different colours and styles, so you're sure to find one that fits your personal taste perfectly.
8. Make a statement in a unique holiday jacket
If you really want to stand out from the crowd, go for something different with your holiday party attire, like a boldly-patterned sports coat or blazer.
Just make sure the rest of your outfit is fairly subdued so as not to look overdressed (or strange).
9. Jingle all the way in some festive pajamas
This may be more appropriate for an at-home Christmas party than anything else, but if you're feeling daring, why not try wearing some fun and festive pajamas?
They'll definitely get you into the holiday spirit! Just make sure they aren't too revealing... Nobody wants to see Santa's naughty list!
10. Create your own personal style
And finally, don't be afraid to experiment and create your own unique holiday party outfit!
After all, it's your party, so wear whatever you want. Be creative, have fun, and make sure you feel comfortable and confident in what you're wearing.
FAQs
1. What should fashionable men wear to Christmas parties?
Christmas is a time for getting together with family and friends, and of course, dressing up! If you're attending a Christmas party this year, here are some great outfits for fashionable men!
A tailored suit always looks sharp and festive. Add a little holiday cheer with a red or green tie, or even better – go all out with a plaid jacket!
For something more casual but still stylish, try pairing dark jeans with an oxford shirt and sweater combo. Top it off with a blazer or sport coat for extra warmth (and style).
Don't forget the accessories! A well-chosen scarf can add colour and personality to your outfit; just make sure it coordinates well with the rest of your ensemble.
And don't forget the finishing touches: slick leather shoes (boots are great in winter weather) and gloves complete the look perfectly.
2. Can you wear jeans to a Christmas party?
The answer is, it depends on the dress code of the party. If the invite says casual or gives no indication either way, then chances are denim will be just fine.
But if it's an annual event where people tend to get dressed up, like an office holiday party or a friend's fancy soirée, it's probably best to leave the jeans at home.
3. What are some good colours to wear to a Christmas party for fashionable men?
Christmas parties are a great time to get festive and show off your style. If you're wondering what colours work well for fashionable men, here are some stylish options to consider!
Rich jewel tones always make a statement, so opt for garments in deep ruby red, sapphire blue or emerald green. Pairing these hues with black or charcoal grey will create a sharp look that's perfect for an evening event.
For something with more of a casual feel, try pairing earthy tones like camel brown or olive green with denim jeans or chinos. This relaxed combination is ideal for daytime celebrations or afternoon drinks with friends.
And if you really want to stand out from the crowd, go bold with bright colours like yellow, orange or pink - just be sure to keep the rest of your outfit relatively simple so as not to overwhelm yourself!
Conclusion
In conclusion, Christmas is a time for family and friends to gather together and celebrate the good things in life. However, it can also be a stressful time when it comes to getting ready for the big day.
When you're looking for a stylish Christmas outfit for fashionable men, you want something that's comfortable enough to wear all day but still looks great. It's important that your clothes fit well so that they don't give away any of your hard-earned secrets about how many bottles of wine you've had at home or how many cookies you've eaten from the kitchen counter!
If you're going to be hosting or attending a party this holiday season, we hope these tips help make your experience stress-free and fun!
Ready to dress sharp and command respect with the right accessory? Click here to discover Tonywell, the Professional Accessories Supplier.