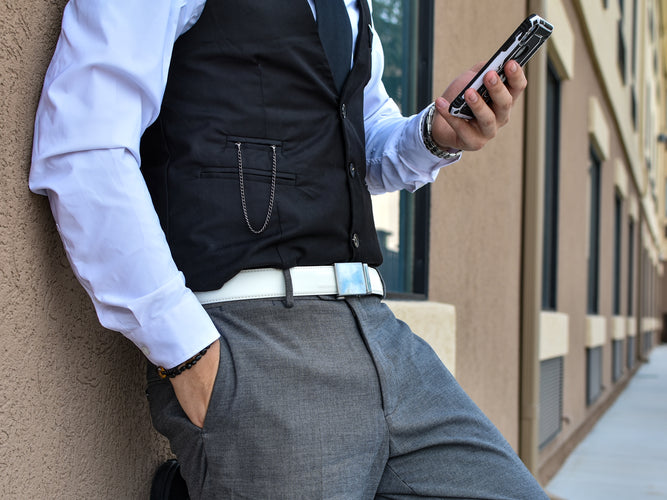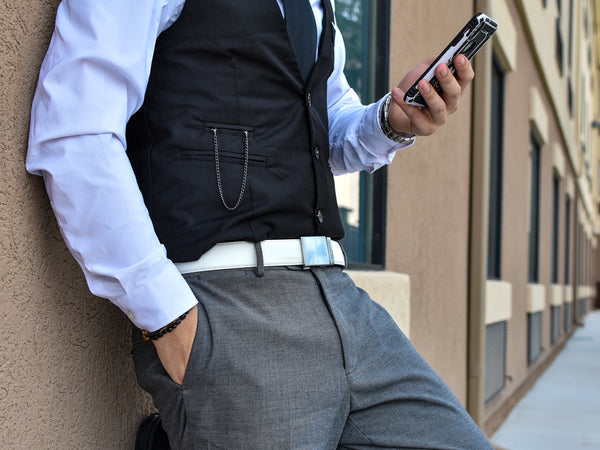 Belts, a must for both men and women, a seemingly small accessory that can have a surprisingly large impact on your impression. Almost every piece of business wear requires a suit, and so does most casual wear. That being said, belts shouldn't be seen as just a functional part. Best of all, the belt supports your pants and can be the perfect statement or final piece for any look. Nothing is more important and more manageable than a belt when you need a little color or a little line from your midriff to your lower body. They can be part of a costume, or they can be a distraction that ruins the whole effect. The key to using a belt as part of an accessory to make you look prettier is to make sure it matches the rest of your outfit. Here's how to pair a belt with formal or casual wear.
Formal VS Casual Belts
Not all belts are created equal. Like shirts, shoes, or any other article of clothing we wear, belts are made in various formality ranges. The main factors that determine belt formality are width and material.
They are made of leather, sometimes crocodile, alligator, or ostrich. Their appearance can be matte or smooth but is usually a plain button. Colors tend to be black, Burgundy, or various shades of brown and tan. A formal belt should be between 1.25 and 1.5 inches wide.
You've probably always had this kind of belt, at least one. It can be worn with a suit or other formal attire. The formal belts are almost always black, brown, or tan and are leather. The pattern on these belts, if any, should be inconspicuous. These aren't flashy pieces, but they hold your whole outfit together. Consider matching the metal on your buckle with the metal on your watch or other accessories for a more stylish look.
They can be made of leather, cotton, or other materials. They come in various colors and widths from 1.5" to 2". The belt is thinner and more delicate than this one, and the belt is thicker and more like a pro wrestling champion.
Formal belts are meant for practical purposes, while casual ones add style and brighten your personality. You should try different colors and materials. Many casual belts are made of leather or woven fabrics and are very avant-garde in color and design. These belts don't have to go with anything else you wear, so feel free to wear them with any outfit except your formal business attire because a belt that goes with a formal outfit can't be fancy. 
Formal belts and casual belts also have something in common. The formal belt is mainly used for suits and business wear but can sometimes be worn with more formal blazers and trousers. Instead, casual belts are worn primarily with jeans, khakis, and shorts but can also be worn with better chinos and sturdier sports coats.
But when an item belongs to a specific type, you should choose the belt that best matches the style. If a formal belt is paired with slacks, it looks too polished, nerdy, and usually doesn't fit. On the other hand, wearing a casual belt with a suit is incongruous and undermines the legal effect you're trying to project.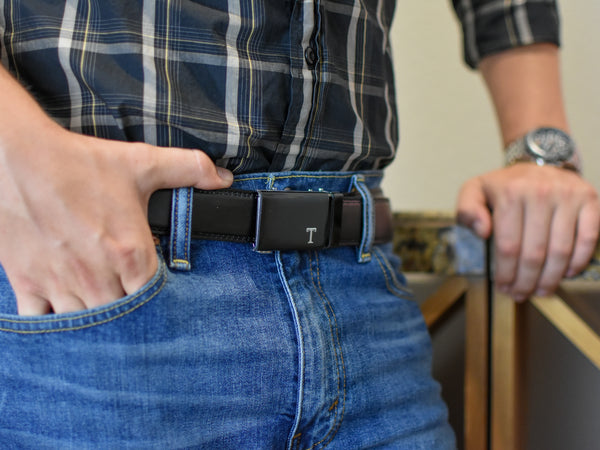 Length, Material and Buckles
Before you pick a belt, the first thing to do is to know the length you need. Belts are usually measured in inches or centimeters. When you put on the belt, you know if the belt fits. Unless you're buying a belt online, make sure it fits before buying it. If a belt is labeled with a waist number (30, 32, 34, etc.), the general recommendation is to buy a belt two sizes larger than your pants size. It gives you room to adjust, doesn't use the last hole in your belt, and lets the extra belt out. In this case, you will not be awkward with it.
But of course, when you buy a belt from Tonywell, you can learn how to customize it to your waist number after receiving it.
There's no substitute for a classic belt. And a belt is something every man should own. It is also a symbol of formal dress and a status symbol. Having said that, belts have begun to use more casual materials than before. Belts made of cotton and polyester are great. When you want to wear something more casual, a cotton belt will look better than a leather one. At the same time, they come in many different colors and can stand out against a monochrome suit. If you still want to make it a bit more formal, worn leather is another good option and is more casual. Worn leather adds some style and personality to the classic office belt.
   Technically, each belt has a buckle. However, this gorgeous buckle is often referred to as a "belt buckle." Ornate belt buckles are an often debated topic. A few belt buckles will do just that, adding a sparkle to the whole outfit. However, most of the time, they seem too expensive. Gorgeous, shiny looks are too strong, and great style should always look effortless. However, everyone has their own taste, so make your own decision.
Matching a Formal Belt with Your Outfit
However, formal belts are not suitable for all styles. You should always pair the Patent leather shoes with a patent black belt, but what should you do when experimenting with different materials and surfaces for your shoes? With more and more styles for every occasion, suddenly it's not black and white anymore.
If you can't match the color of your dress shoes well, try choosing a specific shade of leather to accentuate the color. The texture should be the same, don't think you're looking for a velvet belt to match your velvet loafers - a belt in the same color is perfect.
When wearing a formal belt, be careful to match your leathers and match your metals, the strap of your belt should be the same color and the same level of shininess as your shoes and other leather accessories. The buckle should be the same color as your other metal jewelry and accessories (except for your wedding ring, which can contrast with the other metals you wear).
Matching a Casual Belt With Your Outfit
A Casual belt should go with your metallic, but you can also opt for leather brown with tan or tan with white. 
Fortunately, there is more variety and freedom in such Settings than informal ones. Eclectic means you have the freedom to choose your belt -- style, size, color, and type. That doesn't mean you can't keep it simple. It's best to keep the colors and materials relatively simple unless you really want to make a statement with your belt. While the color rules for leather still apply, you may need to change the color to avoid matching colors to unacceptable levels.
Another option is to tie the belt entirely and match it with other elements of your outfit, such as the color of shoulder straps, purses, or T-shirts. This is especially important when you're wearing white sneakers -- don't opt for a white belt! The critical thing to remember is that even if your belt doesn't match your shoes, all the different elements should look unassuming and effortless but well thought out.