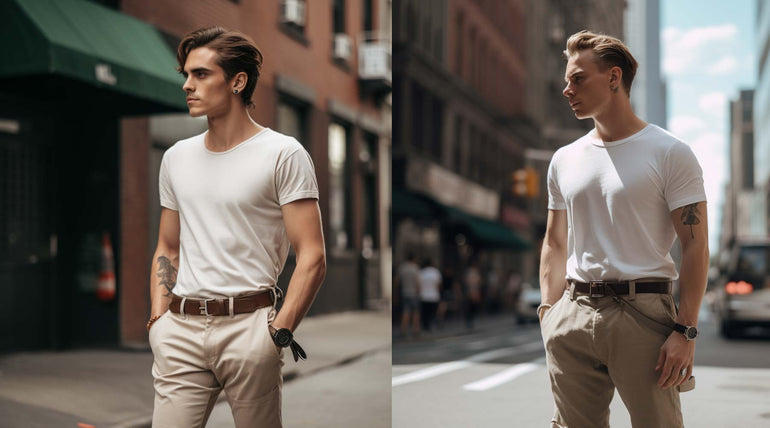 Fashion trends are constantly evolving, and this season brings forth an array of exciting styles for men. From athleisure to oversized silhouettes, there is something for everyone. This article will explore the top eight men's fashion trends that have taken the industry by storm. Get ready to elevate your style game and make a lasting impression.
1. Athleisure: Comfort Meets Style
The athleisure trend has revolutionized the world of fashion, bringing together comfort and style in a seamless fusion. Athleisure outfits allow you to effortlessly transition from the gym to casual settings while maintaining a fashionable look. Here's how you can embrace the athleisure trend and rock the perfect blend of comfort and style:
Track Pants or Joggers: Invest in a pair of well-fitted track pants or joggers made from high-quality materials. Opt for neutral tones like black, gray, or navy for versatility. Pair them with a stylish hoodie or a basic T-shirt for a relaxed yet put-together look. Finish off with clean sneakers to complete the ensemble.

Hoodies and Sweatshirts: Hoodies and sweatshirts are staple pieces in any athleisure wardrobe. Look for designs that feature interesting details like color-blocking, unique prints, or textured fabrics. Layer them over a simple T-shirt and pair with jeans or joggers for an effortlessly cool and comfortable outfit.

Sneakers: The right pair of sneakers can elevate your athleisure look. Opt for trendy and versatile styles such as chunky sneakers, slip-on sneakers, or retro-inspired designs. They can be paired with joggers, jeans, or even tailored trousers for a sporty and stylish touch.

Functional Outerwear: Invest in lightweight jackets or windbreakers with functional features like water resistance or moisture-wicking properties. These pieces not only provide protection from the elements but also add an athletic flair to your outfit. Layer them over your athleisure attire for a stylish and practical look.

Accessories: Complete your athleisure look with the right accessories. Opt for a sleek backpack or a crossbody bag to carry your essentials. Add a baseball cap or a beanie for a sporty touch. Don't forget to wear a comfortable and stylish watch to add a touch of sophistication to your overall ensemble.
The key to nailing the athleisure trend is to find the right balance between athletic wear and everyday clothing. Mix and match your sporty pieces with more tailored or elevated items to create a polished look. Focus on fit and quality to ensure your athleisure outfits appear intentional and stylish.
By embracing athleisure, you can enjoy the perfect combination of comfort and style. Whether you're running errands, meeting friends, or simply relaxing, athleisure allows you to look fashionable without sacrificing comfort.
2. Oversized Silhouettes: Embrace the Volume
The oversized silhouettes trend has gained immense popularity in men's fashion, allowing individuals to embrace volume and create unique and fashion-forward looks. This trend is all about playing with proportions and celebrating a relaxed and comfortable aesthetic. Here's how you can embrace the volume and make the most of oversized silhouettes:
Oversized Shirts: Trade in your slim-fitted shirts for oversized ones. Look for shirts with dropped shoulders and longer lengths. Pair them with fitted trousers or jeans for a balanced and stylish outfit. Roll up the sleeves for a casual touch.

Baggy Trousers: Opt for trousers with a loose and relaxed fit. Think wide-legged pants or pleated trousers that offer freedom of movement. Pair them with a tucked-in shirt or a fitted sweater to create a fashionable contrast.

Oversized Outerwear: Invest in oversized jackets or coats to make a statement. Look for pieces with exaggerated proportions, such as broad shoulders or longer lengths. Layer them over more streamlined outfits to add a contemporary twist.

Layering: Experiment with layering different oversized pieces to create a visually interesting ensemble. Combine an oversized shirt with a chunky knit sweater and a longline coat for a layered look that exudes confidence and style.

Accessories: Extend the oversized trend to your accessories. Opt for chunky scarves, oversized beanies, or large tote bags to complement your oversized silhouettes. These accessories will enhance the overall aesthetic and add a touch of personality to your outfit.
Remember, the key to pulling off oversized silhouettes is to balance the volume. Pair oversized pieces with more fitted items to create a well-proportioned look. Pay attention to the quality and fabric of the oversized garments to ensure they drape well and flatter your body shape.
By embracing the volume and experimenting with oversized silhouettes, you'll add a contemporary and fashion-forward edge to your wardrobe. This trend allows you to express your personal style while prioritizing comfort and self-expression.
3. Earthy Tones: Nature's Palette
Nature-inspired color palettes have become a prominent trend in men's fashion, and earthy tones have taken center stage. These warm and organic hues add a touch of sophistication and a connection to the natural world. Here's how you can incorporate earthy tones into your wardrobe and embrace nature's palette:
Olive Green: Olive green is a versatile and timeless earthy tone that adds depth and richness to any outfit. Incorporate it into your wardrobe through jackets, shirts, or even accessories like scarves or hats. Pair an olive green bomber jacket with jeans and a white T-shirt for a stylish and rugged look.

Rust Orange: Rust orange exudes warmth and adds a pop of color to your outfits. This earthy tone works well in knitwear, sweaters, or even trousers. Pair a rust orange sweater with dark wash jeans for a cozy and autumn-inspired look.

Mustard Yellow: Mustard yellow brings vibrancy and energy to your wardrobe. It pairs well with earthy neutrals like brown or beige. Try incorporating mustard yellow through accessories like socks, ties, or pocket squares for a subtle yet stylish touch.

Brown: Brown is a classic earthy tone that never goes out of style. From chocolate brown to lighter shades like tan or camel, there are numerous options to explore. Invest in a well-fitted brown leather jacket, which can be dressed up or down for various occasions.

Terracotta: Terracotta is a warm and earthy reddish-brown tone that adds a touch of elegance to your outfits. Look for terracotta-colored pants, blazers, or even shoes. Pair them with neutral colors like white, beige, or navy for a sophisticated and contemporary look.

Natural Textures: In addition to color, consider incorporating natural textures into your outfits. Opt for clothing made from materials like linen, wool, or cotton to enhance the earthy vibe. Knitwear or tweed blazers in earthy tones can add texture and depth to your look.
Remember, earthy tones are versatile and can be mixed and matched with other colors in your wardrobe. They create a sense of warmth, sophistication, and a connection to nature. Experiment with different combinations and find the shades that complement your skin tone and personal style.
By incorporating earthy tones into your outfits, you can embrace nature's palette and create stylish and harmonious looks that reflect your appreciation for the natural world.
4. Statement Blazers: Sharp and Bold
Blazers have always been a wardrobe staple, but this season they are making a statement like never before. Bold patterns, vibrant colors, and unique textures are taking center stage. Here's how you can incorporate statement blazers into your wardrobe and create sharp and bold looks:
Patterned Blazers: Opt for blazers with eye-catching patterns like plaids, checks, or houndstooth. These patterns add visual interest and create a statement look. Pair a patterned blazer with neutral-colored pants and a crisp white shirt for a sophisticated and fashion-forward outfit.

Vibrant Colors: Don't shy away from bold colors when it comes to statement blazers. Consider shades like royal blue, emerald green, or deep burgundy. These colors instantly draw attention and make a stylish impact. Pair a vibrant blazer with complementary tones or keep the rest of the outfit understated to let the blazer take the spotlight.

Unique Textures: Experiment with blazers made from textured fabrics like velvet, tweed, or jacquard. These fabrics add depth and richness to your outfit, making a bold statement. Choose a textured blazer in a classic color like black or navy for a versatile yet impactful look.

Contrasting Lapels or Trims: Look for blazers with contrasting lapels or trims. This detail adds a touch of uniqueness and creates visual contrast. For example, a black blazer with satin peak lapels or a navy blazer with leather trims can elevate your outfit to a whole new level of sophistication.

Leather Belts: To further enhance the sharp and bold aesthetic of your statement blazer, consider pairing it with a leather belt. This accessory adds definition to your waist and creates a stylish contrast against the structured silhouette of the blazer. Choose a belt in a complementary color or go for a bold statement with a contrasting shade.

Polished Details: Pay attention to the finer details when wearing a statement blazer. Opt for well-fitted trousers, a crisp shirt, and polished shoes to complement the boldness of the blazer. Ensure that your entire outfit exudes sharpness and sophistication.
By incorporating statement blazers into your wardrobe, you can elevate your style and make a confident fashion statement. Whether it's a formal event or a night out, a bold blazer paired with the right accessories will exude sophistication and showcase your fashion-forward sensibilities.
5. Bucket Hats: A Fusion of Style and Functionality
Bucket hats have made a triumphant comeback in men's fashion, becoming one of the must-have accessories of the season. These versatile headpieces offer protection from the sun while adding a trendy touch to your outfit. Here's how you can incorporate bucket hats into your wardrobe and achieve a fusion of style and functionality:
Choose the Right Material: Bucket hats come in various materials such as cotton, denim, nylon, or even straw. Consider the occasion and the season when selecting the material. Cotton and nylon options are great for everyday wear, while straw hats are perfect for sunny beach outings or summer events.

Experiment with Patterns and Colors: Bucket hats now come in an array of patterns and colors, allowing you to express your personal style. Opt for classic solid colors like black or navy for a versatile and timeless look. Alternatively, try bold patterns like floral, camouflage, or geometric designs to make a fashion statement.

Pair with Casual Outfits: Bucket hats effortlessly elevate casual outfits. Pair them with a basic T-shirt, shorts or jeans, and sneakers for a laid-back and stylish ensemble. This combination works well for outdoor activities, music festivals, or weekend outings.

Add to Streetwear Looks: Bucket hats have become a staple in streetwear fashion. Combine them with oversized hoodies, joggers, and chunky sneakers for a trendy and urban look. Don't be afraid to mix and match different streetwear elements to create a unique and eye-catching outfit.

Coordinate with Accessories: Coordinate your bucket hat with other accessories to enhance your overall style. Sunglasses, wristbands, or a backpack can complement your hat and create a cohesive and fashionable look. Pay attention to color coordination and choose accessories that align with the vibe of your outfit.

Consider Different Hat Styles: Bucket hats come in various styles, including standard brim, wide brim, or reversible designs. Experiment with different styles to find the one that suits your face shape and personal style best. Don't be afraid to try something new and embrace the versatility of bucket hats.
Bucket hats are not only trendy but also functional. They provide shade and protect your face from the sun's rays, making them ideal for outdoor activities and beach trips. Whether you're lounging by the pool or exploring the city, a bucket hat adds a touch of style while keeping you comfortable.
6. Retro Revival: Nostalgia in Fashion
Fashion often takes inspiration from the past, and this season's retro revival trend brings a wave of nostalgia to men's fashion. Embracing elements from different eras allows you to create unique and nostalgic outfits. Here's how you can incorporate the retro revival trend into your wardrobe:
'70s-Inspired Wide-Collared Shirts: Channel the disco era with wide-collared shirts. Look for vibrant prints, bold patterns, or textured fabrics. Pair them with tailored trousers or jeans for a retro-inspired look that's both playful and stylish.

'80s Tracksuits: The '80s were known for their tracksuit craze, and this trend has made a strong comeback. Opt for tracksuits in bright colors, featuring contrasting stripes or geometric patterns. Wear them as a matching set or mix and match the jacket and pants with other pieces to create a modern and nostalgic ensemble.

'90s Grunge Elements: Embrace the edgy and rebellious style of the '90s grunge movement. Incorporate elements like distressed denim, flannel shirts, band T-shirts, and combat boots into your outfits. Mix these grunge-inspired pieces with modern garments for a contemporary twist on a nostalgic aesthetic.

Vintage-Inspired Accessories: Complete your retro revival look with vintage-inspired accessories. Consider adding a skinny tie, suspenders, retro sunglasses, or a classic pocket watch to add an authentic touch to your outfit. These small details can make a big impact and tie your retro-inspired ensemble together.

Tailored Silhouettes: While embracing retro styles, don't forget the importance of tailored silhouettes. Well-fitted clothing adds a modern touch to vintage-inspired looks. Opt for tailored blazers, slim-cut trousers, and shirts that flatter your body shape and give a polished appearance.

Mix Eras: Don't feel restricted to a single era—mixing different retro elements can create a unique and eclectic style. Pair '70s-inspired flared trousers with a '90s grunge-inspired band T-shirt or combine an '80s tracksuit jacket with modern jeans. Experimentation is key to achieving a personalized and nostalgic look.
The retro revival trend allows you to draw inspiration from different eras and infuse your style with a sense of nostalgia. Have fun exploring vintage shops, thrift stores, or online marketplaces to find unique retro pieces that resonate with your personal style.
By incorporating retro elements into your wardrobe, you can celebrate the past while creating fashion-forward and timeless outfits. Let the retro revival trend transport you to bygone eras, adding a touch of nostalgia and personality to your everyday style.
7. Tailored Tracksuits: The Modern Athleisure
Combining the comfort of athletic wear with the sophistication of tailored clothing, the tailored tracksuit trend has gained significant popularity. This trend offers a more polished and refined take on athleisure. Here's how you can embrace the tailored tracksuit trend and achieve a modern and stylish athleisure look:
Choose High-Quality Materials: Opt for tracksuits made from premium materials like soft cotton, velour, or technical fabrics. These materials give a luxurious touch to your tracksuit and enhance its overall appearance.

Tailored Fit: The key to nailing the tailored tracksuit trend is a well-tailored fit. Look for tracksuits that have a slim or tapered silhouette to maintain a polished and streamlined look. Avoid excessively baggy or oversized styles that can undermine the sophisticated aesthetic.

Mix and Match: Don't feel restricted to wearing the full tracksuit as a set. Experiment by mixing tracksuit pants with a tailored blazer or pairing the tracksuit jacket with tailored trousers. This mixing of casual and formal elements creates an interesting juxtaposition and adds versatility to your wardrobe.

Color and Pattern Coordination: Opt for tracksuits in classic colors like navy, black, or gray for a timeless and versatile look. If you prefer a bolder approach, choose tracksuits in vibrant colors or subtle patterns. Coordinate the color and pattern of your tracksuit with complementary pieces to achieve a cohesive and stylish outfit.

Accessorize with Care: Add accessories that elevate the sophistication of your tailored tracksuit. Opt for minimalist sneakers, a sleek watch, and a refined leather backpack or messenger bag. These accessories enhance the overall aesthetic and showcase your attention to detail.

Layer with Outerwear: Layer your tailored tracksuit with a stylish outerwear piece like a bomber jacket, a tailored coat, or a trench coat. This layering adds depth to your outfit and allows you to adapt your look to different weather conditions and occasions.
Tailored tracksuits offer a contemporary and fashionable take on athleisure, allowing you to embrace both comfort and style. Whether you're heading for a casual day out or a semi-formal gathering, a well-fitted and well-styled tailored tracksuit can make a bold statement.
8. Monochromatic Looks: Effortless Sophistication
Monochromatic outfits have always been a timeless choice, and they continue to reign as a prominent trend this season. Dressing in a single color from head to toe creates a sleek and sophisticated aesthetic. Here's how you can embrace monochromatic looks and achieve effortless sophistication:
Choose Your Color: Start by selecting a color that you love and feel confident wearing. Classic options like black, white, navy, or gray are versatile choices. However, don't be afraid to experiment with bolder colors like burgundy, olive green, or even pastel tones.

Play with Shades and Textures: When creating a monochromatic look, play with different shades and textures within the same color family. Mix light and dark shades or incorporate different textures like knitwear, denim, leather, or suede. This adds depth and visual interest to your outfit.

Focus on Tailoring and Fit: Pay attention to the tailoring and fit of each piece in your monochromatic ensemble. Well-fitted clothing enhances the sophistication of the look. Invest in tailored garments that flatter your body shape and create clean lines from top to bottom.

Add Dimension with Accessories: To avoid a flat and one-dimensional appearance, accessorize thoughtfully. Incorporate accessories in the same color family, but with different shades or textures. This adds dimension and elevates your monochromatic look. Consider belts, scarves, pocket squares, or statement jewelry.

Experiment with Textiles: Explore the use of different textiles to add visual interest to your monochromatic outfit. For example, pair a cotton shirt with linen trousers or a cashmere sweater with tailored wool pants. Mixing textiles creates subtle variations and enhances the overall sophistication of your look.

Pay Attention to Details: The key to achieving effortless sophistication lies in the details. Ensure your monochromatic look is well-groomed and polished. Pay attention to shoe selection, neat grooming, and coordinated accessories. These small details elevate the overall appearance and make a lasting impression.
By embracing monochromatic looks, you can effortlessly achieve a sophisticated and put-together style. It's a versatile trend that works for both formal and casual occasions, allowing you to showcase your fashion sensibility with ease.
Conclusion
In the realm of men's fashion, staying updated with the latest trends is crucial. The top eight trends discussed in this article offer a variety of options to elevate your style game. From the sporty and comfortable athleisure trend to the retro revival and tailored tracksuits, there is something for every fashion-forward man. Experiment with these trends, mix and match, and don't be afraid to showcase your personal style.
FAQs
Q1: How can I incorporate the athleisure trend into my everyday style? A1: Start by incorporating comfortable yet stylish pieces like joggers, hoodies, and sneakers into your wardrobe. Mix them with other casual or more formal pieces to create a balanced and trendy look.
Q2: What are some ways to style oversized silhouettes without looking sloppy? A2: The key to styling oversized silhouettes is to balance proportions. Pair baggy trousers with a fitted top or layer an oversized jacket over a more streamlined outfit. This will create a stylish and well-put-together look.
Q3: Can I wear earthy tones in formal settings? A3: Absolutely! Earthy tones can be incorporated into formal settings by choosing tailored garments in these hues. Opt for earthy tone suits, shirts, or accessories to add a touch of nature-inspired sophistication to your formal attire.
Q4: How do I choose the right statement blazer for my style? A4: When selecting a statement blazer, consider your personal style and preferences. Look for patterns, colors, or textures that resonate with you and reflect your personality. Experiment with different combinations to find the perfect statement blazer that suits your taste.
Q5: Are bucket hats suitable for all face shapes? A5: Yes, bucket hats can be worn by people with various face shapes. However, it's essential to choose the right size and style that complements your features. Experiment with different hat shapes and sizes to find the one that flatters your face shape the most. Remember to wear it with confidence and embrace the trendy and functional appeal of the bucket hat.