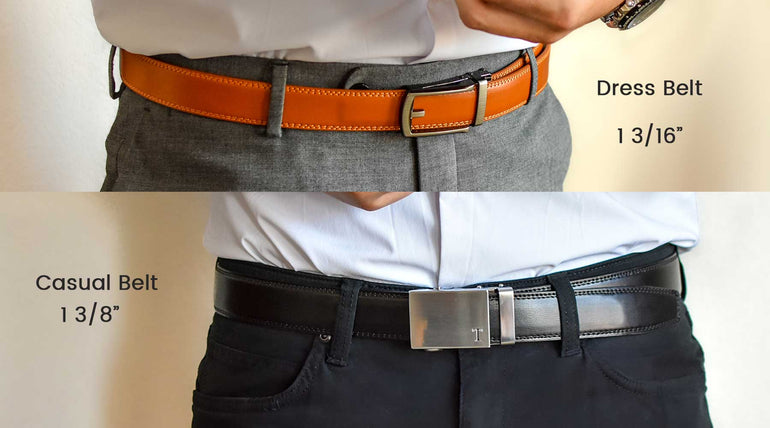 The best men's belts are the ones that are the most comfortable to wear, look good with the rest of your outfit, and last a long time. But what makes a good belt? And which is better: casual belts vs dress belts?
This article will walk you through an in-depth comparison of casual belts vs dress belts and finally confirm which one to go for in 2022!
What are Dress Belts?
A dress belt is a type of belt that is typically worn with formal wear. Dress belts are usually made from leather and are often decorated with metal hardware, such as buckles or clasps.
They are generally thinner than other types of belts, and their widths can vary depending on the style of the outfit they are being worn with. While dress belts serve a practical purpose by holding up pants, they also have a decorative element that can help complete an overall look.
Common Materials used for Dress Belts
When we compare casual belts vs dress belts, many different materials can be used to make a dress belt! However, some of the most common include cowskin, calfskin, and crocodile skin.
Cowskin is one of the most popular dress belt choices because it is durable and stylish. Calfskin is another popular option because it is softer than cowhide and has a more luxurious feel. Crocodile skin is often seen as the most prestigious material for dress belts due to its unique appearance and durability.
Buckle Styles for Dress Belts
There are many different buckle styles for dress belts, and the right one for you depends on your personal style and preferences. Here is a rundown of some of the most popular options:
· The classic belt buckle is rectangular or oval in shape with a simple design. This buckle type is versatile and can be worn in casual and formal attire.
· A Western-style belt buckle typically has an intricate design, often featuring cowboy motifs such as horses or lassos. These buckles are usually larger in size and make a statement piece when paired with jeans or other casual clothing.
· An automatic belt buckle uses a ratchet mechanism to tighten the belt around your waist without needing to use holes punched into the leather strap.
· If you're looking for something unique, plenty of novelty belt buckles are available that feature fun designs or pop culture references.

When Should One go for a Dress Belt?
A dress belt is an important accessory for any man who wants to look his best. But when should you wear a dress belt?
A dress belt should be worn with any outfit that includes trousers. This means that a dress belt is a way to go if you're wearing khakis, chinos, or even jeans (as long as they're not too casual).
You can also wear a dress belt with shorts, but make sure they're of the nicer variety - no cargo shorts allowed!
What are Casual Belts?
A casual belt is a type of belt that can be worn with both casual and dressy clothing. Casual belts are typically crafted from leather or fabric and available in various hues and designs.
You can find casual belts at most department stores or online retailers. Casual belts are an essential part of any man's wardrobe. They can be used to accessorize both casual and dressy looks.
Common Materials used for Casual Belts
When we compare casual belts vs dress belts, casual belts are often made of materials like nylon, faux leather, vinyl, or canvas (rather than leather which is common in the case of dress belts).
These materials are usually less expensive than genuine leather and are also more comfortable to wear in warm weather. Leather or suede casual belts can dress up an outfit, but they may be too formal for some occasions.
Nylon belts are often used as part of a uniform, such as in the military or law enforcement. They're also popular for casual wear because they're inexpensive and durable. Faux leather belts are another affordable option that looks like the real thing!
Buckle Styles for Casual Belts
There are many different buckle styles for casual belts, and the right one for you depends on your personal taste. The most popular style is the traditional metal buckle, which comes in various metals, including brass, silver, and gold.
If you prefer a more understated look, plastic or leather-covered buckles are also available. Another popular option is the belt with no buckle– a slide belt. These belts have a simple design that makes them easy to put on and take off; they're ideal for those who don't like fiddling with small buckles.
Slide belts come in both elastic and non-elastic varieties; if you choose an elastic slide belt, be sure to get one that's comfortable but not too loose (you don't want it slipping down during wear).
When Should One go for a Casual Belt?
A casual belt is a great way to add a touch of style to your everyday look. But when should you wear one?
A casual belt can be worn with jeans, chinos, shorts, or any other pants with belt loops. It's also a good idea to wear a belt if your shirt is tucked in. This will help keep your shirt from coming untucked throughout the day!
So, Casual Belts vs Dress Belts- Which is the best men's belt?
A few key differences can be seen when we compare casual belts vs dress belts. The most obvious difference is the width of the belt. A dress belt is typically narrower than a casual belt, which gives it a more refined look.
Another difference is that dress belts usually have thinner straps and smaller buckles than their casual counterparts. This again contributes to their more polished appearance. So, which type of belt is best for men?
Well, it really depends on your personal style and what you'll be wearing them with. If you're looking for a belt to wear with formalwear, then obviously go for a dress belt. On the other hand, if you want something to pair with jeans or chinos, then casual belts are the way to go!
Ready to dress sharp and command respect with the right accessory? Click here to discover Tonywell, the Professional Accessories Supplier.