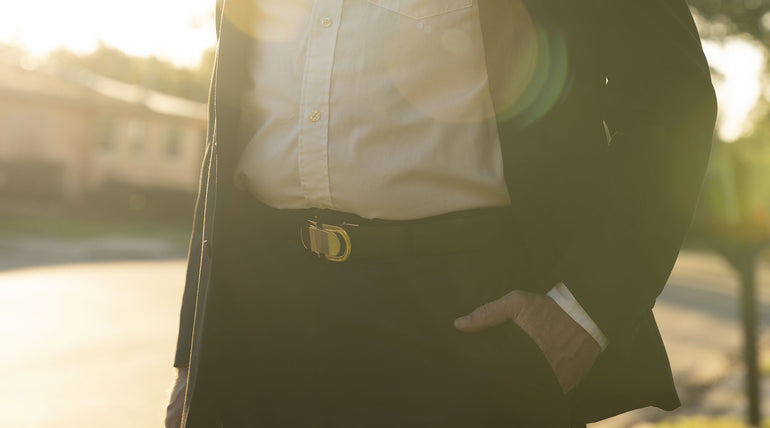 You might not realize it, but your belt is one of the most important accessories in your wardrobe. It can help define your style and tie everything together so that you look like a million bucks.
The key to choosing a great belt is ensuring it complements your outfit and makes you feel good. If it doesn't fit with what you're wearing, then you should probably skip it. Plus, if you have a favourite pair of jeans that fit perfectly but don't have any loops on the back for a belt, then a good solution for that is to get some suspenders!
They work great with denim and come in all kinds of styles, so there's something for everyone. Today in this article, we will discover how belts play a crucial role in men's fashion. So, without further ado, let's get started!
The crucial role of belts in men's fashion!
Belts are essential accessories in men's fashion that can help define your style and complete an outfit. They serve the practical purpose of holding up your pants and can also be used to make a fashion statement and add some flair to your look!
a. Belts provide a finishing touch. 
One of the main roles of belts in men's fashion is to provide a finishing touch to an outfit. A belt can help to pull together the various elements of your outfit and create a cohesive look.
Choosing a belt that complements the style and colour of your clothing and shoes is important. For example, if you are wearing a suit, you may want to choose a more formal, classic-quality leather belt made from leather.
If you are wearing casual clothes, choose a more laid-back belt made from a different material, such as canvas or denim.
b. Belts help add visual interest to an outfit
Another role of belts in men's fashion is adding visual interest or personality to an outfit. You can find belts in a wide range of styles, colours, and materials, so you can choose one that reflects your personal style.
For example, you can find belts with decorative belt buckles featuring unique designs or inscriptions, such as quotes or pop culture references. You can also find belts with braided or woven patterns or made from luxurious materials, such as gold or silver.
c. Belts can help you make a fashion statement.
In addition to adding visual interest, belts can also be used to make a fashion statement. You can choose a belt that reflects your interests or values, such as one with a logo or brand that you support.
You can also choose a belt that reflects your culture or heritage, such as one with a flag or country emblem inscribed on it.
How to use belts to make a fashion statement?
There are several ways to use belts to make a fashion statement:
1. Choose a bold or unique belt: Look for belts with eye-catching details like studs, prints, braided leather, or patterns. A belt with a bold colour or an unusual shape can also make a statement.
2. Experiment with different materials: Belts can be made from a variety of materials, including leather, canvas, and fabric. Each material has its own unique look and feel, so try out different materials to see what works best for your personal style.
3. Wear your belt differently: Instead of wearing your belt through the belt loops, try wearing it over a cardigan or sweater or even around your waist as a waist belt.
4. Pair your belt with the right outfit: Choose an outfit that complements your belt, whether it's a pair of jeans and a t-shirt or a suit and dress shoes.
5. Don't be afraid to mix and match: Black or brown is the perfect dress belt. But mix and match different belts with different outfits to create a unique, personal style.
By following these tips, you can use belts to make a fashion statement and add a touch of style to any outfit.
Belts have helped evolve the men's fashion industry as a whole!
There's no doubt that men's fashion has come a long way over the years. What was once considered acceptable attire for gentlemen is now considered outdated and frumpy. In today's world, men are expected to dress sharply and stylishly to be taken seriously. The days of wearing a simple suit and tie are gone; now, it's all about standing out from the crowd and making a statement with your clothing choices.
One of the biggest changes we've seen in recent years is the rise of casual wear. No longer do guys have to don a stuffy suit every day; instead, they can rock denim jeans, graphic t-shirts, and sneakers with casual belts.
This move towards more relaxed styles has helped make fashion more accessible to everyone—you don't need an extensive wardrobe or piles of cash to look great anymore. Also, it means that guys can show off their own style without feeling like they have to follow traditional rules. We've also seen an increase in experimentation when it comes to menswear overall.
Tonywell belts than ever before, are offering daring designs and bold prints, giving guys plenty of options when it comes to getting dressed in the morning. And thanks to social media platforms like Instagram, male celebrities and everyday Joes alike share pictures of their looks online, inspiring others to test out new trends themselves. Finally free from decades-old stigmas surrounding masculine dressing habits, men everywhere enjoy clothes shopping much more than they ever thought possible!
Conclusion
Fashion is one of the most important things in life. It helps to define who you are and how you want to present yourself to the world.
You can express your personality through the rest of your outfit, but it's even more important to feel comfortable in what you wear. That's why belts are so important! They can make or break an outfit and help you feel like a million bucks while doing it.
So, we hope you now understand belts' importance in the men's fashion trend. If you liked this blog, share it with your friends and family. Also, stay tuned for more informative articles like these!
Ready to dress sharp and command respect with the right accessory? Click here to discover Tonywell, the Professional Accessories Supplier.