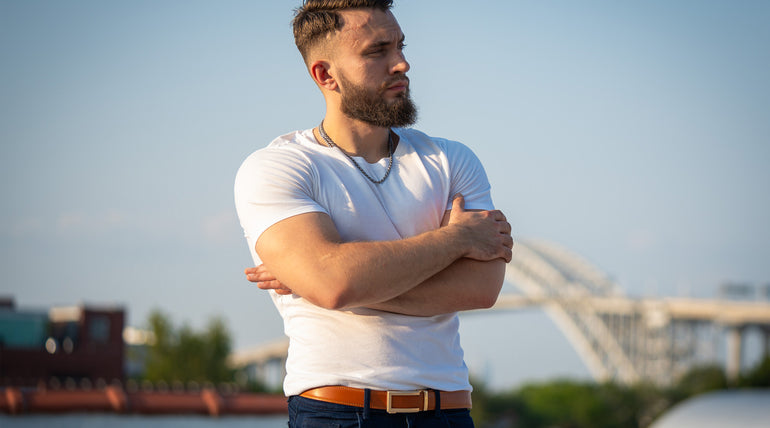 As the scorching heat of summer approaches, it's time for men to revamp their wardrobe with the latest fashion trends. Summer fashion is all about staying cool, comfortable, and stylish. Whether you're heading to the beach or attending a casual outdoor event, knowing the hottest summer trends will keep you looking on point. In this article, we'll explore the top 15 men's fashion trends for the summer, ensuring you're ready to make a fashionable statement under the sun.
1. Embrace Light and Breathable Fabrics
During the summer, choosing the right fabric is essential for comfort. Embrace lightweight and breathable materials like linen, cotton, and chambray. Linen, in particular, is a popular choice for its ability to wick away moisture and allow air circulation, keeping you cool even on the hottest days. Cotton and chambray are equally comfortable and stylish, making them perfect for both casual and semi-formal occasions.
2. Vibrant Hawaiian Shirts
Hawaiian shirts are making a huge comeback this summer. Opt for vibrant, tropical prints to add a fun and relaxed vibe to your outfit. Look for shirts with palm trees, hibiscus flowers, and other island-inspired patterns. These shirts pair perfectly with shorts or chinos, and you can even leave them unbuttoned over a plain white t-shirt for a laid-back yet trendy look.
3. Stylish Short-Sleeve Button-Downs
Short-sleeve button-down shirts are a timeless summer staple. Choose shirts in pastel shades like light blue, mint green, or soft pink for a fresh and breezy appearance. Classic stripes are also a popular choice for a versatile and fashionable look. You can dress these shirts up with tailored trousers for a smart-casual ensemble or dress them down with denim shorts for a relaxed weekend outfit.
4. Classic White Sneakers
White sneakers are a must-have for any season, and summer is no exception. They go well with almost any outfit, from shorts and a plain t-shirt to chinos and a polo shirt. The simplicity of white sneakers allows them to complement various colors and patterns, making them a versatile and stylish footwear choice.
5. Relaxed Tailored Shorts
Step up your shorts game with tailored shorts that offer a more polished look. Opt for neutrals like beige, navy, or olive, which can be easily paired with various shirts and shoes. The tailored fit gives these shorts a sophisticated edge, making them suitable for both casual and slightly dressier occasions.
6. Bucket Hats for Sun Protection
Bucket hats are not only a stylish accessory but also provide excellent sun protection. Choose hats made from breathable materials like cotton or canvas. Classic neutrals such as beige or khaki are timeless options, but you can also go for bold patterns or colors to add a touch of personality to your summer ensemble.
7. Suede Loafers for Sophistication
For a more refined and sophisticated look, consider suede loafers. These shoes exude elegance and go well with both casual and semi-formal outfits. Choose colors like tan or navy for a versatile appeal, and make sure to pair them with no-show socks to maintain a clean and stylish appearance.
8. Oversized Sunglasses
Make a statement with oversized sunglasses that provide both style and eye protection. Aviators and wayfarers are timeless choices that never go out of fashion. Opt for sunglasses with UV protection to shield your eyes from harmful sun rays while adding a touch of coolness to your overall look.
9. Linen Suits for Formal Occasions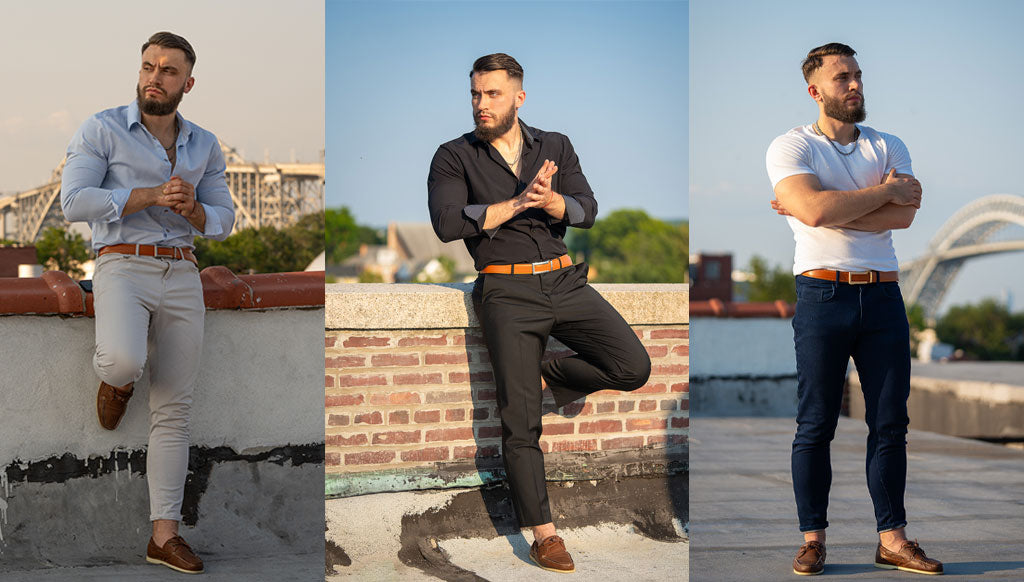 Linen suits are the perfect combination of comfort and elegance for formal summer events. Opt for light colors like beige or light gray, and pair them with a crisp white shirt for a dashing look. The lightweight and breathable nature of linen ensures that you stay comfortable and stylish even during formal occasions.
10. Pastel-colored Chinos
Pastel-colored chinos are a fantastic way to add a pop of color to your summer outfits. Choose shades like mint green, baby blue, or soft pink, and pair them with a classic white shirt for a fresh and stylish appearance. These chinos strike the perfect balance between casual and sophisticated, making them suitable for various occasions.
11. Graphic Tees
Express your personality with graphic tees that feature cool prints and designs. From retro logos to abstract art, graphic tees are a fun and fashionable choice for casual outings. Look for high-quality prints and comfortable fabrics to ensure that your graphic tees not only look great but also feel great to wear.
12. Breathable Espadrilles
Espadrilles are the go-to footwear for a laid-back summer look. These canvas shoes with jute soles keep your feet cool and comfortable while elevating your style effortlessly. Opt for neutral colors like beige or navy, or choose espadrilles with fun patterns to add a touch of playfulness to your outfit.
13. Cuban Collar Shirts
Cuban collar shirts are a trendy option for summer with their open, notch-like collars. Choose shirts with bold prints or monochromatic patterns for a fashion-forward appearance. These shirts are versatile and can be worn with tailored shorts, chinos, or even linen trousers for a cool and comfortable summer look.
14. Cargo Shorts for Utility
Cargo shorts not only offer a relaxed vibe but also provide plenty of pocket space for your essentials. They are perfect for outdoor adventures or casual strolls around the city. Opt for neutral colors like khaki or olive, and pair them with a simple t-shirt and sneakers for a practical yet stylish outfit.
15. Belted Looks for Definition
Add a touch of sophistication to your outfits by incorporating belts. A stylish belt not only keeps your shorts or trousers in place but also adds definition to your waistline, enhancing your overall appearance. Choose belts in classic leather or woven designs that complement your outfit and add a polished finishing touch.
Conclusion
Summer fashion for men is all about embracing comfort, style, and individuality. By incorporating these hottest summer trends into your wardrobe, you'll be ready to turn heads wherever you go. From lightweight and breathable fabrics to stylish accessories like bucket hats and oversized sunglasses, there are plenty of options to elevate your summer style. So, step out in confidence and enjoy the sunny season with your trendy and fashion-forward looks.
FAQs
Are Hawaiian shirts suitable for formal events? Hawaiian shirts are more appropriate for casual and relaxed occasions rather than formal events. Stick to classic button-downs or linen suits for formal gatherings.

Can I wear linen suits in the evening? While linen suits are ideal for daytime events, they might not be the best choice for evening affairs due to their casual nature. Opt for lightweight cotton or seersucker suits instead.

How do I style cargo shorts for a stylish look? Pair your cargo shorts with a fitted t-shirt and a pair of sneakers for a stylish and laid-back ensemble. Avoid wearing them with overly baggy or oversized tops to maintain a balanced silhouette.

What is the best way to clean suede loafers? To clean suede loafers, use a soft-bristled brush to remove dirt and stains gently. Avoid water as it may leave marks on the suede. Instead, opt for specialized suede cleaners or erasers designed specifically for suede materials. If your loafers are heavily soiled, consider taking them to a professional suede cleaner for the best results.

Can I wear pastel-colored chinos in the office? Pastel-colored chinos can be appropriate for a more relaxed or creative office environment, but it's essential to gauge the dress code beforehand. If your workplace allows for more casual attire, pair pastel chinos with a tailored shirt and loafers for a smart-casual look. However, if your office dress code is more formal, stick to classic neutral-colored trousers and dress shirts.
Remember to have fun experimenting with different styles and creating your signature summer looks. The key is to feel comfortable and confident in what you wear, allowing your personality to shine through your fashion choices. Enjoy the warm weather and make the most of the hottest summer trends for men's fashion!
Ready to dress sharp and command respect with the right accessory? Click here to discover Tonywell, the Professional Accessories Supplier.