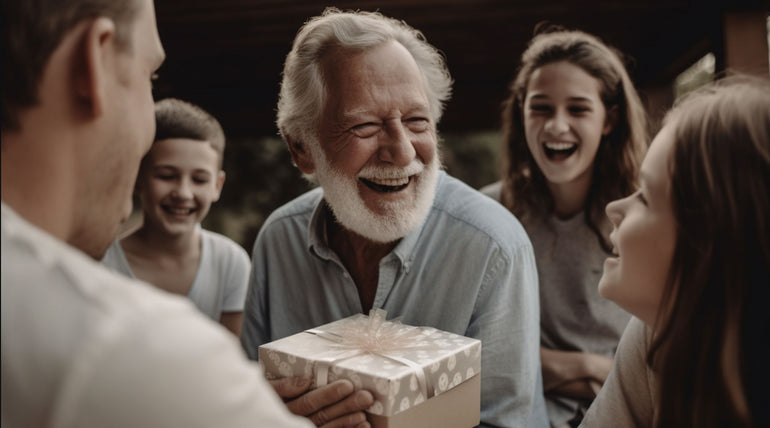 Father's Day is a special occasion dedicated to celebrating the influential role fathers play in our lives. It is an opportunity to express gratitude and appreciation for their love, support, and guidance. As Father's Day approaches, finding the perfect gift that truly reflects your father's interests and personality can be a rewarding endeavor. In this article, we will explore various gift ideas and provide tips to help you choose the ideal Father's Day gift that will make your dad feel cherished and loved.
The Importance of Father's Day
Father's Day holds great significance as it allows us to honor and recognize the contributions and sacrifices fathers make for their families. It is a day dedicated to expressing our love, respect, and gratitude towards our dads. Celebrating Father's Day is an opportunity to strengthen the bond between fathers and children, creating lasting memories and experiences that will be cherished for years to come.
Choosing the Perfect Father's Day Gift
Selecting the right Father's Day gift requires thoughtful consideration and understanding of your father's preferences and interests. Here are some key factors to consider when choosing a gift that will make your dad feel special:
Understanding Your Father's Interests and Hobbies
To find a gift that resonates with your father, take into account his hobbies and interests. Whether he enjoys sports, cooking, reading, or music, tailoring the gift to match his passions will demonstrate your attentiveness and thoughtfulness. Consider items such as sports memorabilia, cookbooks, bestselling novels, or concert tickets to his favorite band.
Considering Practical Gifts
Practical gifts are always a reliable choice, as they combine usefulness with thoughtfulness. Think about items that can enhance your father's daily routine or activities. This might include high-quality grooming products, a new toolset, or a stylish briefcase for work.
Personalized and Thoughtful Gifts
Personalized gifts have a unique way of capturing the sentiment behind the occasion. Engraved items, such as a personalized photo frame or a custom-made piece of jewelry, can showcase your love and appreciation in a heartfelt manner. Additionally, consider creating a scrapbook filled with cherished family memories or a handwritten letter expressing your gratitude.
Tech Gadgets and Accessories
If your father is a tech enthusiast, consider gifting him the latest gadgets or accessories. This could range from a smartwatch that tracks his fitness goals to wireless headphones for his music enjoyment. By keeping up with technological advancements, you can find a gift that aligns with his interests while showcasing your awareness of his preferences.
Outdoor and Adventure Gifts
For fathers who enjoy spending time outdoors or embarking on adventures, gifts that enhance these experiences can be an excellent choice. Consider items like camping gear, hiking boots, fishing equipment, or a portable grill for family picnics. These gifts will not only cater to his passions but also provide opportunities for bonding and creating memories together.
Top Father's Day Gift Ideas
To inspire your search for the perfect Father's Day gift, we have compiled a list of top gift ideas that cover a range of interests and preferences:
Gift Idea 1: Engraved Watch
A classic and timeless gift, an engraved watch adds a personal touch and symbolizes the importance of every moment spent together.
Gift Idea 2: DIY Beer Brewing Kit
For fathers who enjoy brewing their own beer, a DIY beer brewing kit provides a fun and interactive experience while allowing them to create their favorite brews at home.
Gift Idea 3: Men's Belt
A stylish and well-crafted men's belt is a practical and fashionable accessory that can elevate any outfit. Choose a high-quality belt that complements your father's style and adds a touch of sophistication to his wardrobe.
Gift Idea 4: Customized Photo Book
Capture precious memories in a customized photo book that showcases significant moments and highlights the beautiful journey of fatherhood.
Gift Idea 5: Grilling Tools Set
If your father loves to grill, a high-quality grilling tools set will equip him with everything he needs to master the art of outdoor cooking.
Gift Idea 6: Fitness Tracker
Encourage your father's health and fitness goals with a fitness tracker that monitors his daily activities, heart rate, and sleep patterns.
Gift Idea 7: Travel Backpack
If your father enjoys traveling, a durable and functional travel backpack will be a thoughtful and practical gift for his adventures.
Gift Idea 8: Bluetooth Speaker
A high-quality Bluetooth speaker allows your father to enjoy his favorite music, podcasts, or audiobooks with exceptional sound quality.
Gift Idea 9: Personalized Wallet
A personalized wallet adds a touch of elegance and uniqueness while serving as a daily reminder of your love and appreciation.
Gift Idea 10: Leather Journal
For fathers who enjoy writing or keeping journals, a leather-bound journal will provide a stylish and inspiring space for his thoughts and reflections.
Tips for Finding the Perfect Father's Day Gift
While the gift ideas above offer inspiration, here are some additional tips to help you in your quest for finding the ideal Father's Day gift:
Plan Ahead and Do Some Research
Start your search early to ensure you have enough time to explore different options and consider personalized or customized gifts. Take note of your father's hints or any items he may have mentioned wanting in the past.
Consider Your Budget
Set a budget that aligns with your financial situation, but remember that the value of the gift lies in the thought and effort put into it rather than the price tag. There are plenty of meaningful gifts available at various price points.
Think About Sentimental Value
Gifts that evoke emotions and memories can have a lasting impact. Consider items that hold sentimental value or connect to special moments shared between you and your father.
Focus on Quality and Durability
Choose gifts that are well-crafted and built to last. Opting for quality ensures that your father can enjoy and appreciate the gift for years to come.
Don't Forget the Element of Surprise
Surprise your father with a gift he least expects. The element of surprise adds excitement and joy to the occasion, making it even more memorable.
Conclusion
Father's Day is a meaningful occasion to express love and appreciation for the fathers in our lives. By carefully considering your father's interests and preferences, you can choose a gift that resonates with him on a personal level. Whether it's a practical item, a personalized treasure, or a tech gadget, the perfect Father's Day gift will undoubtedly make your dad feel cherished and valued.
---
FAQs
FAQ 1: What is the origin of Father's Day?
Father's Day originated in the early 20th century to complement Mother's Day and honor the role of fathers. It was officially recognized as a holiday in the United States in 1972.
FAQ 2: Can I give experiences as Father's Day gifts?
Absolutely! Experiences such as a spa day, tickets to a concert or sporting event, or a weekend getaway can create lasting memories and be cherished by your father.
FAQ 3: Are handmade gifts a good option for Father's Day?
Handmade gifts can be incredibly meaningful and show the time and effort you put into creating something special. Consider your father's preferences and skills to determine if a handmade gift is suitable.
FAQ 4: How can I make Father's Day special for a long-distance father?
If you can't be with your father on Father's Day due to distance, you can still make it special. Plan a video call, send a thoughtful gift or care package, and express your love and appreciation through heartfelt messages.
FAQ 5: What if my father doesn't have specific hobbies or interests?
If your father doesn't have specific hobbies or interests, consider gifts that focus on relaxation and self-care. This could include items such as a cozy robe, a massage gift certificate, or a subscription to a streaming service he enjoys.