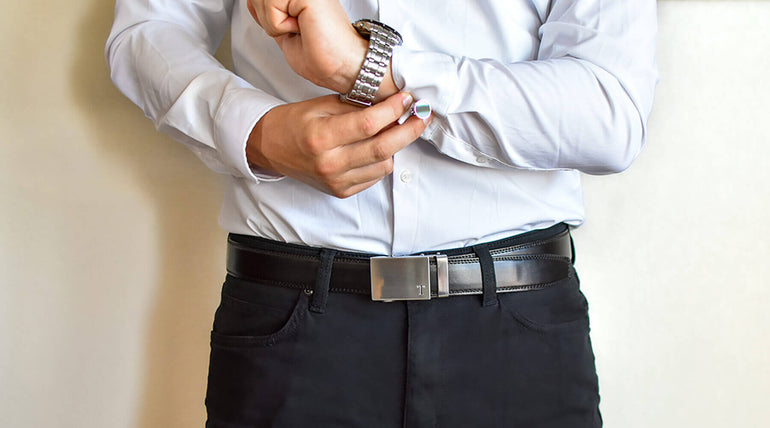 The belt is a timeless fashion staple that can be used in many different ways. Whether you're looking for a way to spice up your outfit or you need something to help tighten up your waistline, a belt is always a reliable option.
But wearing a belt doesn't have to be complicated! With these 6 tips, we'll show you how to style men's belts (leather belts, fabric belts, etc.) so that they're both functional and fashionable!
1. Black leather belts for a formal look!
A black leather belt is the perfect finishing touch for formal belts. It adds just the right amount of polish and sophistication without being too fussy or over-the-top. And because it's such a versatile accessory, you can wear it with everything from your favorite suit to your go-to jeans.
Here are some tips on how to style black leather belts for maximum impact!
Try full grain leather as your first choice, as full grain leather is widely considered the highest quality leather kind of belt.
Pair it with a classic tailored suit in navy or grey for an effortlessly chic look on formal occasions. Add a pop of colour by wearing a brightly coloured shirt or sweater underneath your jacket.
If you're daring, pair your black leather belt with patterned trousers or shorts. Just be sure to keep the rest of your outfit relatively simple so as not to overwhelm yourself (or others).
Finish the look with polished shoes and accessories – think of sleek loafers and understated jewelry.
2. Brown leather belts for that sleek look!
A brown leather belt is a perfect accessory to complete a polished and sleek look. Whether you're wearing a suit for work or jeans for a special occasion, a brown belt can really pull your outfit together.
There are many different shades of brown, so you can find the perfect one to match your outfit. If you want something that will stand out, try pairing a dark brown belt with light clothing. Or, if you want something more subtle, go for a lighter shade of brown.
When choosing a buckle for your brown leather belt, many options are available. You can go for an understated metal buckle or choose something more eye-catching, like carved wood or embossed leather!
3. Woven/Braided belts with jeans!
A well-crafted woven or braided belt is the perfect accessory to complement your favorite pair of jeans. Not only do they add a touch of style and personality to your casual outfits, but they also serve a functional purpose by keeping your pants in place. There are many types of woven and braided casual belts available on the market, so it's important to choose one that fits your personal taste and body type.
For example, if you're petite, opt for a thinner belt that won't overwhelm your frame. If you have a more athletic build, go for a wider belt that will provide adequate support without being too bulky. And if you're simply looking for something stylish yet understated, consider a classic leather belt with intricate weaving or braiding detail.
No matter which type of woven or braided belt you ultimately decide on, rest assured knowing that this timeless accessory will perfectly complete any denim-based outfit!
4. Fabric belts go well with trousers!
A belt is the finishing touch to any outfit and can really tie a look together. They come in all different styles and materials, but one of our favorite choices for belts has got to be fabric!
Fabric belts are perfect for adding a little interest to your look without being too over-the-top. They're also super versatile - you can wear them with trousers. And because they come in so many different colours and patterns, it's easy to find one that perfectly complements your personal style.
If you're looking for an extra pop of colour or pattern in your casual outfit, then a fabric belt is definitely the way to go. But if you want something a little more understated, there are plenty of options out there too. No matter your style preference, we think there's a fabric belt out there for everyone!
5. Thin belts for formals!
Thin belts are the perfect way to add a little bit of definition to your look without looking too overdressed. They can be worn with both smart casual and formal looks, and they always help to give you a put-together appearance.
One great way to wear thin belts is with suit pants. This can help define your waistline and create a more flattering silhouette. Simply choose a belt in either a nude shade or one that matches your pants, and thread it through the belt loops at the side of your garment. You can also try wearing two thinner belts crisscrossed over each other for an interesting twist!
Another option is pairing thin belts with trousers or jeans. Again, this will help cinch in your waist and give you a shapely figure. To do this, simply fasten the belt around your natural waistline (or just below it) and tuck in any excess material so that it doesn't bunch up under the belt buckle itself. Voila - instant hourglass curves!
6. Style up your game with the perfect buckle!
If you're looking to up your style game, one of the easiest ways to do so is by choosing the right buckle. But with so many options available, how to determine which one is best for you?
Here are a few tips to help you choose the perfect buckle for your look!
If you want something that's classic and understated, go for a gold or silver tone. These colours will go with anything and won't be too over-the-top.
If you're going for a more modern look, try a matte finish in black or white. These finishes add just enough edge to an outfit without being too flashy.
When it comes to patterned buckles, less is usually more. A small print or subtle design can add some personality to your look without being overwhelming.
Conclusion
Belts (be they leather belts or fabric) are a great way to add colour and style to your outfit. They can also help cinch in loose clothing, so they're a good option if you're looking for a quick fix before heading out the door.
So, whether you're going for casual or formal, these 6 leather belts styling tips for men will surely help you up your style game!
Ready to dress sharp and command respect with the right accessory? Click here to discover Tonywell, the Professional Accessories Supplier.