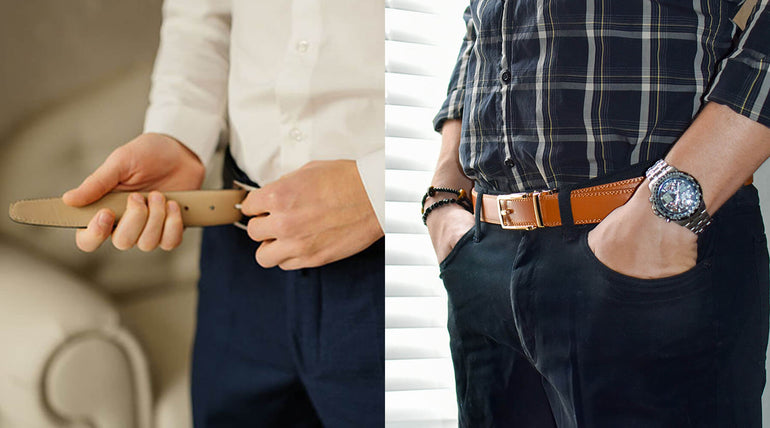 A belt can be your best friend. It can add style to your outfit and help you look more put together. But how do you put a belt on?
It's not as simple as just putting it on and calling it a day. There are many things to consider when wearing a belt, such as the size of your pants, what kind of pants you're wearing, and how much space there is between the two buttons on your jeans.
Luckily for you, we have tips for putting on a men's belt for every occasion!
1. Selecting the Perfect Belt
Before knowing how to put on a belt, it's of utmost necessary to know how to select a perfect one! When choosing a belt, there are several things you should take into consideration in order to select the perfect one for you.
You want to choose one that has a little extra length so that it can be adjusted depending on what you're wearing. If you wear jeans with your belt, you'll need more length than wearing dress pants without suspenders. 
However, ratchet belts offer one size that fits most waist sizes by cutting to fit.
Need a Formal Occasion Belt or An Everyday Wear Cloth Belt?
For formal occasions, leather dress belts usually have a golden, or silver buckle that is best suited.
For daily wear, however, casual belts with any type of cloth will suffice. Decide based on your outfit and where you'll be wearing it! 
There are many different types of belt buckles available. Select the one that complements your outfit the most!
2. Choose a Belt that Complements your Outfit
When choosing the right belt to match your outfit, there are a few dress codes you need to consider. 
If you're wearing dressier slacks or trousers, you'll want to wear a thinner belt that won't look too bulky. On the other hand, if you're casual outfits, like sporting some relaxed jeans, a thicker or wider belt will work just fine.
Matching Your Belt and Shoe Colour
A good rule of thumb is to match them both together if they're made from the same materials (i.e., black leather shoes with a black leather belt). However, if one piece is made from suede while the other isn't—or if one piece is darker than the other—then it's best not to try and force them together; instead, mix and match accordingly for a more interesting effect overall!
Matching Your Belt and Shoe Material
Lastly, consider matching your belt and shoe material when putting together an outfit. This doesn't mean that everything needs to be identical —for instance, a brown leather bomber jacket with black denim jeans would look great with black belts– but make sure that each item compliments the other in terms of fabric and feel!
3. Wearing your Belt
Once you have selected a proper-sized belt that complements your outfit, it's time to put on the belt. So, let's see how to pull off this last step perfectly!
The process is quite simple, assuming you are putting on a typical belt with a single tongue buckle. 
Start by wearing your pants at your waist - this will ensure that the belt loops are in the correct position. 
Then, insert your belt through the left-side loops first before looping it around to the right and feeding it back through those same loops. 
Then, secure your belt with a single tongue buckle - make sure that both tongues of the buckle are inserted into their respective holes, and then pull tight so there is no slack in the belt.
Opt for a ratchet buckle belt if you're wearing dressier clothes or going out for an evening event. These type of buckles looks more polished and elegant. Choose a clip-on buckle belt for casual outfits, such as running errands or hanging out with friends. These are easy to take off and don't require adjustments once fastened. 
Lastly, if you need extra security while wearing your belt (for example, if you're doing strenuous activities), go with a clip latch belt. This belting system uses two clips instead of one to provide additional support so that your pants always stay where they should be!
FAQs on Wearing a Belt
Should I wear a belt with jeans?
There are several divergent viewpoints on this topic. Some people believe that belts should only be worn with dress pants, while others think that jeans can benefit from adding a belt. So, which is it? 
To help you make your decision, we've put together a little guide on when and why you should or shouldn't wear a belt with jeans. If your jeans are already fitted and don't require any adjustments in order to stay up, then you probably don't need to wear a belt. In fact, wearing a belt in this situation could actually end up making your look appear more bulky than necessary. 
On the other hand, if your jeans are loose-fitting or tend to fall down without some sort of support around the waistline, then throwing on a belt can definitely help keep everything where it needs to be - not to mention that it even provides a few extra style points!
When should you not wear a belt?
There are a few occasions when wearing a belt is inappropriate. These include:
When you are wearing shorts that end above the knee, belts can look bulky and out of place. Skip the belt and opt for something else to hold up your bottoms.
Ditching the belt will give off relaxed vibes if you're going for a more smart casual look, like jeans and a t-shirt. No need to cinch in your waist if you're just hanging out at home or running errands.
Wearing suspenders? Then definitely don't add a belt on top! This goes for guys and girls – one strap per outfit is all you need (and looks best).
Are belts out of fashion?
It's hard to say if belts are out of fashion. They definitely have a more casual look than they did a few years ago. And, you'll see plenty of people who don't wear them at all. 
But, plenty of people still wear belts - especially when they're dressing up a bit. So, it depends on your personal style and what looks good to you!
Conclusion
So, that's how you put on a belt! Remember, selecting a perfect-sized belt is as important as wearing one the correct way. 
Hence, ensure that you choose a belt that fits snugly and even complements your outfit in a way!
Ready to dress sharp and command respect with the right accessory? Click here to discover Tonywell, the Professional Accessories Supplier.