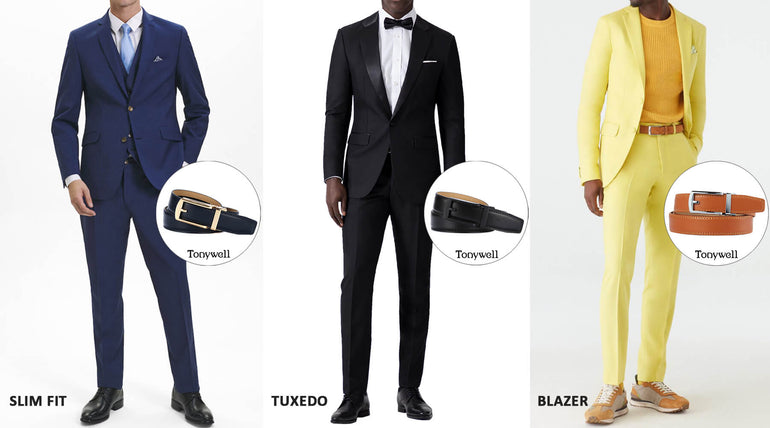 What attire makes a man look as upright, stylish, or professional as an esquire or a gentleman like suits do? A properly fitting suit will do more than elevate a man's charisma or his professional trustworthiness. When you walk in the right suit, swaggering and striding, I bet your mode will eclipse all the other men. How important the right suit is then! 
Today, we are going to learn one thing and two about the suit. This article will lead you to know more about the suit, including the basic types of suits, how it is constructed, and last but not least, how to buy one that works for you. And for your information, the article mainly delves into jackets and leaves the bottom not discussed.
I. 5 Basic types of suits
A slim-fit suit has a smaller frame and is designed to be more tailored than a traditional suit, which is narrower through the chest and waist and has shorter sleeves. That's why a slim suit looks better on a man who has a smaller skeleton. They are more popular among young men trying to be posh and look modern. With lighter materials, slim-fit suits are cooler compared with the other kinds in the summertime. 
A tuxedo, also known as a dinner jacket, is a purely western garment, originally occurring around the time of 1800 in the UK when the men from the upper class were mad about outdoor activities, which spurred the emergence of shorter and more fitting suits. At first, they wore tailcoats. However, due to the cumbersomeness of the tails, they forwent the tails and made the coat shorter. That's how tuxedo came about.
A tuxedo has a very obvious feature: the lapels are called shawl lapels, made from different fabrics other than the suit body and sometimes of a different color.
If you are wearing a tuxedo, you must wear a white dress shirt, a black bow, and black dress shoes. 
A party blazer, by the name which implies that it is worn at parties. Cotton, linen, and polyester are usually their fabrics due to their elasticity and being easy to dye.
Party blazers can be worn for other casual occasions other than parties, such as weddings or any occasions where people are celebrating. It comes in a variety of colors and styles. You can even find one outrageously blowing your mind in rosy pink or killing yellow for men. It will make you the one under the spotlight and never to be forgotten by some people. Get one that shouts out your personality the most if you have the opportunity to wear it. 

         Tonywell Gun Buckle Light Brown Ratchet Belt                          Tonywell Silver Buckle Black Ratchet Belt
A single-breasted suit is the most common type, and most men on the globe wear it because it has no restrictions or special rules to abide by for wearing or not wearing it. Usually, there are two buttons in a row down the front and two patch pockets on both sides of the buttons. 
This is a versatile type of jacket and can be worn for both casual and formal occasions. Like the party blazers, single-breasted jackets come in various textiles, patterns, and colors. We have linen, cotton, plaid, flannel, velvet, and many more textiles. You can wear one in spring, autumn and winter, to remember to choose one made from the corresponding material. 
In contrast to single-breasted, a double-breasted suit with two rows of buttons, with one row overlapping the other. It was originally applied to the jackets worn by the army, aiming to keep the wearer warm in cold weather. 
Nowadays, double-breasted suits are worn more by conservative and nostalgic older persons who try to build a vibe by imitating traditional classics. In addition, they are worn at funerals and weddings more. 
II. How a suit is constructed
You don't know why a suit is suitable for you if you have no idea of how it is fabricated. Some basics of the construction of a suit are a must. So now let's get to know about it. 
The first step of making a suit is to take measurements and design its shape and style. This is easy to understand, so I will skip step 2, the actual cutting, which involves the tricks and secrets of a well-tailored suit.
First, the tailor will make a baste based on the measured numbers of the suit owner's body and the pattern he has chosen for the fabric. The baste is handmade. When the bundle is created, which includes the canvas and trimming selected for cutting, it is time to cut for real. Before cutting, trace the piece's shape and size using a red pencil, and then use a pair of sharp scissors to cut along the red lines. Also, letters A, B, C, and D will be used to mark different jacket sections. Then there are the next steps, such as piecing and sewing. 
All in all, making a suit is complicated, and many things must be paid attention to. When taking the measurement, the arms, chest, and waist need to be paid special attention to, and it is better if some leeway can be left in case any modifications are made, and it is always easier to amplify than to shrink the size. 
When choosing a suit, make sure that you have chosen the right pattern and style for the occasion where you will wear it. And the last reminder, it is better to ask the tailor to make the suit with your actual measurements instead of giving off or narrowing too much in size. 
III. How to choose a suit that looks good on you
If you don't have an ample budget for a tailored-made suit and have to pick out a suit that you hope will look good on you from a retailer, then you should bear in mind the following notes:
Look out for the shoulders, hips, waist, and arms. These are the core sections for a man to wear a suit. The principle for looking good in a suit is to make a square shape out of your torso, not too wide in the shoulders and not too conspicuous in the middle. 
If you have a big belly, choose a single-breasted suit, which will perfectly divert attention from your belly. And also, do not try the striking patterns and dramatic color unless you are James Cordon. 
If you are exceptionally bulky in your arms and shoulders, try soft shoulder lines and notch lapels instead of one with shoulder paddings. 
Proportions matter the most! Whether you are tall and lanky, short and chubby, or larger in some sections than the average man, remember you should always settle for a well-proportioned, well-tailored suit on top of other requirements. A good proportion of a suit will hide your weaknesses and accentuate your advantages. 
Conclusion
If you are looking for a nice jacket or suit, remember to scavenge around, compare the prices and make of details and sales service quality as well for sure before buying finally.
 Ready to dress sharp and command respect with the right accessory? Click here to discover Tonywell, the Professional Accessories Supplier.
Suit image from Indochino