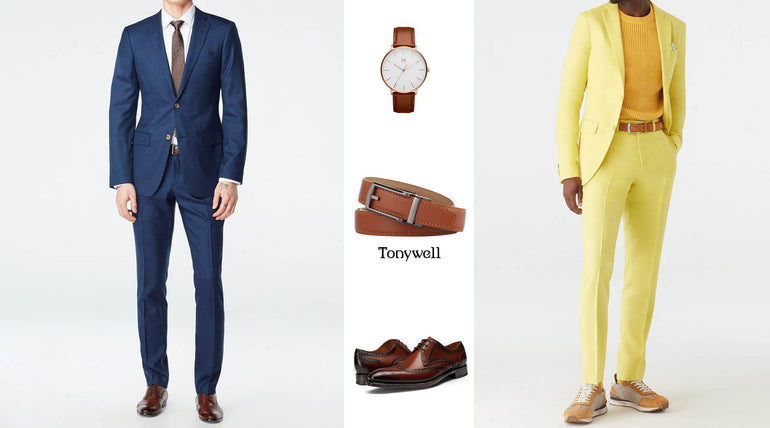 Do you know that the colour of your belt is an important part of your outfit?
It's true! The colour of your belt can help you make a statement, accentuate certain areas of your body, and generally look more polished. But what if you don't know what colours go together? Or how to pick the right colour for your outfit?
Never fear: We're here to help! We've put together this guide on belt colours: from brown belts to black belts, and how they work with different outfits, so you can choose a perfect colour!
Colour Matching your Belts with your Outfit!
You can style a dark brown belt in many different ways, and it depends on the look you're going for.
If you want to keep things simple and classic, then pairing your belt with khaki pants and brown loafers is always a good bet. Try teaming your dark brown belt with black skinny jeans and ankle boots for a more stylish outfit. And if you're daring, wear your belt with a printed dress or skirt - just make sure to cinch it at the waist to create some definition.
No matter how you style it, a dark brown belt is an essential piece in any fashionista's wardrobe!
As a general rule, black belts go well with most suits and pants. However, some specific combinations work particularly well. For example, a black belt can really make a navy suit pop. Or if you're wearing khaki trousers, wearing a black belt will add just the right amount of contrast.
Again, there are no hard and fast rules when it comes to shoes. But generally, brown shoes look best with a black belt. This is because they create an elegant contrast that makes your outfit look more put together.
Of course, you can always experiment with different belts and shoe colours to see what looks best for you!
Blue belts go well with navy suits and grey pants. The shoes you wear with your blue belt should complement the rest of your outfit; black shoes are always a safe bet.
If you want to add a bit of personality to your look, consider pairing your blue belt with brown loafers or oxfords.
Tan belts are versatile accessories that can be worn with a variety of different looks. For a casual look, pair your tan casual belt with jeans and a t-shirt. Add a blazer and loafers for a more polished appearance.
Or, wear your tan belt with khakis or chinos and a button-down shirt for preppy style. When matching your shoes with your tan belt, consider the overall outfit and choose footwear that compliments the rest of the ensemble.
How to Choose the Right Belt According to Your Outfit?
A belt is an excellent way to add style to any outfit. But with so many different types and styles of belts available, it can be hard to know which one is the right choice for your look. Here are a few tips on how to choose the right belt according to your outfit!
Tips 1. If you're wearing pants or shorts with loops, you'll want to choose a thinner belt that will easily fit through the loops. A wider belt can also work well in this case, but make sure it's not too bulky, or else it will look odd.
Tips 2. For shirts and dress pants, there are two main options: either go for a thin waistband that sits at your natural waistline or opt fora more decorative option such as a dress belt that goes around your hips.
Tips 3. When choosing a belt colour, try to match it with other accessories such as shoes or a briefcase for a cohesive look.
Tips 4. Brown and black belts are always safe choices that will go with everything, but don't be afraid to branch out into brighter shades if they complement your overall style.
Should you Colour Match your Belts with your Pants or your Shoes?
There is no single answer to this question; it depends on your personal style and what you feel comfortable with. If you're unsure, a good rule of thumb is to match your belt with the colour of your shoes. This will create a cohesive look that is polished and put together.
If you want to mix things up, try pairing a black belt with brown shoes or vice versa. This contrast can add interest to your outfit and help break up any monotony. Just be sure not to go too crazy - stick to two colours maximum so as not to overwhelm yourself or others!
Ultimately, the best way to figure out what works for you is to experiment. Try different combinations and see what feels natural. After all, fashion should be fun - so have fun with it!
The Do's and Don'ts of Matching a Belt!
Matching a belt to your outfit may seem like a daunting task, but it doesn't have to be! Here are some dos and don'ts of matching a belt that will help you look pulled together every time.
· Choose a colour that compliments your outfit. A black belt or even a brown belt will usually go with anything, but if you want something more fun or festive, try choosing a coloured or patterned belt that coordinates with the colours in your ensemble.
· When in doubt, choose simplicity over embellishment. A solid leather belt without any extra details is always going to look chic and put-together.
· Leave the bedazzled belts for another occasion! 
· Don't wear a skinny belt with wide-leg pants or vice versa—this will throw off the proportion of your look and make you appear frumpy rather than polished.
· Be careful not to choose too matchy-matchy of a casual outfit—if everything is exactly the same colour (or even just similar tones), it can start to look costumey rather than intentional.
· And finally, avoid wearing belts at all costs if they're not absolutely necessary for holding up your pants! This includes low-rise jeans which often look better without a belt!
Conclusion
We hope you've enjoyed this article on belt colour options and colour matching your belt.
We know it's a topic that comes up time and again, so we wanted to lay it out in a way that makes sense for you. If you have any questions or comments, please feel free to reach out!
Ready to dress sharp and command respect with the right accessory? Click here to discover Tonywell, the Professional Accessories Supplier.