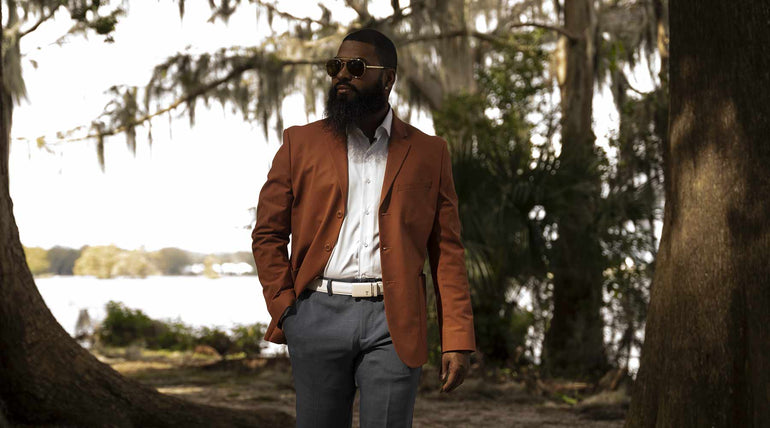 Your belt is an important accessory. It can make or break your outfit, so it's important that you know how to pair it with your outfit in a way that's both stylish and practical.
A lot of people don't know this, but the belt can actually be more than just a way to keep your pants from falling down! It can also add a new dimension to an otherwise boring outfit, give you an opportunity to really show off some personality, and even make you look slimmer when worn correctly.
In this article, we'll talk about how to ideally pair your belt to your outfit in just 6 easy steps. So, quick shout out to Tonywell Belts for partnering with me on this article.without further ado, let's get started!
How to Ideally Pair Your Belt to Your Outfit- 6 Easy Steps to Follow!
When it comes to accessorizing your outfit, one of the most important pieces is your belt. Not only does it help keep your pants in place but can also be a great way to add a pop of colour or texture to an otherwise simple look.
But with so many different belts to choose from, how do you know which one is right for you? Here are 6 steps to follow on how to ideally pair your belt with your outfit!
1. Consider the occasion
When considering how to pair your belt to your outfit ideally, the first step is to always factor in the occasion!
If you're dressing up for a formal event, then opt for a more sophisticated belt, like a leather belt, made from materials like leather or suede. For casual days out, however, feel free to experiment with fun prints and brighter colours.
2. Think about proportionality
Another thing to consider is how wide or narrow a belt works best with the proportions of your body and clothing items. A wider waistband will balance out hips, while thinner belts work well if you have a smaller frame.
On the other hand, avoid super skinny belts if you tend to wear looser-fitting clothes, as they can make things look even baggier than they already are. Instead, go for something in between that still cinches without being too constricting around any areas of your body for a slim fit.
Trying on different widths until finding one that looks flattering should give some guidance here!
3. Choose complementary colours
When selecting both men's and women's fashion accessories, there's often debate over whether everything needs to match perfectly (e.g., shoes matching a belt or handbag, etc.), or whether picking key complementary colours throughout is better!
This mostly comes down to personal preference. However, as a general rule, especially when starting out, it can be easier and safer to complement using similar tones, shades, and hues as what you're wearing.
So, pick either 1-3 colours at most to focus on complementing! Anything else beyond that may start looking overdone!
 When you dress formally, with dress shirts, suit and tie:
Pair your leather belt with leather shoes.
Black leather shoes with a black leather belt.
Brown leather shoes with a brown leather belt.
What color belt is the best for a casual outfit, whether you're dressing casually or not wearing black or brown shoes?
You can wear black or white shoes with any outfit, but if you want to be extra stylish, pair them with a black belt.
Any outfits with dark or vibrant scale, purple, green, navy, burgundy, tan, rust orange, or yellow, go with a brown belt.
4. Go bolder with patterned shirts/tops
Solid-coloured bottoms can provide an excellent backdrop for printed scarves, neckties, etc. Wearing these allows you to mix up different patterns more easily than if both the top and bottom were busy!
What color shirt and pants with black belt?
 Blue shirt black pants go with black belt
Black shirt navy pants go with black belt
Black and white outfit with black belt
Black shirt brown shoes with black belt
Black jeans brown shoes with balck belt
What color belt with brown pants?
Green and brown outfit with brown belt
Blue and brown outfit with brown belt
5. Match metals
Select jewellery in the same metal tone as your belt buckle. Even shoes, buttons, and zippers should match! All these little details can really bring an outfit together and save time fumbling through mismatched jewellery.
6. Have fun with it!
After all, fashion should be fun, not a chore. So, have fun experimenting and enjoying the process of finding the belt that best suits you, your outfit, and the occasion. Good luck!

FAQs
1. What do you match your belt to?
Your belt is one of the most important accessories you can wear. It not only keeps your pants up, but it also completes your look. But what do you match your belt to? Here are a few tips!
If you're wearing a black outfit, pair it with a black or silver belt. If you want to add some colour to your look, go for a brightly coloured belt. Red belts are always in style and they really make an outfit pop!
For a more casual look, choose a brown or tan belt that matches your shoes. This is perfect for when you're going out on a date or running errands around town.
And if you really want to make a statement, try pairing two different colours together (like red and green). Just be sure that the colours complement each other well!
Mix belt strap and buckles here!
Tonywell always adding new colors and meterials so you are guaranteed to find the right shade and style you need!
2. How do you match a belt with a suit?
There are a few things to consider when matching a belt with a suit.
The first is the colour of the belt. You want to ensure that the belt's colour complements your suit's colours.
The second thing to consider is the width of the belt. A wider belt will look proportionate with a wider lapel, while a thinner belt can be worn with any size lapel.
Lastly, you want to make sure that the length of your belt falls at the mid-point between your hip and waistline so it doesn't visually cut you in half and that there's enough tuck left over at the front so it doesn't look like you're about to get swallowed up by fabric!
3. Do jeans look better with belts?
There's no denying that belts can be a great way to add some extra style to your look. But when it comes to jeans, is it really necessary? The answer may surprise you.
While there are definitely exceptions, generally speaking, jeans look best without a belt. That's because they're designed to sit at your natural waistline, which is usually where your body looks the slimmest and proportionate. If you wear a belt pair of jeans, it tends to break up that line and make you look wider than you actually are.
Of course, if you're wearing a pair of high-waisted jeans or something similar, then by all means go ahead and accessorize with a belt! But for most people (and most styles of denim), ditching the belt will create a cleaner silhouette that flatters your figure in the best way possible!
Conclusion
We hope you found this article helpful in learning how to ideally pair your belt to your outfit. If you have any questions or comments, please feel free to reach out through the comment section and we will get back to you promptly.
Don't forget to check out Tonywell belts. Do you have other tips for pairing your belt with your outfit? Share them with us in comments.
Ready to dress sharp and command respect with the right accessory? Click here to discover Tonywell, the Professional Accessories Supplier.