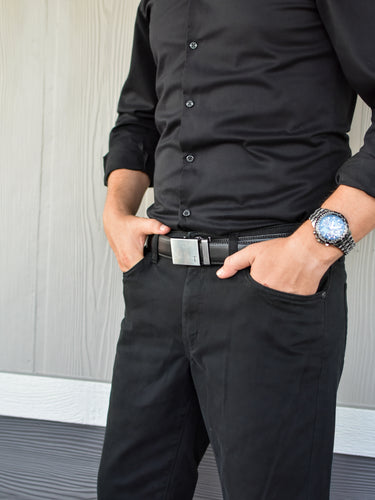 When it comes to male fashion, items like shirts and dress pants should never be overlooked. And today, the matching them is no longer a representative of business and formal style. Instead, it can show a man's taste, as well as his characteristic.
The coordination of shirts and dress pants is indeed formal and serious but also dull to some extent. It seems that this kind of style cannot lead the fashion. However, shirt and dress pants in each person's hands can be super stylish through various matching skills, which are on par with the trendy items.
Pay attention to the following tips, and try to follow them. You can be a fashion icon in a minute by making a change with these two simple items!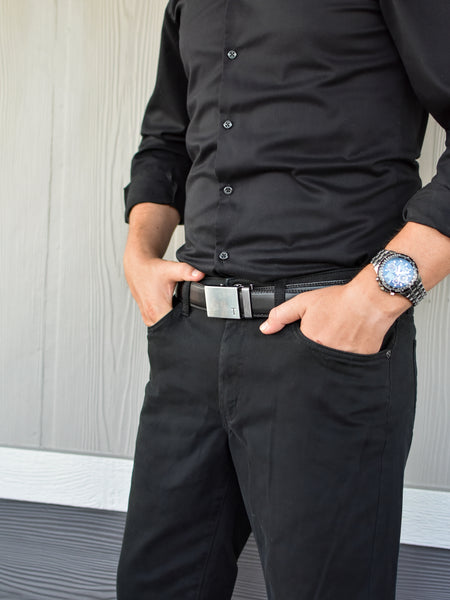 I. Choosing the Appropriate Shirt Type
Whether a shirt is fashionable or formal, it should fit first, thus catching people's eyes without exaggeration. It's easy to be formal. But to be fashionable does not mean to wear the trendiest items. One can master basic items first. For example, a basic style with a fresh color can also be striking.
Except for the color, grain design is another element to make you look stylish, with which plaid design is the most popular. A plaid design and oversize style achieve a causal image. At the same time, dress pants are steadier than jeans. So the whole look is full of vitality, as well as stylish.
II. Changing the Undershirts
Except for only wearing them directly, You can also layer spring and autumn shirts on undershirts. Although the shirts will constantly be the leading role, a change of inner layer can greatly influence the whole outfit.
The most basic undershirt remains the white T-shirt. The color is simple and humble, which makes it can collocate with shirts of any color and any type.
If you want to be a little bit more fashionable and special, you can go with the striped light-colored T-shirt. The element of the strip can make the whole look, consisting of the solid color shirt with gradation. But remember to choose the T-shirt with the proper strip width.
III. Paying Attention to the Sleeve, Collar and Hem 
How to style a shirt plays a decisive role in the overall temperament. The slim, conventional or oversize versions are different in shape, and so are their matching methods.
To keep it sleek for a conventional shirt
When choosing a proper conventional version, the disordered lines greatly reduce the overall temperament. Only the folded collar that fits the shoulder neck curve can make you look handsome and sleek. Tucking hem into the dress pants and wearing a belt with similar color will make the whole look simple. The most important thing is to ensure that the lines are clear, which adds to the overall temperament.
Of course, although it is required to be appropriate to wear, it is not restricted to fit. A slightly loose shirt is still fashionable. If you want to highlight the formal feeling, a larger size is really not applicable. But you can unbutton the collar button to create a relaxed and unrestrained feeling in daily life. Of course, it also sweeps away the sense of bondage. At the same time, the rolled-up cuffs and the slightly stacked waist connection also add more leisure to you.
Casual oversize street style
Although oversize is also a loose style, it is different from the more oversized shirt. The larger shirt is still the version of the regular shirt, but the oversize shirt usually adopts a silhouette design. If so, you can directly use it as a coat. If you want to show more personality, you can put the hem into the belt, which not only keeps the cool street style but also improves the waistline and relieves the swelling feeling of the loose version.
IV. Choosing the Appropriate Dress Pants
Since the shirt plays a fundamental role in a whole look, you can always choose what kind of dress pants you should wear according to the shirt style.
Straight dress pants have a strong tolerance for leg shape, which will make legs appear straight and slender. Although straight dress pants are in pure black most of the time, their length just to the ankle will not appear heavy and dull. And they are not that eye-catching, so that they can adapt to almost all styles of shirts.
In contrast, the pleated trousers will have a stronger sense of design and will also let men with an expanded waist, and hip line avoid the embarrassment of wearing tight pants. If the straight trousers exist to set off the shirt, the pleated trousers are born to be the center, directly attracting the sights. Therefore, avoiding choosing too fancy shirts is necessary to prevent aesthetic fatigue.
V. Combining Colors
Color is another important topic in styling, especially for men. You can easily go too much by accident. Narrow down your options to white and blue when in doubt, as these two colors are simple and fresh and can never be out of fashion.
Of course, you should also pay attention to the consistency of colors. The white shirt cannot pop out from other bright colors. So, an undershirt with the same or similar color would be a good choice. 
Details make dark colors different.
The light color shirt has the same visual effect as the white shirt, which is fresh and simple. However, the dark color shirt cannot be easily handled. Under this circumstance, white shoes with an age-reducing effect can mediate when the combination between the dark color shirt and dress pants appears too formal and serious. It adds a bright color to the whole look and avoids the business feeling, thus making you super handsome.
VI. Choosing Appropriate Shoes
It is no doubt that shoes can change the feeling of styling. Leather shoes are classic items for business style. So, you can style leather shoes to add maturity to your look if the top shirt is too casual.
Casual white shoes/saddles
White shoes and saddles are must-have items for casual style. You can also be cool and chill, even wearing a dress suit if you put these shoes on. And they can help to avoid looking too mature and create a tremendous age-reducing effect.
The combination of shirt and dress pants can no longer be old-fashion. You can also be a stylish man to create various looks by coordinating young, casual and formal styles only if you follow the tips mentioned above!