Belts seem unimportant to a lot of people, including men. They think a belt is just a dangly object showing off a glittery bronze medal. Simply put, you can wear it with or without it, which won't make much difference. However, today, I must tell you that this is not the case. A good, decent-looking belt can not only add to a man's masculinity and amplify his confidence but also increase his chance to be marked and help him get what he wants and achieve his goal- a sexy date or a successful interview. In the following part of the article, I will guide you through the basics of picking a belt, including how to find one belt that looks congenial with the shoes and the outfit.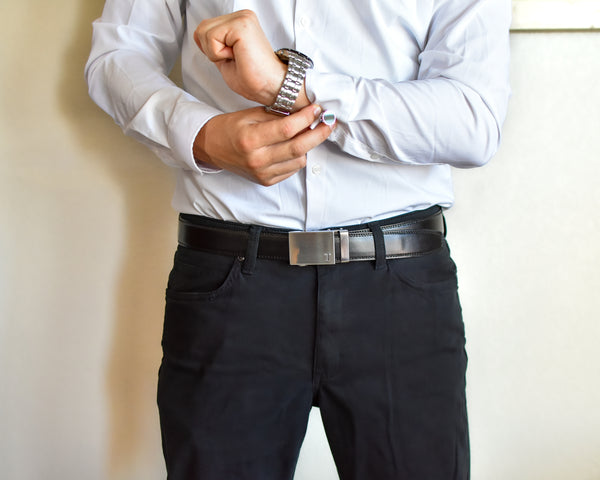 To start with, I believe it is of substantive importance to let every man know that it is essential and a must to wear a belt if you are wearing a suit, and this belt has to be a dress belt! If you are well-dressed, fitted in the dress shoes and a button-down dress shirt and hang around your waist with a casual belt, it will make you look bad. When wearing a formal suit, you should always wear a formal belt. But before we go on to the belt-outfit matching knowledge part, I need to educate you on formal and casual belts. To make things simple, I will just highlight the most outstanding difference between a formal belt and a casual belt.
The formal belt is generally between 24 mm - 38 mm in width

They are made of real leather, be it calfskin or cowhide. Ostrich, lizard, crocodile, and alligator skins are naturally used for casual belts, but they can also work for a formal belt if in dark colors.

A formal belt is usually smooth and has a sheen on the surface and functions as an understated extra to one's entire outfit. Hence, it doesn't have impressive patterns and is typically in solid colors like black or brown.

Lastly, almost all formal belts include a frame-style buckle, in which the strap passes through the square-shaped frame and the buckle's prong goes through holes or notch in the strap to fasten the belt.
And now it is the turn for casual belts. Casual belts usually have more diversified colors, patterns, styles and buckle shapes:
They are mainly between 38 mm-45 mm in width.

They are usually manufactured in such materials as full-grain leather (outer layers of the cowhide), webbing, canvas, tooled leather (with stamped patterns), braided leather, and even rope.

There are more buckle types than formal belts. Box type, O-ring type, snap buckle or plate style etc.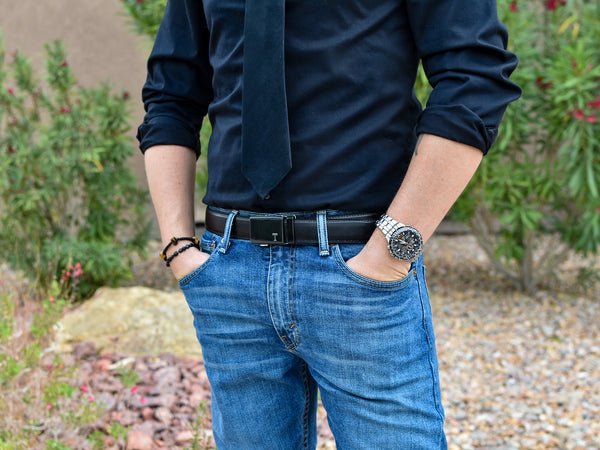 And now we enter the subject of today's article - How to Match Your Belt with Your Outfit?
Here is the basic principle: you should pair your belt according to your shoes. Whether you are wearing formal, semi-formal or dressed casually, always think of this rule of thumb when picking out a belt. Please take a look at the belt's color and its buckle. The belt strap should be the same colour as your shoes, as well as the shininess. The belt's buckle should match the accessories on your shoes or any other accessories you are wearing (excluding the wedding band, which can contrast with the other accessories you are wearing.) For example, if you are wearing black/brown, wet-look dress shoes, you should also have a black/brown belt of patent leather; if you are wearing a pair of black loafers with a wisp of gold tassels on the shoe surface, you should have a black belt that uses gold buckle.
The same is true with the casual outfit. If you are wearing tropical shirts, khaki shorts, sandals, or long gray chinos and a sports jacket, or you are aiming for dandy boy style once in a while and put on a pair of two-toned shoes, the followings are going to tell you what to do when you are dressed up like that. Let's start with the thorny candidate first, the shoes in two colors.
According to the fashion practice in consensus, it is the right choice to match your belt with the dominant/darker color of your shoes. That being said, if you are wearing a pair of shoes whose body is black with a patch of white on both sides of the shoes, you know that you should wear a belt that shines in black shade, or when you are wearing costume shoes with shallow brown on the shoe tip and the rest is dark brown, you should pick a belt in dark brown.
That leaves us with the last tip- the belt you should take to go with the casual footwear, like Converse, sneakers or sandals. Since you are in a casual outfit, you should choose a casual belt. (Overdressed is as horrible as underdressed) The applicable rule is the same as the one you leverage when you match the belt with your formal outfit - the similar color of shoes and choose the appropriate fabric. You can pick one from those mentioned above. You can show more personality through the belt selection, meaning that you can choose a grotesque pattern or uncommon colors, such as oxblood or gradient, to match your look. Just put the whole situation into consideration when selecting a belt.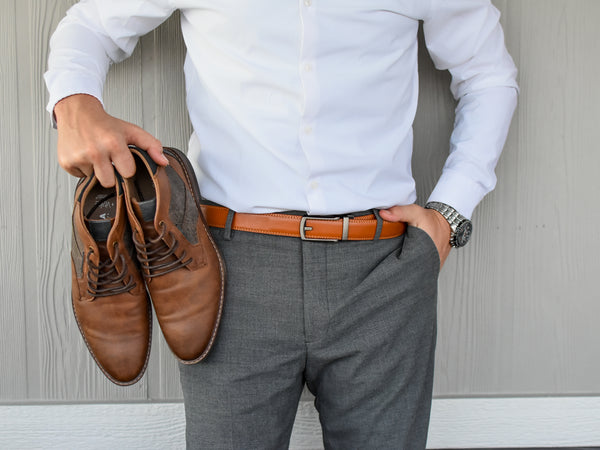 Ultimately, I must give you a very important reminder: the whole look is what matters. Whether you are dressed formally or for a beach vacation, you must remember that you are a whole deal when people are checking you out and the belt is just an accessory that can be overlooked when getting the whole look ready. But if you wear the belt, choose it wisely and correctly and don't mistake a formal belt as a casual one or dress a formal belt in a casual look and vice versa.