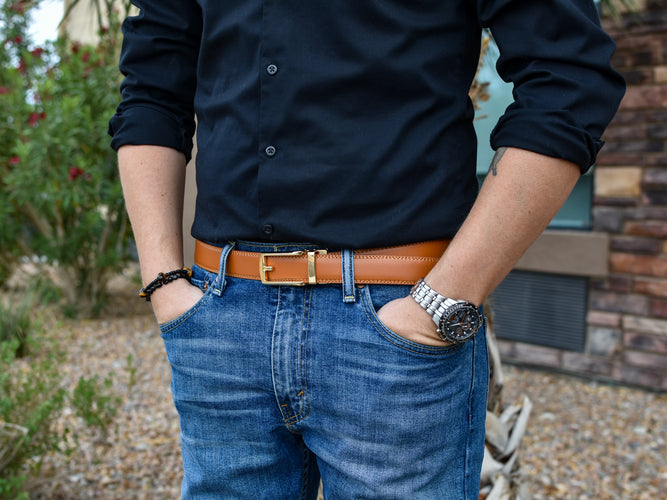 Jeans are one of the most versatile fashion items. When you're having trouble matching your clothes, you can even take them out of the closet, put them on, and walk out the door. The trend of jeans and casual simplicity is why jeans have long attracted the public. Do you know how to wear jeans with anything?
Outfit Building Guideline
Whether it's jacket or coat, suit or tweed, almost all coats can be used to match jeans and will create different styles. Tending to correct proportions is our human being's instinct, even when wearing clothes. So, regardless of your taste in jeans, one thing is clear: you also need to choose the fitting jeans for your body shape and legs. For example, if the line of your legs is slightly curved, you can choose wide-leg or straight-leg pants. You can choose skinny pants that will make you look slenderer.
A T-shirt With Jeans
Find a shirt that looks right with overall collocation and occasions to attend. The shirt's texture should be chosen to make you feel as comfortable as possible and loose in fabrics such as silk.
Poor quality fabric can lead to:
Skin allergy, redness, and acne
Skin itching, discomfort, and even need to see a doctor
Reduced clothing life: Clothing is not wearable
Clothes fade and turn yellow
A high-quality shirt should at least be made of pure cotton. It is best to choose a sweater made of sweatproof cloth, which can avoid the embarrassment caused by sweating. Especially in the summer, you don't want a sweat stain on your shirt to ruin your day. You may as well pair a darkish T-shirt with a sturdy-looking belt or leather work shoes to make the overall look more coordinated. You can try dark grey jeans with a plain-colored top or a simple dark shirt in silk fabrics with baggy blue pants.
A Suit Jacket With Jeans
One of the features of slim jeans is that it helps you weaken the bloated line of the legs and highlight the overall elegance and refinement. It can make the outfit shape work better for you.
Even if you don't have a slender leg shape, you can avoid the defects of the leg shape by wearing a loose blazer and a ratchet belt, improving the visual body proportions, and highlighting the sense of fashion. This requires us to have a specific combination of skills. In particular, the long blazer can be used very well to modify the disadvantages of bloated legs.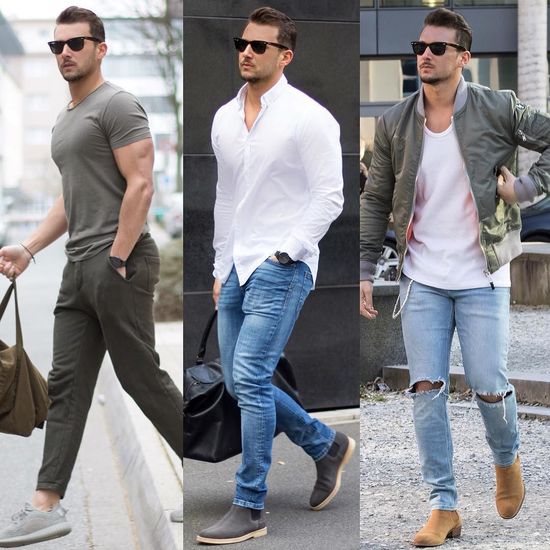 Accessories with Jeans
As long as you check to go with accessories properly, you can make your body look slenderer and slimmer.
The belt is vital for a person's overall shaping design. Some men will match a belt when choosing pants, which will make the overall shape look more personalized, mature, and decent. The waistband enhances the stylish feel of the look and can make you feel confident, open, and relaxed. Therefore, many people wear belts to prevent pants from falling and mainly enhance their fashion sense style. Hence, the strap's style selection skills and collocation are also essential.
Shoes with Jeans
Unlike other pants, jeans make you look young and are suitable for men of all ages.
There is a wide choice of jeans. However, it is imperative to choose the right shoes to match them and make them more outstanding. After all, what shoes to wear jeans with is the key to enhancing the overall style's soul.
The most common colors that you can choose for men's shoes:
Black: patent leather shoes
White: white loafers
brown: crocodile shoes
gray: sneaker
Most fashion people should not be unfamiliar with white casual shoes. Most people may be more inclined to choose white. At the same time, white, by nature, can convey integrity, seriousness, and responsibility. Blue jeans and white loafers can strike a natural balance, giving people a simple and generous feeling.
The stylish and handsome Martens is also a must in the men's shoe cabinet. Pair khaki Martens with jeans for a casual yet elegant look. Guys who want to go for a relaxed look should try this pairing with martens and jeans. They give a tranquil, calming effect when people are across from you.
Jeans with trendy sneakers
If there are any man's shoes to represent youthful vitality, it is canvas shoes. The material of canvas shoes uses comfortable and breathable canvas cloth commonly. The style also adopts the design of youth fashion. Wearing jeans is also very stylish and personal.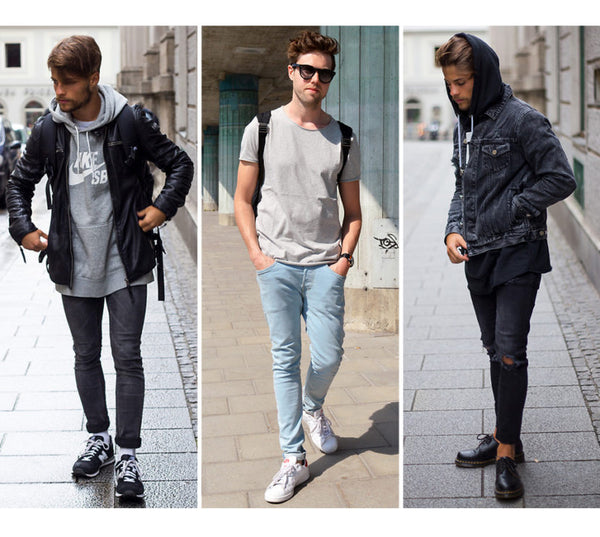 Jeans can be a piece that can be worn all year round. Almost everyone has such a piece in their wardrobe because it is versatile enough; it can be matched with any item in your locker room. The critical point is that you will look great with the jeans that fit you.
Ready to dress sharp and command respect with the right accessory? Click here to discover Tonywell, the Professional Accessories Supplier.