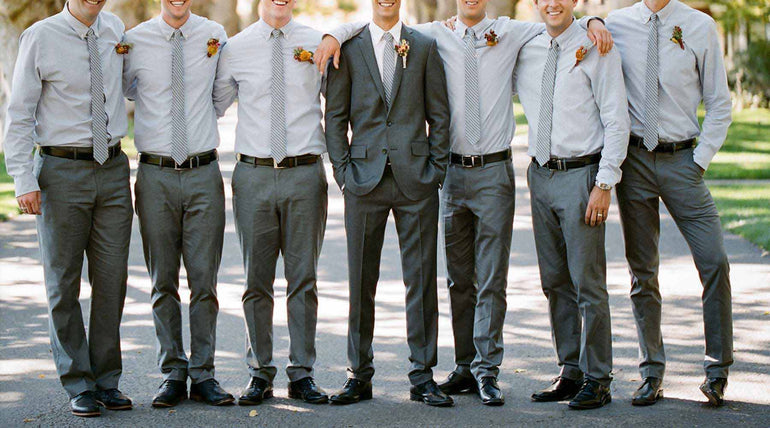 Men's wardrobes are incomplete without leather belts. They can be used to add a stylish touch to a suit, or they can be worn with pair of jeans and a t-shirt. And what's more? You can also use leather belts for wedding style!
So, If you are looking to buy/choose a leather belt for your wedding, there are several things that you should consider before making the purchase. Here are some tips on how to choose the best one!
5 Factors to consider before choosing the best leather belt for a wedding suit!
1. Consider the wedding themes
When choosing the perfect leather belts for a wedding, it's important to consider the overall style of your wedding themes. A formal affair calls for a sleek and polished look, while a more relaxed event may allow for something with more personality.
If you're not sure which route to take, err on the side of caution and go with a classic black or brown belt that will complement any outfit. From there, you can start to have fun with different textures and colours. For example, if you're wearing a suit made from heavier fabric like wool, then opt for a thicker belt in order to balance out the proportions.
On the other hand, lighter materials such as linen lend themselves well to thinner belts. No matter what type of genuine leather belt you choose, make sure it fits comfortably around your waist- you don't want anything digging into your skin during those long days (and nights) of dancing!
2. Decide on the colour
Your wedding is one of the most important days of your life, so choosing a leather belt that will complement your attire is important.
There are many factors to consider when choosing leather belts for wedding attire, but the colour is one of the most important. Here are some tips on choosing the perfect coloured belt for your wedding!
Consider what colours will complement your pants. A cream or ivory-coloured belt is ideal if you wear white pants. For black pants, any dark-coloured belt would look great, and black belts would be a perfect match.
Think about what kind of statement you want to make with your accessory choices. A brightly coloured belt can add personality and fun to an otherwise simple outfit choice like a little black pants. On the other hand, if you want something more classic and subdued, opt for a neutral-toned belt such as tan or brown.
Another factor to remember is whether you want your belt to stand out as its unique piece or blend in with the rest of your attire. If you're going for a more understated look, keep in mind to match the color, select an accessory that is close in colour to the shoes or bags you'll be carrying!
3. Select the perfect belt width
When choosing the perfect wedding dress belt, one of the most important factors to consider is width. The width of your belt can have a big impact on the overall look and feel of your outfit, so it's important to choose wisely. Generally speaking, thinner belts are more formal while wider belts are more casual.
If you're going for a formal look, aim for a belt that is 1-2 inches wide. For more casual belts, go with a belt that is 2-4 inches wide. Of course, there are always exceptions to this rule - ultimately, it's up to you to decide what looks best with your pants belt loop! Another thing to keep in mind when selecting the width of your leather belt is where you will be wearing it.
If you plan on wearing your belt around your waist (as opposed to lower on your hips), then you'll want to ensure that the band's width doesn't overpower your silhouette! Otherwise, you'll end up looking like you've got a giant tire around your waist! On the other hand, if you're planning on wearing your belt lower on your hips, you should definitely go wider in order to make a greater statement.
4. Choose the right size
With belts, the right size is everything! The last thing you want is a belt that's too small or too big - it'll ruin the look of your outfit and can be quite uncomfortable! Here is the size guide on finding the right-sized belt!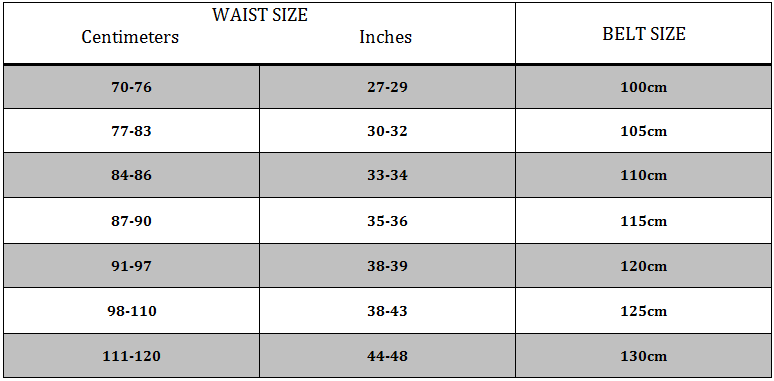 If you're unsure what size belt you need, look at our handy sizing chart. This will give you a good starting point in finding the perfect fit.
Once you know your general size, it's time to start trying belts on for yourself. The best way to do this is by visiting a few different stores so that you can try on a variety of styles and sizes.
Pay attention to how the belt feels when worn. It should be snug but not tight and shouldn't pinch or rub in any area.
If possible, wear the same type of clothing that you'll be wearing on your wedding day when testing out belts. This will give you a better idea of how the belt looks with your overall ensemble.
If you need the same belts for your best man and tried to get their waist sizes information, go for Tonywell and get one size belt that fits a 32 to a 45-inch waist. Follow the instructions and video for a cut to fit.

5. Go for quality buckles
When it comes to your wedding style, every detail matters, from the trousers to the shoes, everything should be perfect. And that includes your belt!
Choosing a full-grain leather belt with a beautiful quality belt buckle is a great way to add a touch of luxury and sophistication to your look. The buckles are made with high-quality belt materials and craftsmanship, which means they'll last long after your big day.
Plus, they make for a great keepsake that you can wear again and again. So, when you're searching for the perfect wedding belt, don't forget to consider the option. It's sure to take your style up a notch!
Conclusion
If you're looking for the perfect leather belts for men's weddings, we hope this guide was helpful! We know that it can be difficult to find the right accessories for a wedding, but we're here to help.
If you have any questions about how to choose the best wedding belt in our guide or any of our other products, please don't hesitate to reach out!
Ready to dress sharp and command respect with the right accessory? Click here to discover Tonywell, the Professional Accessories Supplier.