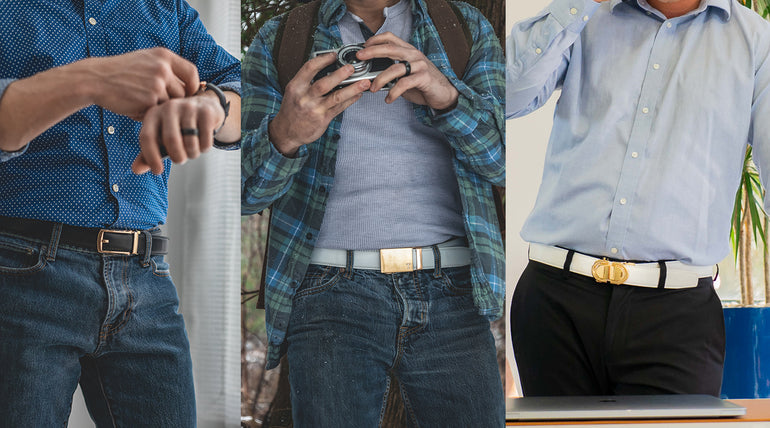 We all know how important the right belt is for form and function. It can be a great way to complete your look or even provide much-needed support for trousers or skirts. But did you know that many different types of belts are available? From classic leather to canvas webbing, each type has unique qualities and benefits when paired with your wardrobe. In this blog post, we'll explore the different types of belts available so you can find the perfect fit for any occasion!
1. Casual belts
Casual belts are an accessory that can add style and personality to any outfit. They come in various styles, colors, and textures, making them perfect for dressing up or down your wardrobe. Casual belts are great for those who don't want to wear a formal belt but still need something to hold their pants up.
When it comes to casual belts, there is no set rule as to when you should wear them. Generally, they look best when paired with everyday clothing such as jeans or chinos. You can also pair them with more formal pieces like trousers or suits to create a more relaxed yet stylish look.
In addition to being fashionable and functional apparel, casual belts are also very versatile; they can be worn during the day or night, depending on the occasion and the outfit you choose.
2. Braided belts
Braided belts come in various types of materials, including leather, cotton, wool tweed, and canvas; the style options are endless when it comes to this type of accessory! As far as what you should wear them is concerned - most people associate them with jeans or chinos for a casual look, but they can be worn just as easily with dress trousers too.
The best part about wearing a braided belt is that it has the ability to make an otherwise simple outfit stand out from the crowd - perfect for those days when you want your ensemble to be understated yet eye-catching all at once! For those warmer months, lighter-colored straps work well for adding subtle detail without overdoing it; alternatively, if you're brave enough, you could try contrasting colors or patterns instead.
3. Leather belts
Leather belts are a timeless piece of fashion that you can wear with almost any outfit. You can dress them up or down depending on the occasion; for example, wearing a thick brown leather belt with jeans for a casual look or pair it with dress trousers for a more formal event.
Leather belts also make great statement pieces when paired with bold colors and patterns – just ensure you keep the rest of your outfit muted not to overwhelm your look!
When deciding on the belt style to wear, consider factors such as how much width between the buckle and first hole; thinner belts will give off an elegant feel while thicker ones will be better suited for more casual occasions. Also, pay attention to details such as stitch work and hardware design – they can make your complete outfit look polished.
4. D-Ring Belts
D-Ring Belts are a popular style of the belt often used for casual attire. They typically feature a D-shaped metal or plastic buckle attached to the front of the belt, which is then secured by two small loops on either side. These belts come in all sorts of materials, such as canvas, leather, and synthetic fabrics, and can be found in many different colors and patterns.
When it comes to when you should wear one of these belts, they're great for everyday casual looks such as jeans with T-shirts or polo shirts. They are also ideal for adding an extra layer of sophistication to your look if you wear something more formal like chinos or dress pants.
The benefit of D-Ring Belts over other styles is that their design allows them to remain slim throughout the day without slipping off too easily like traditional buckles do.
5. Suede Belts
Suede belts are a stylish and luxurious item of clothing that can be worn to add sophistication to any outfit. Suede is a type of leather with a velvety finish, usually in shades of brown or grey. It adds extra texture to an outfit, making it look more dressed.
When deciding when to wear suede belts, think about the occasion you'll be wearing them. They are great for adding an accent accessory to formal events such as weddings or special occasions like proms. The material itself lends itself well to dressier ensembles, so if you want something stylish but still casual enough for everyday wear, then choose lighter colors and narrower widths than those used for eveningwear pieces.
For day-to-day use, suede belts also look great with smart trousers and chinos paired with sweaters or shirts – the perfect finishing touch! Remember not to go too big on the buckle; small silver buckles work best here.
6. Snap Belts
Snap Belts are a type of belt that fastens around the waist with metal snaps, rather than traditional buckles or clasps. Unlike other belts, they don't require holes to be punched in them for adjustment and can easily be put on and taken off quickly when needed.
Snap belts are great for everyday casual wear; they look good with jeans, shorts, skirts, and dresses. As well as being stylish and comfortable, snap belts come in a variety of colors and designs which make it easy to find the perfect one to match any outfit or style. They're also much easier to adjust to than other types of belts - meaning you can get a custom fit each time you wear your belt, no matter what weight fluctuations there may have been since the last time you wore it!
7. Ratchet Belt
Ratchet belts are an adjustable type of belt that allows you to customize the size and fit according to your waist circumference. The ratcheting mechanism works by a small lever on the side of the belt buckle, which, when pushed inwards, allows you to slide the excess material either longer or shorter.
This makes it a great option for men who struggle with finding the right size in traditional belts, as they provide up to four inches worth of adjustments and a secure locked-in feeling.
Conclusion
When it comes to wearing ratchet belts, they can be used casually and formally. They look great paired with dress pants or jeans and can add some extra style points depending on the color and design chosen. Ratchet belts also make a nice alternative compared to other leather or canvas casual accessories like suspenders or webbing styles!
Ready to dress sharp and command respect with the right accessory? Click here to discover Tonywell, the Professional Accessories Supplier.