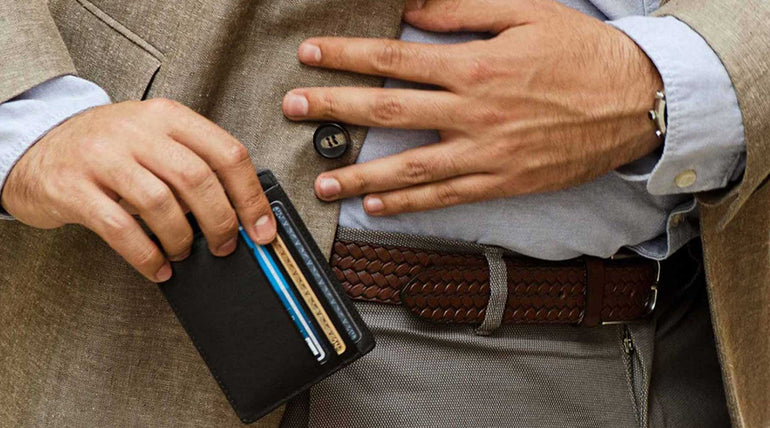 The fashion industry is constantly evolving and changing, and this is especially true when it comes to men's wallets.
In 2023, there are a lot of new trends have emerged in the world of wallets for gentlemen. From traditional styles to quirky designs, we'll take a look at some of the latest trends in men's wallets this year.
So, if you're looking for ways to update your style or just want to stay ahead of the trend curve, then let's get started exploring!
1. Minimalist Design
Minimalist wallets have taken men's fashion by storm in 2023. Known for their sleek, slimline design, minimalist wallets are all about reducing bulk without compromising on style or functionality. So what makes a minimalist wallet so appealing?
Minimalist wallets are made with just the basics in mind – cash and cards. They hold only the essentials, eliminating bulky items like change purses or extra compartments that take up space and add weight to your pocket. This leaves them incredibly lightweight and easy to carry around wherever you go while still keeping your important cards and bills secure.
Men prefer minimalist wallets because they provide a streamlined look that suits modern-day fashion trends, as well as offering greater convenience when it comes to carrying around large amounts of money or bulky items. Plus, due to their lightweight construction, they don't weigh down pockets or bulge out from under clothing - something many men appreciate!
In terms of functionality, there is no denying that minimalist wallets offer more practicality than regular-sized models do. So, when discussing the latest trends in men's wallets, minimalist wallets can't be ignored!
2. Eco-friendliness
Eco-friendly wallets are a trend that is growing in popularity as people become more conscious of their impact on the environment. These wallets are typically made from sustainable materials such as hemp, organic cotton, or upcycled materials like denim and leather scraps. They often use eco-friendly dyes to colour these fabrics and biodegradable packaging for shipping them out to customers.
Are they really environmentally cautious? Yes! Eco-friendly wallets reduce waste by avoiding synthetic materials that can take centuries to break down once thrown away, while also making sure no animals were harmed during manufacturing processes. Additionally, many companies strive to be zero-waste businesses while producing with the least amount of resources needed - something we should all strive towards if we want our planet around for future generations.
People love eco-friendliness because it's stylish and socially responsible at the same time - everyone wants to look fashionable without compromising ethics or sustainability goals. By opting for an eco-friendly wallet instead of a traditional one you are both looking good and helping save the environment!
3. Smart Wallet Technology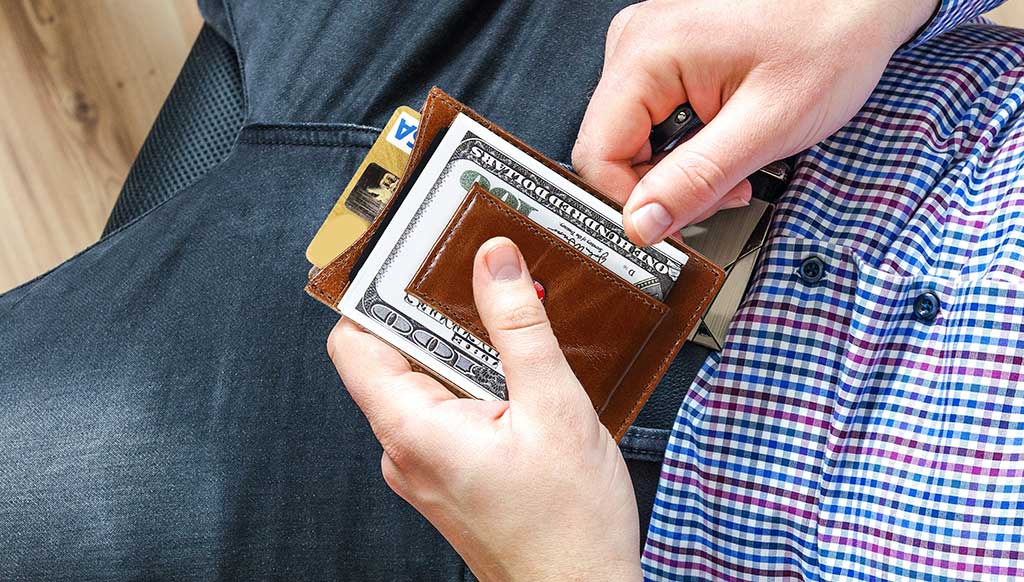 Smart wallet technology has quickly become the buzzword when talking about the popular trends in men's wallets in 2023. The latest smart wallet technologies not only offer convenience and great looks, but also provide powerful security features for added peace of mind.
a. RFID
RFID-blocking leather wallet (Radio Frequency Identification) is one of the most popular technologies that are being integrated into smart wallets these days. RFID chips allow you to store all your cards in a single place and access them wirelessly with a simple wave of your hand or phone over the wallet itself.
This eliminates the need to pull out each card individually, allowing you to breeze through checkout lines much faster than ever before - perfect for those who like efficiency!
b. Built-in Tracking
In addition to RFID protection, some smart wallets have built-in tracking capabilities so you can keep an eye on where it goes if it gets stolen or misplaced at any point during the journey.
GPS and Bluetooth trackers embedded within the wallet will help you easily locate it should something go wrong - ensuring that your credit cards remain safe from potential fraudsters as well as thieves looking for an easy score.
Smart wallets are no longer just about convenience; they are now becoming essential pieces of tech that both look good and help keep us secure at all times in today's digital world.
Whether you're looking for style points or extra layers of electronic security, there is a wide range available to suit everyone's needs this 2023 season!
4. Multitaskers
Multitasking wallets are one of the most popular trends in men's wallets for 2023. These wallets provide more than just a place to store your cards and cash - car they offers functional features like bottle openers, a notebook, or can even act as passport books.
They are designed to make life easier by allowing users to easily access all their everyday items without having to carry around several separate pieces of equipment. These multitasking wallets are incredibly useful because it means that you can always have what you need right at your fingertips.
Whether it's a pen for taking notes or a tool for opening bottles, these wallets make sure you're never left feeling unprepared. Plus, they look stylish too! Men prefer multitasking wallets in 2023 because they offer convenience and practicality that can help save time when out-and-about or on the go.
Not only do these wallets allow them quick access to multiple items with one hand but also provide extra security since everything is secure in one place rather than scattered across pockets or bags. Multitasking wallets are perfect companions for those who want both style and functionality from their wallet!
Conclusion
In conclusion, the latest trends in men's wallets for 2023 are all about convenience, practicality, and style.
From slim wallet to tactical designs, there is something out there to fit every individual's needs. Whether you prefer top grain leather , something more modern like RFID-blocking technology, money clip, bi-fold wallet, front pocket wallet, card holder, finding a wallet that fits your lifestyle has never been easier!
With so many options on wallets for men in Tonywell - at all price points – it's easy to create a personalized look that expresses who you are while keeping all of your cards and cash safe and secure!
Ready to dress sharp and command respect with the right accessory? Click here to discover Tonywell, the Professional Accessories Supplier.