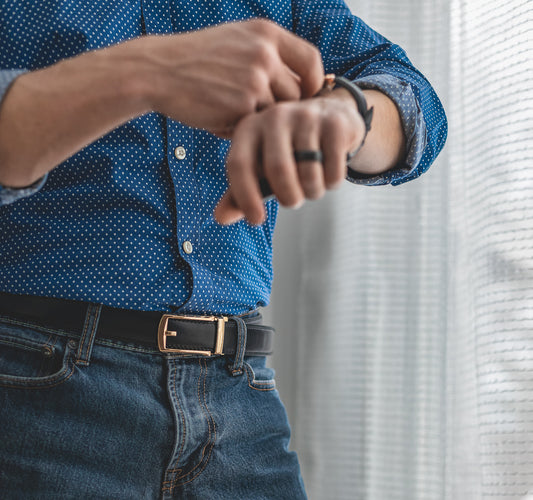 It occurred that we had never formally discussed our brand's history and philosophy. As we all know, a brand concept communicates a brand's soul and positioning.
Let me tell you a story!
Brand story 
A young man, fresh out of college, obtained a master's degree in materials science and went to work for a prominent corporation in materials research and development eleven years ago. Many people have admired his fantastic working atmosphere. However, after four years, he was dissatisfied with his current situation at work and decided to leave. He wants to surpass himself and create value for more people.
He decided to challenge a new life and was determined to do something out of the ordinary. He soon concentrated his attention on the belt industry's pain areas based on his own concern for men's accessories. He discovered that, in addition to style design, the audience seemed to need a durable belt more than anything else, whether by summarizing his years of experience or investigating market needs. In another way, there was a desire to create a functional and fashionable belt. He donned formal clothing to crucial events when he first started his company. However, he did note that some pin-buckle belts were unpleasant to use, some automatic belts were not fashionable, and some pin-buckle belts were inconvenient to use. These belts have a significant impact on the aesthetics of use. He often attends formal events, and he must replace his belts regularly. However, this is not a long-term solution.
Thus, the young man's major knowledge finally came in helpful. In the weeks that followed, he focused on the belt's material and design and began studying it, not to mention conducting real-time market research. This is a brand that begins with the user's needs, to meet the user's wants as the ultimate goal, he always repeated.
He has built more than ten successful men's belts in just two years because he sees altering the belt industry as his aim to fight for. Each TW belt has a particular focus, and the TW brand has since been based on business style, with more diversified usage scenarios gradually emerging. We plan to increase our accessory line in the future so that more people can enjoy "Tonywell Life" products.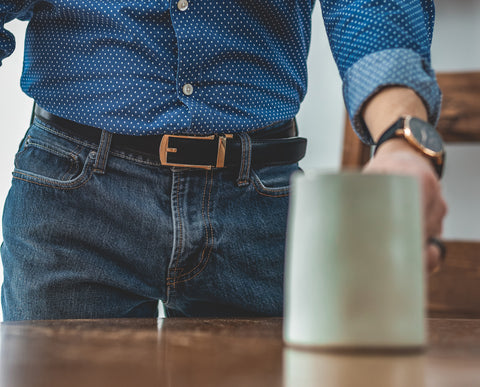 The young man of the story is Tony, the founder of Tonywell.
Tony did this by putting his heart and soul into making a new line of men's belts. Tonywell has given him a feeling of purpose over time. It was a feeling of purpose. He kept pushing himself to come up with new things and concepts rather than just creating a cold accessories brand.
The brand's tagline and the template that the entrepreneur wishes to give to everyone through Tonywell is "living a wonderful new life." People should make a positive change, whether in good times or adversity. "Tony, do well, you will be a better man!" He said to himself during the start-up adversity. "Do well, be a better man" is the extension of our brand concept. People also need to find time to enjoy leisure time with their family.
This year is already the 7th year of the Tonywell brand. Tonywell has been developing and designing new products. Tonywell intends to help men handle their matching challenges to some extent while retaining the top quality.                 
Let's take a look at some of Tonywell's 

best features:
1. Custom fit and simple to use
Tonywell's belts come with an easy-to-use automatic metal buckle on most of them. Unlike traditional pinhole belts, Automatic buckles allow for a more comfortable and adaptable belt adjustment for a bespoke fit. Rather than being limited to a few fixed sizes, you can easily adjust the belt to match your needs. You also won't have to worry about pinhole models causing size discrepancies or probable wear and tear.

2. Classic leather plus metal buckle design 
At Tonywell, the classic genuine leather belt has long been a popular choice. For business situations, leather belts are a must-have accessory. TW has also been attempting to increase the belt's lifespan. To satisfy the needs of everyone's personalized fit, all leather models are also equipped with a highly easy-to-operate automatic metal buckle. The fashionable metal buckle features a particular technical brushed surface and a little "T" emblem in the lower right corner. The belt will be more robust (it won't cause any scratches!). Thanks to the non-glossy detail! On the right-hand corner of the belt is the "T" logo. It's subtle while demonstrating your stability.
3. No disassembly - Easy to match
Tonywell's flip-lock and easy-to-remove design aids optimize user possibilities. Our belts are available in 17 different options for customers to choose from. In addition to silver, gold, gunmetal, and black, all highly flexible shades, you can choose your favorite metal buckle color. In addition, most of the belts are freely removable and can be installed by simply twisting the belt 180 degrees. The entire replacement process is basic and simple. In this way, you can always adjust the belt to your needs.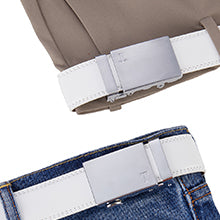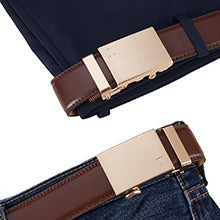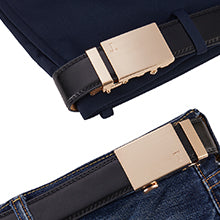 The last three points are Tonywell belt's external advantages: an excellent fit, interchangeable buckles, easy adjustment, and no holes to exhibit wear or wrinkles over time. We are, nevertheless, environmentally conscious and highlight the concept of sustainable business in our manufacturing process.
4. Environmentally-friendly products
You can make Tonywell your first pick if you want to be a trendsetter, a fashion leader, and a trendsetter. Fashion is defined not only by its appearance but also by the concept of being ahead of the curve. Tonywell has included the principle of environmental conservation into every element since its inception. Belt cutting uses cutting technology developed by artificial intelligence to increase the use rate of leather goods and reduce waste. We closely follow the environmental protection method when producing and disposing of trash in the buckle head manufacturing process, and we endeavor to minimize environmental damage.
We believe that environmental conservation is more than a slogan; the future is shaped not by expectation and waiting but by each courageous step. The Tonywell brand is dedicated to delivering the best lifestyle options for anyone looking to make a difference in the world.
Tonywell, intent on being your most durable belt, also aspires to assist you on all important occasions!
Keep an eye out for Tonywell's new product line's future developments!