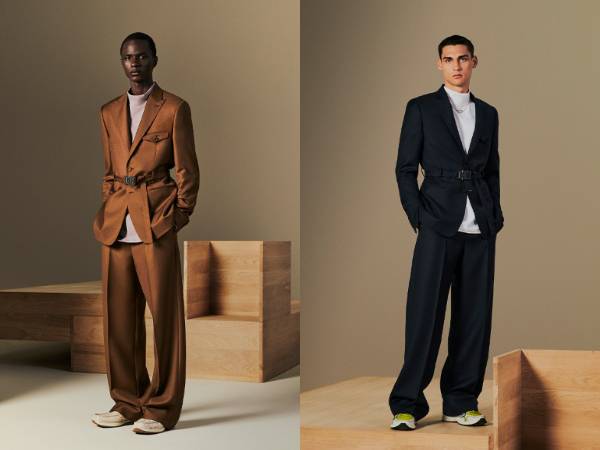 Via: Dior 2022 ss menswear show
We've talked a lot about how to choose the right belt, but do you really know how to wear a belt? Is there an all-encompassing dressing formula?  For many men, how to wear it is a troublesome problem.
For men, the belt has played an important role in dressing for all the four seasons. It can assist you in altering your height proportion, which is quite a magic tool, especially if you don't have a conspicuous figure advantage.
In today's blog, we'll talk about how to wear belts by introducing several belt styles. Come and learn how to maximize the worth of your belt if you're interested! Even if it's just something that costs a few dozen dollars, it can be very cost-effective.
1. Basic style belt
It's pretty simple to understand. After all, I believe you all have a basic belt. You just have to choose some pure black, white, and brown solid color styles. We don't have to rigidly remember or apply any so-called dressing formula that reminds us you must match the white belt with some exact kind of cloth. The belt is actually a very small part of our overall outfit; it will be more of an accent. However, we wouldn't say that a belt will ruin your color scheme. Instead, you should feel free to choose a belt that could go with your outfit. 
PU and genuine leather are both popular choices for this adaptable belt style. Since such a versatile model will be used frequently, we recommend that you choose a shinier and sturdier belt. Folds will appear more easily over time if the hardness is insufficient, and the product will look cheap. Simple metal buckle designs are available, but they have a superior overall texture. The texture of the accessory is also important. After all, we want the belt to reflect our social standing to some extent.
The basic belt will be extremely cost-effective. This is because its basic design allows me to use it as a waist belt to trim the curve of your waist and have some designs to trim the overall outfit and body curve when it comes to the waist. If your belts are thin straps, you may build different knotted buckles out of them.
Some may be surprised to learn that wearing men's belts in the middle of your top is already a very fashionable way to match. If you've been following our blog for a while, you'll recall the article about the 2022 SS fashion show we discussed before. We can observe that a huge number of brands have discovered the appeal of belts during this time of big events. Wide shirts make people appear to be waistless, and they can even draw attention to defects in their figures. Designers have cleverly employed belts to match the tops in order to solve this difficulty. A low-profile solid-colored belt, for example, is available to match a wide blazer, as well as coats, shirts, and even down coats.
2. Functional belt
The belt with a functional metal buckle has become rather popular in recent years. Aside from its aesthetic value, this type of belt buckle helps people easily remove or adjust the belt. They simply slide the buckle or apply a gentle pressure to adjust it. Consumers will find a lot of convenience in the wearing process. Tonywell have added automated buckles, rotated buckles, and sliding buckle styles to improve the experience of use. The majority of customers adore these multi-functional belts. It is quite simple to boost the quality and high-class feeling of even affordable clothing. As a result, it is also a form of low-cost accessory.
3. Stylish belt
Nowadays, matching some belts with designs, even exaggerated ones, is rather trendy. In general, these fashionable belts are more suited to fall and winter dressing. This is because the clothing will be more layered and thicker in these two seasons. Give it a try by wearing a belt with a large coat or jacket. If you are concerned that the belt is easy to slip or loose, I highly recommend selecting specific belts with simple-to-adjust lengths specifically for autumn and winter. Automatic buckles and plate buckles, for example, are metal buckles that can help you adjust the strap length rather than having a few single scales.
Under the embellishment of these items, we will become more eye-catching. It can enhance our temperament as well. In fact, there is no threshold for buying them; they are easy to buy, even in some fast-moving fashion stores. In the area of collocation, we really encourage you to experiment with different styles, even if it's something you think is exaggerated because it's fun to challenge yourself. So, if you're looking for something special, keep an eye out for what's going on. Customers don't necessarily have to limit their options to luxury brands' works.

4. Watch out the wide belts
A wide belt is a very common style for men, but it's not that easy to match it properly with our clothing. First and foremost, we do not suggest that people with low heights choose a wide belt, or it at least has to be given enough consideration. It visually breaks the balance of your good figure. The difference between wearing it or not is quite distinct, and there is no way to avoid it.
It is not an ideal choice for people with a rounded waist and hips since it will draw all the attention to your lower body, exposing the figure's flaws.
Second, people who are too obese should prevent from wearing wide belts. The wide belt may be uncomfortable to wear and may cause them a bad sense of pressure. It's all because you put a hard belt around your waist. Moreover, a similar ache will hit you as soon as you sit down. Aside from these two disadvantages, the wide belt is still an excellent choice. It can give your ensemble a unique vibe, especially if you're wearing dark colors in the fall and winter. Remember, the best option is always to match the belt color to the color of the clothing. This criterion ensures that the apparel is coordinated. This is also true in other circumstances involving clothes matching. It is, without a doubt, an extremely practical method.
Hope today's blog can assist you in gaining more experience in selecting and wearing belts!