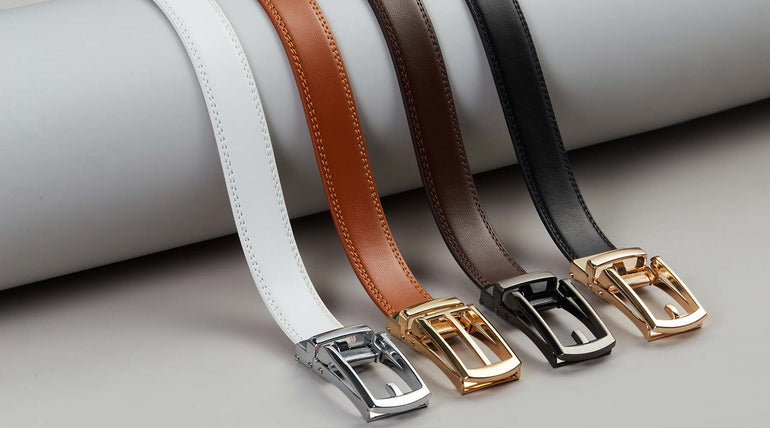 Leather belts are a staple of any fashionable wardrobe. Not only do they provide a sharp, classic look, but when choosing a belt of the right quality and crafted with care, they can become your most trusted accessories for decades to come. In this blog post, we will discuss what makes quality leather belts and offer tips on choosing the perfect one that best suits your style!
What is a quality leather belt?
A high-quality leather belt is an essential part of any man's wardrobe. Genuine leather belts are made from the strongest and most durable parts of the hide and therefore make for a great long-term investment in your outfit.
The strongest type of leather used for men's belts is full-grain leather belts, which have not been processed to remove scars or other natural imperfections. Full-grain leather will stand up to regular wear and tear, making it a perfect choice for work environments or casual outings alike.
Top-grain leather is also a good option if you want something lighter than full-grain but still need durability.
Top grain leather lacks some of the characters that full grain offers, but it can still provide years of use without breaking down quickly as some other materials, such as synthetic fabric, might do over time.
It comes in several colours, so you can find one that complements your wardrobe well.
If you're seeking a more vintage look, thick distressed-leather belts have become increasingly popular these days thanks to their rough yet stylish aesthetic appeal — just be prepared to spend some extra money on one since they often go for higher prices versus normal options due to their uniqueness!
Tips for buying quality leather belts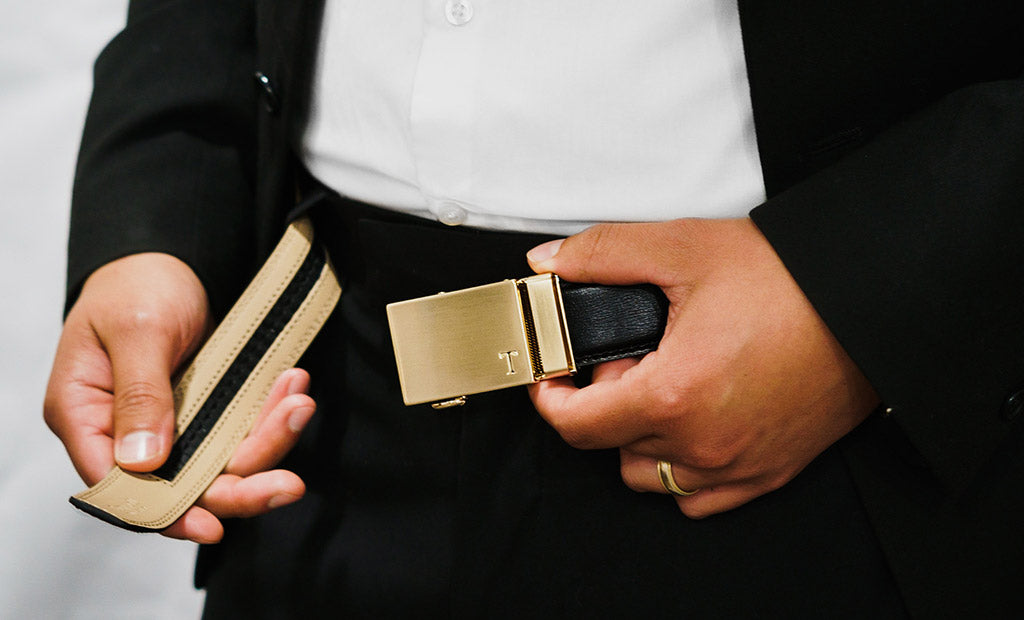 1. Know Your Basics – Types of Leather, Colours & Styles
When shopping for leather belts, it's important to understand the different types of leather, colours, and styles.
Knowing your stuff regarding the grades and textures of leather goods can help you ensure you're getting a quality piece that'll last. It's also important to be aware of the colour and style options so you can pick something that suits your personal look.
Get educated on these basics, and you'll be able to make a well-informed purchase. Different leathers come in different weights and thicknesses like full-grain, top-grain, split grain, etc.
Awareness of these distinctions lets you choose higher-quality materials that won't wear down quickly.
As far as colours go, you've got classic black and more unique hues like brown cognac or deep burgundy reds. And don't forget about design trends like buckles and etching details that can add character and vintage appeal.
2. Choose the Right Size – Measurement and Fit
Choosing the right size and fit for a leather belt is one of the best tips to ensure you get quality. A good-fitting leather belt can be both comfortable and look great. To pick the right size, it's important to measure your waist or hips before buying a belt.
Consider where you'll be wearing it too – if you will mostly pair it with jeans, make sure to add an extra 1 inch for more breathing room; if you plan to wear it with dress pants, find a tighter fit that hugs your body, suggest Tonywell ratchet belt, which with 400% more adjustment than traditional belts.
Also, consider the style of belt: wide belts often require larger sizes than thin ones, usually designed for smaller frames since they sit lower on your waistline.
Make sure that the length fits and that there's enough capacity within each hole so that when tightened, you still have some wiggle room but won't slip off either!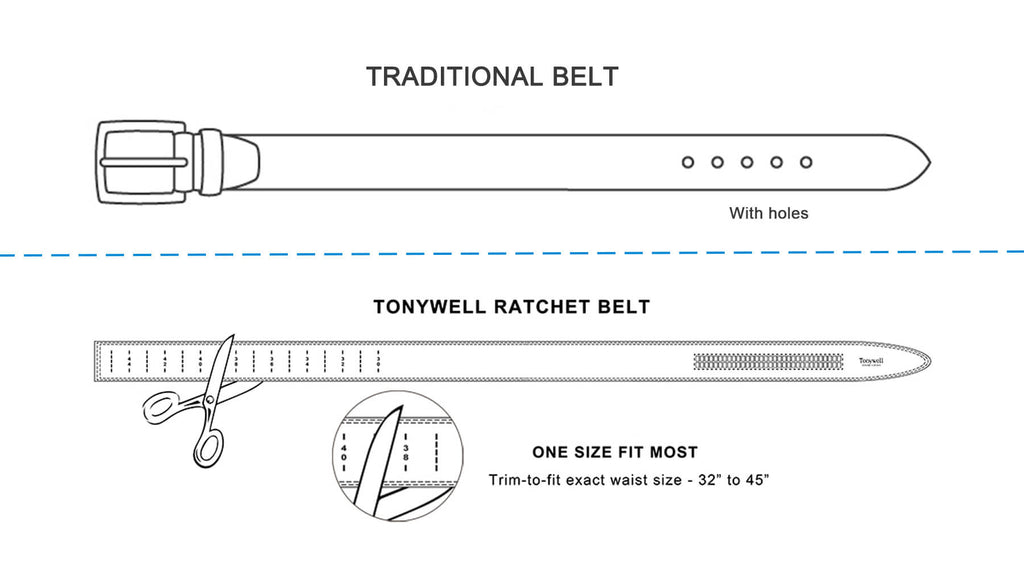 3. Check for Quality Craftsmanship – Hardware, Stitching and Lining
Finding a quality leather belt can be tough - not all leathers are the same, so you have to look for the signs that show it's been crafted well. Check the hardware, stitching and lining to make sure you're getting a good one that'll last.
Metal pieces like buckles and rivets should be scratch and dent-free and made of strong materials like brass or steel.
If you see plastic, it's probably not the best investment. Good stitching and construction are important, too, so look for tight, neat stitches that won't fray or sag.
Make sure there's a consistent line around the holes, too, so it keeps its shape and doesn't split when you wear it. Lastly, check the lining material - fabric linings won't protect your belt like cowhide will, and they won't last as long, either.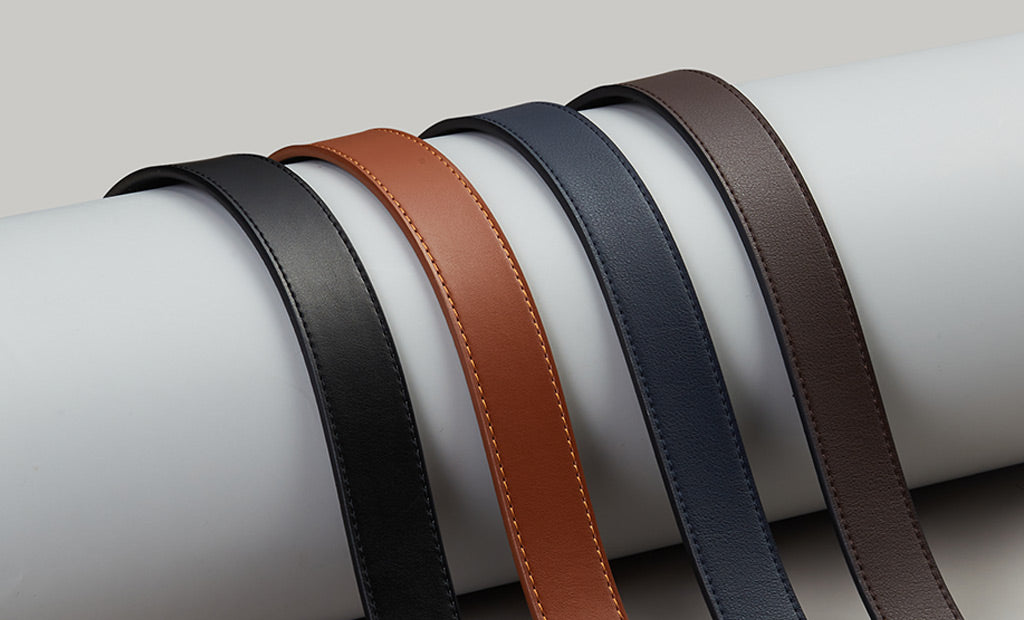 4. Consider Versatility with Interchangeable Buckles
This type of belt is designed to easily remove and replace the buckle depending on the look or occasion you are going after.
Having an interchangeable buckle allows for flexibility in a style which is perfect for people who like to mix up their look often but don't want lots of different belts taking up space in their closet.
Interchangeable buckles are also great for travel people, as they can easily switch out the buckle depending on where they go. This makes it easier and more convenient to have a different look without having to lug around multiple belts when travelling.
5. Buy from Reputable Sources – Research Before You Buy
When it comes to finding a good leather belt, it's important to buy from reliable sources and do your research. That way, you can make sure you get the best bang for your buck.
Check out the different materials, brands, and colours available and read thorough product descriptions before deciding.
It's also helpful to read reviews or get advice from someone who knows about leather belts.
If you're going for top-notch quality, try shopping at trusted retail stores and boutiques or directly from manufacturers who create high-quality products with attention to detail.
Make sure to check the return policy in case there are any issues with the product!
Conclusion
In conclusion, finding a quality leather belt doesn't have to be an overwhelming or daunting task.
By following the tips outlined in this post, you can confidently find an excellent leather belt that will see you through countless smart occasions.
Investing in a premium leather belt is always worth it since its hard-wearing nature, and rich look make any outfit stand out.
Ready to dress sharp and command respect with the right accessory? Click here to discover Tonywell, the Professional Accessories Supplier.