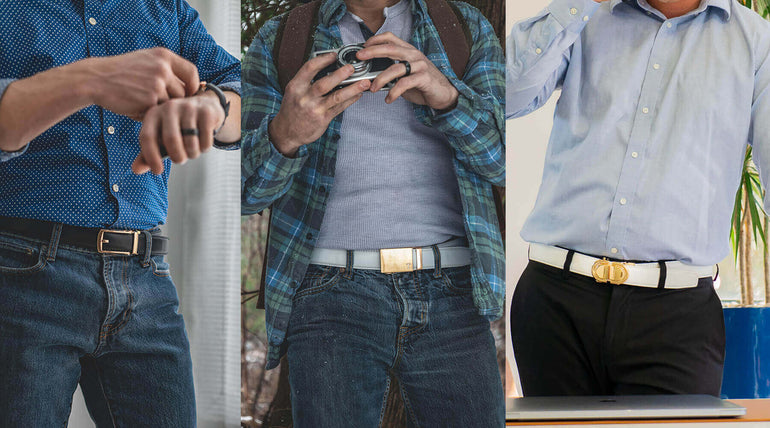 There are a lot of belts out there, but here's the thing: most of them aren't dress belts. And if you want to look your best, you need a dress belt.
But what is a dress belt, exactly? Well, it's not just any old belt—it's got some distinct characteristics that set it apart from its less formal counterparts.
Here are 7 different types of dress belts that will help you look sharp and professional no matter what kind of event you're attending!
What is a belt?
As one of the most important and versatile accessories in a wardrobe, a belt can easily be overlooked. But what exactly is a belt?
A belt is essentially a strip of material, usually leather or fabric, that belt loops around the waist. Belts are generally worn with pants or skirts as a way to cinch the waist and provide extra support for clothing items such as trousers.
In addition to their practical purposes, belts also add visual interest to an outfit and can help create certain looks. For example, wide belts are often used to achieve a casual style while slim belts can lend themselves well to more formal styles!
Parts of a Belt
A belt is an important part of any outfit, and it can be helpful to know the different parts that make up a belt. The three main parts of a belt are the buckle, strap, and loop.
Buckle: The buckle is what fastens the two ends of the strap together. There are many different types of buckles, but they all serve the same purpose. Some buckles have a simple design while others may be more ornate or decorative.
Strap: The strap is the long piece of material that goes around your waist (or wherever you choose to wear your belt). It can be made from leather, web fabric, or other materials depending on its intended use. The widths of straps also vary depending on personal preference or style requirements.
Loop: Finally, belts always, more like fabric belts have some kind of loop sewn into one end which helps keep the excess strap tidy and out-of-the-way when wearing them loose!
The 7 Different Types of Dress Belts!
1. Casual Belts
A casual belt is a type of belt that can be worn in both formal and casual attire. Casual belts are usually made from leather or fabric, and they come in a variety of colours and styles.
Casual belts are an essential part of any man's wardrobe. They add a touch of class to your outfit and can really pull everything together. If you're looking for the perfect accessory to complete your look, consider investing in a quality casual belt! Tonywell offers leather belts and web belts for your casual look. Military belts and nylon belts are online sales now.
2. Braided Belts
Braided belts are a type of belt that is made from interlacing three or more strips of leather or fabric. This weaving technique results in a strong and durable belt that can be worn for both casual and formal occasions. Braided belts are often adorned with metal hardware, such as buckles, to add extra visual interest.
While braided belts have been around for centuries, they experienced a resurgence in popularity during the 1990s thanks to their grunge-inspired aesthetic. Today, braided belts remain a popular choice for those who want an alternative to traditional leather belts.
Whether you're looking for something unique to wear with your jeans or need a statement piece for your next black-tie event, there's sure to be a braided belt that fits your style!
3. Leather Belts
Leather belts are a timeless fashion accessory that can be worn with virtually any outfit. Leather is a durable, natural material that only gets better with age. When cared for properly, a leather belt can last for many years.
There are two main types of leather used in belts: full-grain and top-grain. Full-grain leather is the highest quality available and has not been sanded or buffed to remove imperfections on the surface.
However, top-grain leather has been sanded or buffed to create a smooth finish, making it less likely to show wear and tear over time.               
4. Dress Belts
A dress belt is a type of belt that is typically worn with formal clothing. Dress belts are usually made from leather or another type of material that looks similar to leather, and they often have a metal buckle. Some dress belts also have decorative elements, such as stitching or engraving.
Dress belts are generally thinner than other types of belts, and they are designed to be worn around the waistline. They can be purchased in different lengths to accommodate different body sizes!
However, Tonywell ratchet belts offer a one size fits most solution to the belt sizing issue found with other traditional belts.
5. Reversible Belts
A reversible belt is one leather belt with two different colors, usually black on one side and brown on the other, with a rotative square buckle that you can reverse with ease. Having a reversible belt gives you two belts in one - a black belt and a brown belt.
To use the belt on one side or the other, simply pull up the buckle at the hinge and twist it back into place.
The 2-in-1 versatile belt is the ideal belt to transiti
on your outfit from casual daywear to work wear or dressy occasions. It is the perfect choice for a business trip.
6. D-Ring Belts
A D-ring belt is a type of belt typically worn by men. It is characterized by a large ring, usually made of metal, that hangs from the front of the belt. The ring may be ornamental or functional, and belts with both types of rings are common.
Functional D-rings are often used to hold tools or other objects, while ornamental ones are purely decorative. D-ring belts first became popular in the early 20th century as part of military uniforms.
They were also commonly worn by police officers and security guards, as the large ring could easily hold handcuffs or other restraining devices!
7. Suede Belts
Suede belts are the perfect accessory to add a touch of luxury to any outfit. They are typically made from high-quality suede leather, which is soft and supple to the touch.
Suede belts can be found in a variety of colours, ranging from classic black and brown to more trend-forward hues like red or pink. And because they are so versatile, they can be worn with both casual and formal attire!
Dress belts
Reversible belts
Conclusion
If you're looking to add a little bit of flair to your outfit, or just want to be prepared for any situation, then adding a dress belt to your closet is one of the best ways to go.
There are so many different types of dress belts out there, but they all have one thing in common: they're so versatile! Whether you're going on a date or attending a business meeting, dressing up or dressing down—you can't go wrong with these belts.
So next time you're shopping for new clothes and accessories, don't forget about the importance of your belt!
Ready to dress sharp and command respect with the right accessory? Click here to discover Tonywell, the Professional Accessories Supplier.