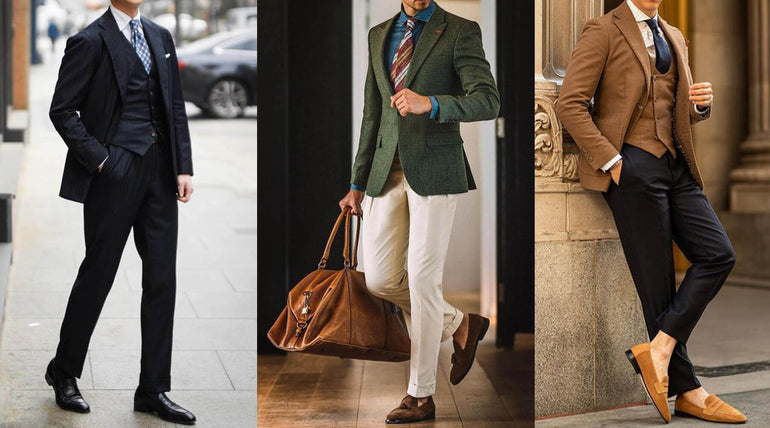 Men are now more likely to prefer business casual outfits. The days of only wearing black shoes with the suit are gone, but also there are more chances to make a fashion mistake.
So what are the right color or type combos for suits and shoes? We show you how to match them step by step perfectly.
Why Do Men Need Suits?
Traditional, elegant, and gentlemanly are the most incredible charm of suits. Generally, the purpose of wearing suits is to show these temperament characteristics. Suits are an essential item for men to achieve them. Besides being necessary for formal occasions, some business people wear suits daily. 
Do Shoes Have to Match Suit?
A perfect look is composed of every part. Every position from head to toe will affect the overall style. Most of the time, wearing a suit creates an elegant look, and a good matching choice of dress shoes will appear more delicate and tasteful. On the contrary, if leather shoes are not properly matched. It will significantly reduce your style.
Therefore, choosing dress shoes to match suits should be based on the overall tone, style, figure, and occasion so that the whole look will show more taste and demonstrate your outstanding ability to match clothes.
Types of Shoes Compatible with Suits
Derby shoes
Oxford shoes
Monk shoes
Loafers
Brogueing shoes
Dress boots
Among many leather shoes, Derby shoes, Oxford shoes, and Monk shoes are more suitable for a formal event.
Some men can't distinguish Derby shoes from Oxford shoes. There are still significant differences in style design between these two leather shoes. It is the simplest to distinguish them from the characteristics of the upper.
Oxford Shoes: The tongue and upper are stitched together, and the upper and wing are closed together. The overall look of the shoes is straightforward, and the shape created is more delicate.
Derby shoes: The tongue and vamp are made of a piece of leather, and the junction of wings and upper is open, so the effect of adjusting the tightness of Derby shoes will be better and more friendly to people with wide soles.
Most Versatile Shoe Color With Suits
There may be some men who think that they must choose black when wearing suits and leather shoes. Men can change shoe color in the face of different suit shapes and colors. 
Generally used to match suits, the colors of leather shoes need not be too bright. The style is changeable enough as long as the classic black and brown match well.
When these two colors of shoes are in the wardrobe, no matter how the colors of suits and trousers change, them can perfectly match the shapes.
But after the color of the pants changes, the color matching of the shoes will be a bright spot, directly related to the exquisiteness of the look. Therefore, when choosing shoes to wear with suits, you should not be too blind.
What Color do Shoes Go With a Navy Blue Suit?
The Navy blue suit is also a classic suit collection, with a very high appearance rate. At this time, it will appear formal and clam with black leather shoes, and its versatility is also outstanding. Matched with shirts and ties, It's a nice choice for job interview outfits.
Navy blue suits with brown shoes will appear fresh and generous in color tone compared with black leather shoes, which is very suitable for a combination in spring and summer, which is also the detail change of the whole look.
Similarly, you can try Monk shoes boldly when navy blue suits are matched with brown leather shoes. After all, many people will only choose Derby shoes, so the shape will quickly appear monotonous. Moreover, the style of Monk shoes is relatively unique, making the body more eye-catching.
What Color do Shoes Go With a Grey Suit?
Black
Brown
Oxblood or burgundy
Similarly, grey suits are also a style with a high appearance rate. At this time, it is also very versatile with black or brown leather shoes, and you can choose according to the style. Black leather shoes are a good choice for formal shoes, making the shape more stable and legal.
When matching with black leather shoes, the black-white and grey tone of the shape is very generous. With the color of the tie and leather shoes, the figure is very tasteful and easy to create the charm of a calm gentleman.
At this time, for more stylish, men can also select the color of the leather belt and bag according to the color of the leather shoes, and the matching of the same color system is a classic and perfect choice.
If you use a grey suit with brown dress shoes to create a formal style, the color of leather shoes can be darker, like oxblood or burgundy, especially in a light grey case, so the whole looks more calm and versatile.
What Color do Shoes Go With a Charcoal Suit?
Black
Oxblood or burgundy
What Color do Shoes Go With a Brown/Tan Suit?
Brown
Oxblood or burgundy
What Color do Shoes Go With Contrast Color Suits and Trousers?
Adjust according to color tone and style
In the contrasting color suits and trousers styles, the shoes will appear more flexible, but they should be selected around the integrity of the look. After all, after the upper and lower body colors collide, the color change of the shape will be more challenging to control. At this time, if it is not handled correctly, it is easy to appear chaotic.
Many guys know the three-color principle of suit styling. Still, when there are more colors, integrity is essential, so men must coordinate clothing accessories with the whole. The color matching of leather shoes and belts is very critical. It is not the black style that is omnipotent.
Just like in the navy suit with grey trousers, the matching of leather shoes, bags, ties, and belts are perfect, making the shape rich and unified while maintaining a formal and rigorous style.
White trousers and military green suits will make the appearance more casual. At this time, you can choose a pair of simple brown loafers. The impression is elegant and easy-going, which is suitable for daily commuting.
The matching of khaki suits and black trousers is also very uniform in color tone. Now, the style of leather shoes will change the overall style. The shape will be relaxed and fashionable with a pair of suede loafers in the same color as the suit. The figure will be much more formal if matched with Oxford shoes.
Conclusion
Therefore, When styling suits look, make good use of the changes in shoe colors and more diverse types. For more dress codes, go through Tonywell blog page.
Ready to dress sharp and command respect with the right accessory? Click here to discover Tonywell, the Professional Accessories Supplier.