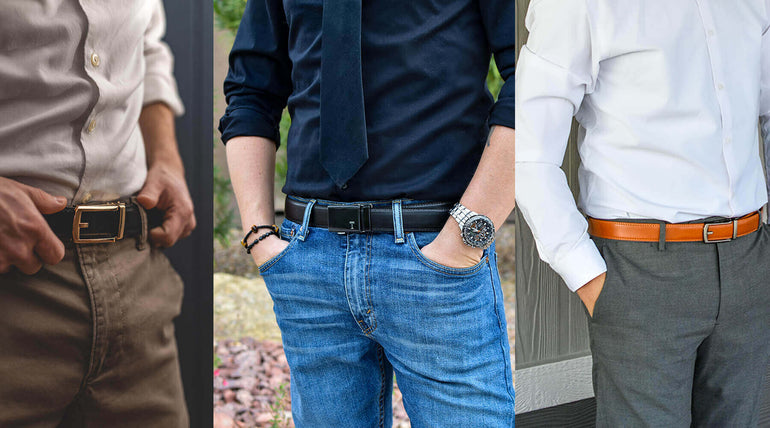 With a simple purpose, buying men's belt should be easy. However, with so many styles, price points, and materials to choose from, buying a new belt for men is not exactly a simple task. In fact, you may find yourself getting a headache from looking at so many different options.
 As a classic accessory, belts need to fill two distinct needs in men's fashion. They are both a tool and a style piece, after all. This means that you must choose a belt that is both good at what it does and stylish enough to show off.
How to Pick a Men's Belt - The Basics
When you set out to buy yourself a new belt, you may already have a style in mind. This is great, but you are going to need to focus on three particular basic needs that your belt should be providing for you. Let's go over the first three questions you should ask yourself when you set out on your belt-buying adventure.
What is the occasion? 
This question is the most critical piece of information that you need to consider.
Are you looking for an everyday, business casual belt to wear to work?
Are you looking for a sharp-looking belt for special occasions only?
Are you trying to find a belt to wear on the weekends with jeans or shorts?
Depending on your answer, you may be looking at the wrong style belt for your occasion. Avoid making a fashion faux pas by narrowing in on the occasion that you need this new belt for.
What shoes am I going to wear?
Men's fashion hinges on uniformity and the lines in the sand are far clearer for men than women when it comes to what to wear on certain occasions. One of the many fashion rules that apply to men is the matching belt and shoes rule.
It is the classic opinion that in men's fashion the leather of your belt should match the leather of your shoes. In this way, if you are wearing black shoes, you should avoid selecting a brown belt as it will draw unwanted attention to your waistline and promote dissonance in your outfit.
Is this belt high-quality?
An unfortunate mistake that many men make while replacing wardrobe staples is that they choose cheap and low-quality options because it sounds like a good decision at the moment. We totally get it.
Why should you pick the $40 option when the belt that is $9.99 looks exactly the same? Unfortunately, the odds are that it is not the same at all. The cheaper option is likely to have cheap materials which would make this belt likely to wear out quickly.
You may just find yourself having to return to the store to buy four more of the cheap belt option before your high-quality belt even shows signs of normal wear and tear.
What Types of Belts Do I Need to Have in Wardrobe?
One of the primary ways to avoid the mad dash to buy a new belt is to ensure that you have a belt for every occasion in your wardrobe. This method of buying clothing is becoming incredibly popular nowadays, as being prepared is far preferable to going out and searching for things at the last minute.
There are three types of belts that you should own. Keep in mind that you may need more than these three in your closet depending on how many pairs of dress shoes you own.
Dress belts aim to be slim and sleek. They are typically taken as formal belts, worn with suits or dress pants and are found between 1.25 to 1.5 inches in width. Any thinner than 1.25 inches is considered a fashion faux pas, as thinner width is more suggestive of women's fashion.
When you think of buying belts for business casual, you should look at dress belts, and I highly recommend black and brown colors.
Casual belts are the best belts for men's jeans and are wider than a dress belt. A general rule of thumb is that the wider the belt, the more casual it is in terms of men's fashion. Casual belts are generally 1.5 to 2 inches in width. Tan and white belts are a great alternative.
This may be a classic casual belt or a belt that is not made of leather but nylon or canvas fabric, depending on your style preferences. The summer belt is more of an optional wardrobe addition but is something that some men swear by including in their belt options. Khaki and army green belts would be a good match with summer outfits.
What Size Belt do I Need?
Picking a size for your new belt is one of the trickiest parts of purchasing a new belt. When going to buy a belt in-store, there are usually tags that impede you from trying it on.
Even worse, buying a belt online doesn't let you look at the belt in person to approximate the size.
Men's belt sizes are based on the waist size (usually in inches). Use a tape measure to get your waist size, and follow this guide to stop guessing your belt size and know for certain which belt size is the right one for you.
Men's Belt Sizes
| | |
| --- | --- |
| S | 27-31" |
| M | 30-34" |
| L | 33-37" |
| XL | 36-40" |
| XXL | 39-43" |
Most belts have pre-measured holes in the leather. However, some belts on the market allow for better sizing through a different belt buckle mechanism. These belts are known as ratchet belts. Tonywell ratchet belt offers one size fit most, exact trim to fit 32 - 45 inch waist size.
What is a Ratchet Belt? 
As mentioned above, ratchet belts have the incredible advantage of being extremely adjustable. Are you sick of having to take your belt in to get an extra hole added or adjusting the fit after eating a large meal? Ratchet belts have automatic clicking buckles that allow you to make small adjustments to the fit of your belt without having to fiddle with tedious belt notches.
Tonywell ratchet belt with 7 1/2-inch hidden track has over 35+ sizing points that allow you to adjust the belt in 1/4 inch miro-adjustment, added 500% adjustability than traditional belts with holes.
Conclusion
Buying the right belt can be tedious, but we hope that we have given you a solid foundation to begin your quest to buy a new belt.
Ready to dress sharp and command respect with the right accessory? Click here to discover Tonywell, the Professional Accessories Supplier.