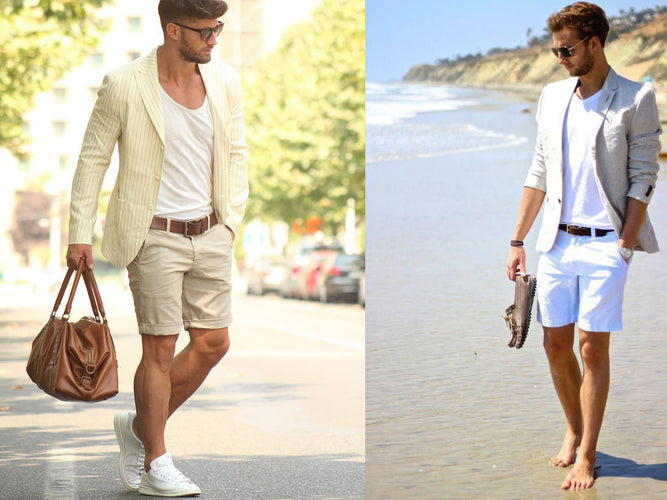 What is the most exciting thing to do in summer?
Yes, it has to be a vacation!
Speaking of vacations, what jumps to your mind must be the wavy ocean, free-style surfing, steamy barbecue, and campfire dancing. What beautiful moments and how unforgettable these memories are!
Vacation clothes are a part of the vacation preparation so that people will remember what you do together and what you wear. The Instagram photos must look enviable with you dressed up like a fashion-style influencer. So now, let's dive into the diverse and colorful world of vacation outfits for men.
What comes to your mind when you are mentioned the keyword vacation? Isn't it the breezy oceanic wind that tousles through your hair while walking on the sandy beach? Isn't it the cool and exciting water jet skiing where you get soaked up and show off your six packs and your slicky tanned skin?
All in all, you have too many great moments to be taken photos of and get marked in your memory that you can't treat your outlook carelessly.
We have outlined 4 tips for all the hip men out there as men's vacation clothes rules of thumb so that you won't get lost in your ample wardrobe.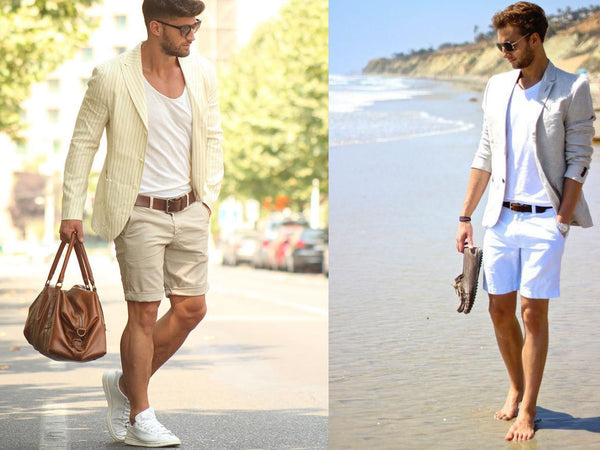 Tips 1. Choose Contrast Colors
An all-in-one color look is unavoidably boring and is absolutely a no-no for vacation looks. Black-black or white-white and similar color combinations are just not vocational. Even colors of the same color scheme but in different shades are better than theirs, or wear a bright color belt that protrudes the waistline, divides the body proportion, and shows height and leg length.
You may want to try a dark top, T-shirt, polo shirt, or casual shirt with a light-colored bottom, such as beige, turquoise, and dusty pink, or vice versa. And you can also try with a single piece in the botanical piece either for the top or the bottom, such as a Hawaii shirt with white pants and a white belt, or a light-colored T-shirt with a pair of tropical patterned shorts. If you dress like this, people will instantly recognize that you are on vacation, and a vocational mood will immediately surface.
Tips 2. Choose Natural Fibers
In summer, due to the humid and torrid weather, you must choose a very breathable fabric because you wear shirts or T-shirts on your skin. They are closely attached to your skin, so they'd better be able to suck the sweat and dissipate the heat out of your body. Because if they can't, you will get sticky on your skin due to perspiration and feel too hot on your body, which will affect your performance and scale down your mood during the vacation.
A second notice on the fabrics is that you'd better not wear clothes that are too tight. Some polo shirts are too densely woven, and the cloth will tightly wrap up your torso. It maybe makes you look sexy because of the body lines it stresses; however, they are not an optimal choice for a vacation in that they will impede you from moving to a large extent.
If you happen to have sports activities appointed, such as jogging or team sports, such as tennis, you should bring some attire that uses fast-dry material. You can pack a sports T-shirt in your luggage and a pair of sneakers or sports shorts and a breathable nylon belt.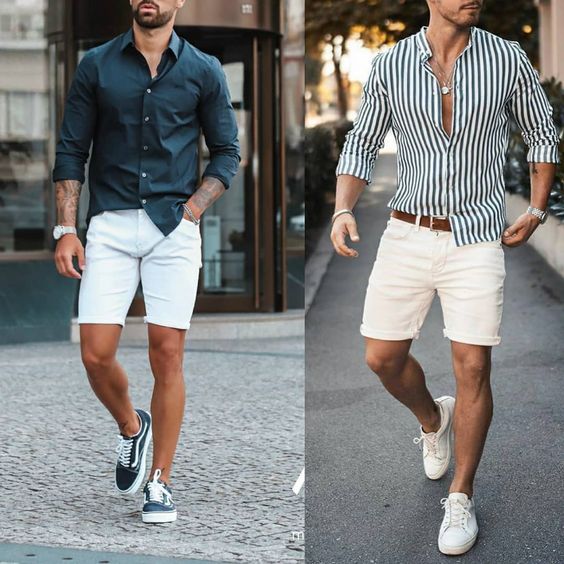 Tips 3. Choose Simple Cuts
When you are on vacation, you will have lots of activities to attend. You will stride, climb, ride and run. You don't want your clothes to hamper your movement. And so, you should try to wear cute clothes and pants as much as possible. Don't wear those shirts or vests that are abundant with many pockets. They will make you look like an amateur photographer or fisher hobbyist, which is not cool. Neither the pants, which should be kept in clean cut and. If you want coolness, you should try clothes with clean lines and simple cuts to look pumped up and energetic.
Tips 4. Choose Essential Accessories
Don't forget to pack your socks, comfy footwear, stylish belts, and eye-catching swimwear. They are also essential accessories for your summer vacation looks.
Socks will keep your foot dry and attached to the footwear. But don't wear them if you wear sandals. This look is not classy.
Moccasins and espadrilles are good fits for your footwear. They come in various styles, materials, and colors, and most of all, they are elegant, highlight your male masculinity, and give out a laid-back air.
A ratchet belt is comfortable and stylish. With one hand gently lifting the lever on the bottom of the buckle, its hidden track allows the belt to fit precisely every time. Perfect fit While sitting or driving for a long time travel, after a meal. Tonywell offers a variety of color belts to match men's stylish holiday outfits.
Suppose you wear long chinos or slacks, which require a belt to add to the stylish element. You may choose a woven fabric belt, like canvas or nylon belt. so that you can rest assured of the completeness of your look.
If you have poolside events, you should bring yourself a swim trunk. The swimwear is also a single piece that could make you out-style the other male peers and win you a trophy as the king of the pool.
Conclusion
These are the basics to be heeded when you prepare for a vacation and pack your baggage. I hope this article will give you some inspiration on how to get dressed for vacation. Have fun with the wardrobe!
Ready to dress sharp and command respect with the right accessory? Click here to discover Tonywell, the Professional Accessories Supplier.