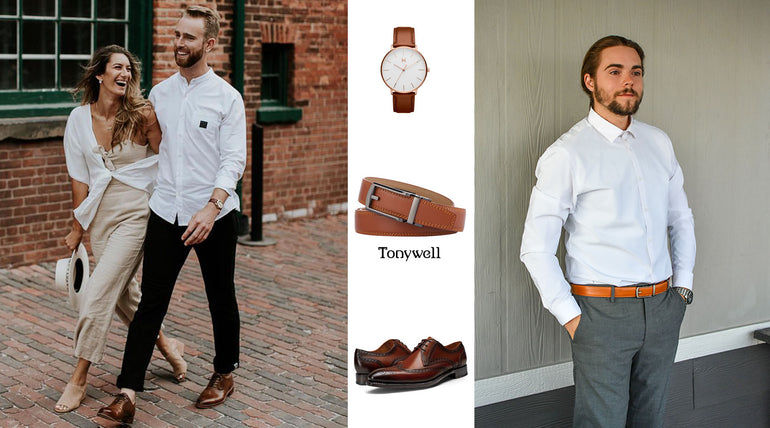 Are you excited about going on a date with a girl, but worried about a date outfit? Dating is very important for a man to get a wife and establish a family. It is believed that every man takes it seriously to leave an excellent first impression on his future life partner. Here are date outfit ideas and style tips for men to make sure you attract girls.
Why do guys not dress up for dates?
Some men don't take grooming themselves up for dating as seriously as we think it deserves. They may be confident with their wording skills, believing they can woo the love interest with their slick tongues. However, it is never too late to stress the importance of dressing up for dating.
Suppose women are also visual animals (actually, they are). They will observe the dating man, including their actions, expression, and whole look. Since your appearance is the first thing they notice, the man must dress suitably.
The best easy way to show your respect for her is to dress up. And what's more, it somehow implies your socializing skills. Remember, physical attraction matters. Your clothes are a part of yourself, it makes women subconsciously inclined toward you and want to communicate more with you.
Whether your type of date is a daytime date or date night, in spring or winter. The time and season don't matter as long as you mind the following principles by heart:
Wear A Top With A Collar
Dos.
Such as a sleeved shirt (long-sleeved or short-sleeved) or a polo shirt. The shirt can be lightly printed, such as stripes or geometric patterns, and should be in light color shades. Light blue, white, and light pink are good choices.
Wear a suit, denim jacket, or blazer outside the button-down shirt
If the weather is chilly, like autumn, you can wear a suit, denim jacket, or blazer outside the button-down shirt. If you have a date in winter, you can wear a turtleneck, sweater, or pullover instead of the above-mentioned clothes. Solid colors are good, but cute animal prints are also lovely.
Don'ts.
Don't wear V-neck T-shirt or T-shirt in any form.
Don't choose tops that are bright colors or have too big prints. Floral and tropical prints will make you look like an untrustworthy salesperson or playboy.
Avoid casual shirts that are heavily solid colored, such as black or brown. These neutral colors are usually the no-nos for men to wear on dates. Since they tend to make you either a priest or a boring man instead of a humorous, considerate person.

Always Wear Long Pants
Dos. 
Dress pants are suitable for dates.
Khaki, jeans are usually an option for smart casual outfits.
Don'ts.
Under no circumstances should you wear shorts.
Wearing baggy jeans or dress slacks will make you look like a rapper or someone going for a picnic, and make you unserious about the date.
Dress in Dress Shoes
Do.
Better wearing with shoelaces. Shoes can be black or brown according to the other attire you wear that day. These are the two most common colors for dress shoes which you can think about choosing.
Don'ts.
Two-colored dress shoes
Moccasins
Espadrilles
White sneakers
Sandals
Flip-flops
These shoes are casual footwear and should never appear on an official occasion.

Wear High-class and Stylish Accessories
A pocket square in your bomber jacket breast pocket,
A golden or silver boutonniere on your lapel,
A quality watch on your arm wrist,
A classic leather belt,
A silk necktie.
Above small and delicate accessories makes your style and whole look level upgraded and make you more appreciated by the woman. But also bear in mind that you should not let the accessories ruin or overrun your whole look. They must be compatible with the whole style.
Grooming Yourself Up
Brush your hair,
Do facial cleaning,
Do clothes ironing,
Put on some cologne,
Clean your fingernails and trim your nose hairs.
After preparing the outfits, don't forget about grooming yourself up. The demon hides in the details. Women will judge what kind of person you are by looking at your outfit, and the above-mentioned details. You are the whole package, so you should pay attention to these details.
Plan Your Dating in Advance
Last but not least important, you must plan your wording and work on your lines in advance.
Visualize what you will do with the woman on that day and introduce your work and hobbies.
To make yourselves better known to each other. so that you and your dating partner won't feel embarrassed due to the void of conversations. 
Arrange a schedule ahead, so you can control the dating process.
 Best of luck to you!
For more blogs for men's fashion guides, click here.