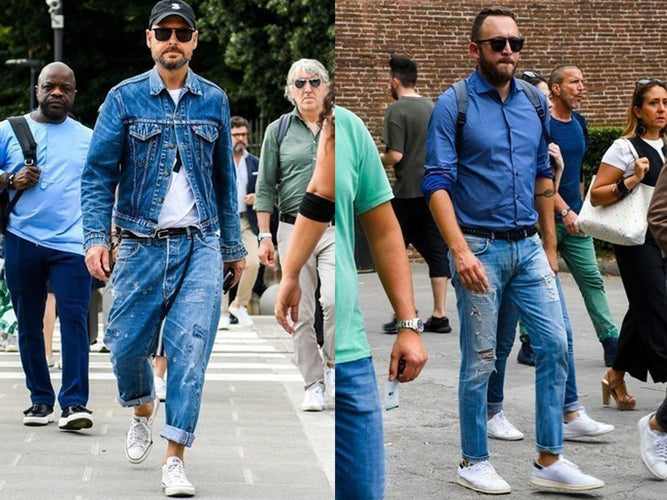 Walking on the street, you can easily find so many people wearing jeans, whether male or female. But people wearing ripped jeans which are labeled as young items are most young fellows.
It has to say that fashion has no limit or boundary. Who said that middle-aged men cannot wear ripped jeans? Adding ripped jeans to your daily summer outfit can be decent and super fashionable!
However, ripped jeans cannot be handled easily if one wants to be fashionable and special. For men in forty and fifty, acquiring some matching skills to make their characteristics fit the items so as to achieve harmony is necessary.
The torn jeans have the same features of casualty and wildness as denim, as they are transformed from regular jeans. So, wearing them can highlight the unconventional and unrestrained feeling. Therefore, denim element is a good choice for forty- or fifty-year-old men to get rid of rigidity and old fashion.
Compared to dress pants and other common pants that middle-aged men usually choose, jeans can be much age-reducing. Being attractive and fashionable, the design of ripped jeans can better demonstrate your uniqueness and characteristics, which is worth trying.
I. Choose Different Types of Ripped Jeans
Although jeans with rips are collectively referred to as "ripped jeans", they also have different styles according to the different rip designs and the types of pants. When matching, you can choose the one that suits you best!
The most conservative version is to adopt a small rip design to the basic jeans, which will not display ostentatiously and make the overall temperament more delicate. Compared with conventional jeans, the addition of the ripped design can achieve an age-reducing effect and greatly relieves the boredom of wearing heavy material pants in summer.
To be decent doesn't mean you have to wear "seriously". Adding some casual elements appropriately can also make the overall collocation comfortable and fresh. This is the case with torn jeans. If men in their 40s and 50s are worried that it is difficult to control exaggerated rip designs, they can try small rips or regular ripped designs, which can also make them look much younger.
The design of large rips is often characterized as ruggedness. If you are not the type of great height and powerful build, baggy jeans with large rips may not be suitable. This kind of exaggerated element is more suitable for strong men in their 40s and 50s, which can highlight a tough guy fashion when wearing them.
Among different types of ripped jeans, patch jeans are the most novel. Large rips with patches of different colors make the overall collocation more abundant. In summer, a pair of patch jeans with the most basic white T-shirt can enrich the whole look.
II. Choose Appropriate Color
Ripped jeans are transformed based on jeans, and their color highly influences the overall style.
Light Colors are more Refreshing.
Light-colored jeans always represent freshness and vitality. They are the best choice for achieving an age-reducing effect. Of course, light-colored jeans can also be combined with some slim designs to better display body curves. The double blessing of light color and rip design will not appear dull.
Except for the natural light blue, vintage blue is also very common in jeans. Compared with ordinary light color denim, vintage wash jeans feature an aged, semi-worn appearance. And the color is often uneven, which greatly increases the natural and unrestrained temperament. This cool combination of color with a large area of rips is definitely trendy.
Dark blue denim is a more conventional choice. The simple or complex design of rips is added to the basic jeans, which not only retains the composure of dark denim but also includes a specialty in rip design. Common but extraordinary, this type can indeed greatly increase the fashion level.
Black Jeans are Versatile and Fashionable.
Generally speaking, pure black is the most low-key among all denim colors, and people will try to avoid such a boring color in the hot summer. However, black jeans with rips can also be stylish to a certain extent. The dull feeling is swept away after adding the design of rips. And the black color can make it match everything without mistakes. Even middle-aged men can easily handle it.
III. Matching Style of the Ripped Jeans
So, how to wear ripped jeans more fashionable? Actually, except for wearing it directly, there are a variety of matching methods to choose from, which can make you attract a lot of admiring glances in summer!
Because ripped jeans have wild properties, you can choose more informal top items. The simple I-shaped vest can be directly matched the ripped jeans to create a cool and casual feeling. At the same time, the I-shaped vest showing muscle lines goes well with the boldness feeling of ripped jeans, which is a good option to show your figure.
A more elegant way is to style a shirt or blazer. Featuring street style, the ripped jeans can also achieve a calm and fashionable feeling by matching a solid color T-shirt with a light and thin shirt.
There are also tricks for matching black ripped jeans. Except for forming a classic black-and-white match with white T-shirts, you can also directly choose the same black color leather belt to add a sense of integrity. The rips will also be more prominent then. Low-key without losing personality, this combination is also quite suitable for middle-aged men in their 40s and 50s.
The elegant temperament can also be reflected through the torn jeans. Directly matching it with the shirt can be high-grade. At the same time, collocation with small white shoes makes the overall color more lightweight, which is in line with the tune of summer and appears harmonious, generous, and fashionable!  
People should show their fashion attitude even in their middle age. They still can follow the trend at the age of 40 or 50. Try this pair of ripped jeans boldly. Age-reducing effect and cool collocation will make you instantly regain the old vigor!
More blogs for jeans: