The public takes it for granted that fashion and comfort belong to women, but they also belong to men. And when the fashion trend comes, men can't avoid it, and the formal suits have made men feel boring. Sometimes they have to wear annoying suits for work. Therefore, the designers have also fully considered this point, adding some fashionable elements in the design of suits to make the suits look less formal but very in line with the workplace, which is business-casual. There is no accepted definition of business casual. Business casual guide men wear shirts, chinos, navy suits, and brown shoes to ensure they look clean and tidy.
1. What is business casual for a man?
Business-casual is a vague concept of dress. It is usually considered a casual outfit, but it is not an informal dress in the traditional sense. The use scenario is usually office casual menswear. This explanation usually includes formal shirts, ties, and pants, but wear them with informal suits or sports coats that look very casual.
Business casual wear was born in Silicon Valley in the 1980s. This clothing audience is mainly employees of small, self-sufficient, and male enterprises. The male employees of these companies have the following things in common: they pay more attention to results rather than process. The company employees spend more time in front of the computer screen than others. In addition to professional business look, they also need comfort at work.
As early as 1995, the Chicago Tribune newspaper declared, Welcome to the confusing world of business-casual. In 1992, the marketing department of Dockers (an American workwear brand) mailed its convincible 'Guide To Casual Business Wear' to 25000 Human resources managers by taking advantage of the employees' increasing boycott of traditional suits and the company's boycott of flowery shirts. To a certain extent, this has promoted business casual clothing to enter the public's vision.
2. What does business casual look like?
Business casual is typically defined as:
Women can not wear jeans, shorts, skirts, or low-cut dresses.

Men can choose from ties, button-down shirts, formal suits, leather belts, or coats and business shoes.
In this non-conformist era, this may enlighten our mind that a definition of business-casual in the workplace: showing creativity and enhancing your features while at the same time showing respect for your position, other people, and yourself.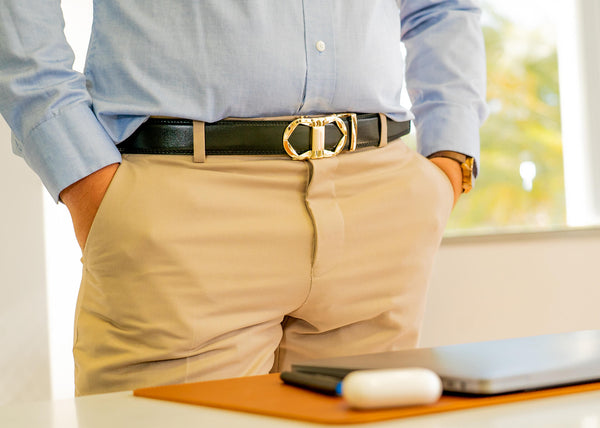 3. Business-casual style code
Code 1: Look around at what people are wearing and restructure your officewear.
When you work in the company, you may find that the boss wears a T-shirt and jeans but wants the employees to wear ties and formal belts (and vice versa). So, you need to look around, consider your office style as a whole, and get a general idea of your style.
If most people around you wear suits, buttons, shirts, and matched belts with shoes? Then your dressing style may be more business-oriented.

If your co-workers wear jeans, boots, and sweaters, your clothing style may be casual and comfortable.
If you are at a loss for clothing collocation, you'd better choose a clothing brand committed to producing and designing men's business and leisure clothing. After all, casual wear originated in the United States and was the first to introduce cloth jeans, shirts, and jackets. The earliest use of casual wear was to make use of its durability, comfort, and easy finishing characteristics as work clothes.
Code 2: Ask HR or your leader
If your company has a human resources department, you can email them for advice on what to wear at work.
I suggest you talk with senior leaders about what you should wear in the workplace. (let them know that you are changing your dress to represent the company better. They will pay more attention to you.)
Casual wear means that you need to pursue work that will make you more relaxed in the workplace: use a simple design on the shoulders of the jacket or avoid padding containing cotton. The length of the top is a little shorter, and it will look more casual with a belt, not to mention more modern and fashionable. You can find examples in the high-end section of the fashion matching guide. At the same time, ask the leaders whether this kind of dress matching is suitable for meeting with customers.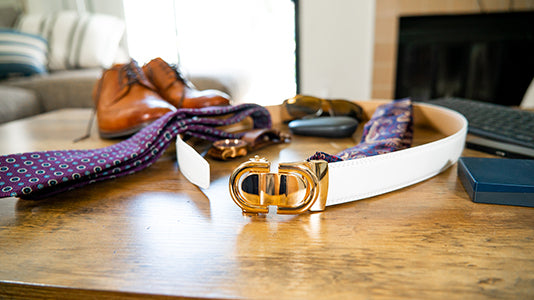 4. Business casual wear VS Formal dress
Business casual wear refers to the everyday attire that has both the function of business and casual wear.
Business casual wear provides people with a more tasteful concept of life and more life choices. It is between suits and everyday wear and is suitable for various occasions. Business casual wear is not only a kind of dress style but also reflects the life attitude of the wearer and has become a type of dress accepted by more and more consumers.
Compared with formal dress, it can be worn during commuting hours. It is generous and friendly. Unlike the legal suit, it is casual and relaxed, with a little more natural comfort, but it can maintain a sense of integrity and preciseness with an atmosphere.
Ready to dress sharp and command respect with the right accessory? Click here to discover Tonywell, the Professional Accessories Supplier.