People prefer to wear thin and breathable clothes to get coolness in hot summer. They may face great challenges since most summer clothes are a tight fit, which will make the whole figure prominent. Short guys may feel that wearing summer clothes will appear shorter, which inevitably affects their aura. 
There are many ways to solve this problem. For example, high-rise trousers can sit nicely on short men. They can make you look taller and more impressive as long as they are well matched. It would help if you learned the style tips for high-rise trousers. Don't miss it. Otherwise, it will be a pity this summer. 
I. Loose Style 
There are many tips for dressing in high-rise trousers, which are worth learning. You can have a basic understanding at first. When wearing high-rise trousers, you must choose the loose type instead of a tight one. You can tuck the hem of the upper T-shirt into your trousers and wear a belt simultaneously so that it won't look tight. 
Another advantage of the loose type is that it can make you look slim. And the proper design of the crease to the waistband makes the whole look more gradational, comfortable, and fashionable.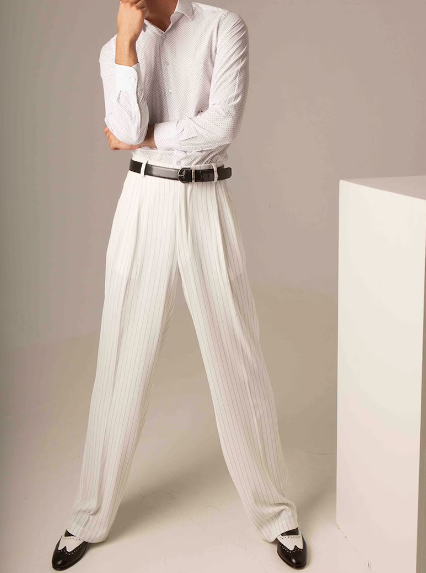 II. Pay Attention to the Matching of Colors 
One color outfit can easily blur the waistline, so you can match it with a bright-colored waistband to achieve the effect of color contrast. A light top with dark trousers can well highlight the waistline and visually elongates your legs, which is very common and popular. 
You might also match white and deep color, which looks refreshing. Of course, some people prefer to wear dark tops and white casual pants below, which are also good and make them look mature. 
If you want to choose just one color for the whole look, black is very appropriate to flatter your body's proportions. And the fabric is comfortable and transparent, and the heat dissipation effect is strong. Walking on the street, you will impress people with your fashion taste. 
If you wear black clothes, wearing white pants with black or brown belts is more suitable to avoid being too monotonous. And it will look more comfortable visually, without that old-fashioned feeling.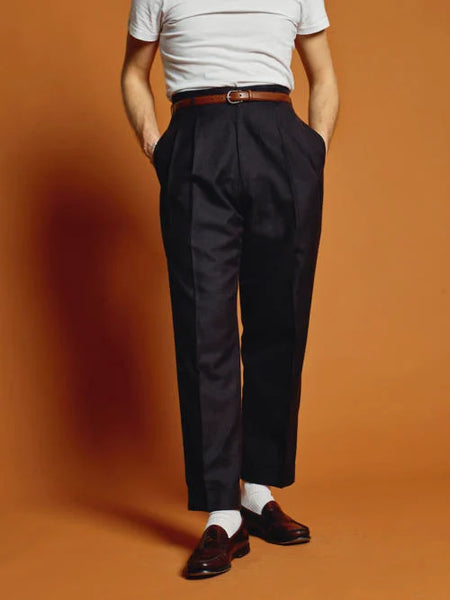 III. Pant-selection Skills 
The most popular type of high-rise trousers must be the casual style, which looks very vertical. The edge is decorated with pleats to avoid being too boring and unorganized. And the trousers seem to be fashionable. 
Of course, most men will be equipped with clothes of brightly saturated colors in their wardrobes, which is classy and fancy. As for the shoes, you can always choose white color, which is simple and comfortable as a whole.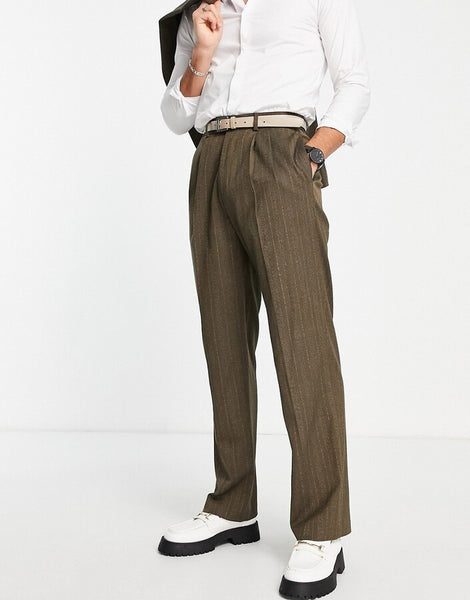 IV. Choose Appropriate Accessories 
Some fashionable items will be added to match high-rise trousers appropriately in daily life. Fashion tricks also abound in this field. It is better to match accessories with some metal elements, such as a belt with a metal button, a watch and bright leather shoes when wearing casual high-rise trousers, so as to avoid a dull feeling. 
If blue denim trousers are a must, you can wear small white shoes, which are suitable for leisure shopping. And it looks more comfortable and won't have that depressing feeling. This kind of look also has an age-reducing effect. But don't go with tight pants. Otherwise, it will damage your whole outfit.
I don't know if there is any new inspiration for high-rise trousers for you. It depends on how you wear it. And high-rise trousers are not as difficult to style as you think. 
You must try as many items as possible to find an appropriate one and match a nice look. 
Ready to dress sharp and command respect with the right accessory? Click here to discover Tonywell, the Professional Accessories Supplier.