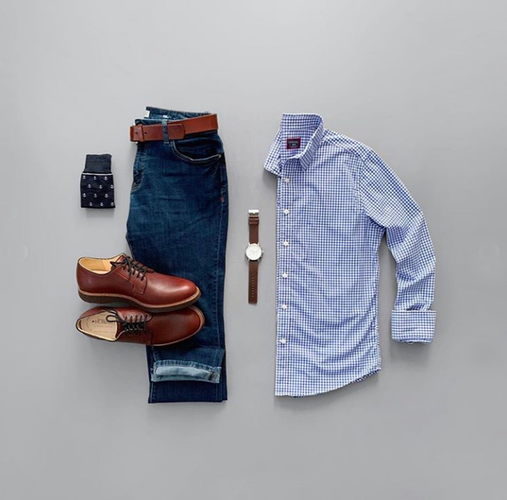 Believe that everyone wants to spend their time on things that can create value. What to wear has also become a daily question. In summer, the men's wardrobes are mainly simple essential items, such as white T-shirts, striped shirts, shorts, and shirts, which are basic summer styles. Perhaps many guys think of capsule wardrobe but think that these items are too simple to match.
Although these single items are simple, when matching, you can still deal with these aspects according to the color tone, style, and details so that the shape will also appear very layered.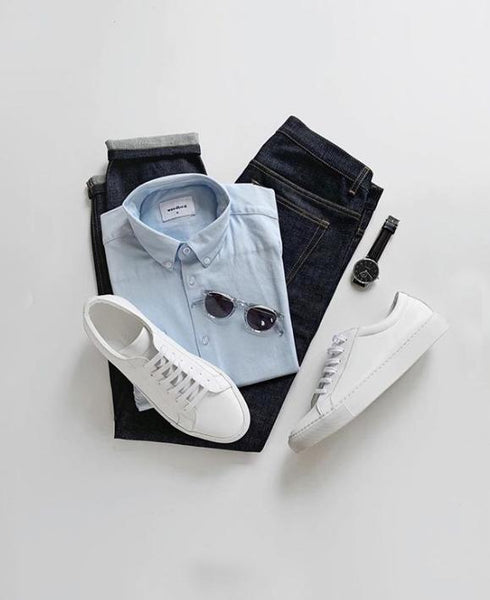 I. The Classic Type - White T-shirt
No one wants to miss this classic type - the white T-shirt in summer. After all, the white T-shirt is versatile and can quickly create a simple and fashionable style.
The shape of a white T-shirt and a pair of jeans is classic. The figure will be integrated with a couple of white sneakers or white belts, and such a combination will not appear monotonous.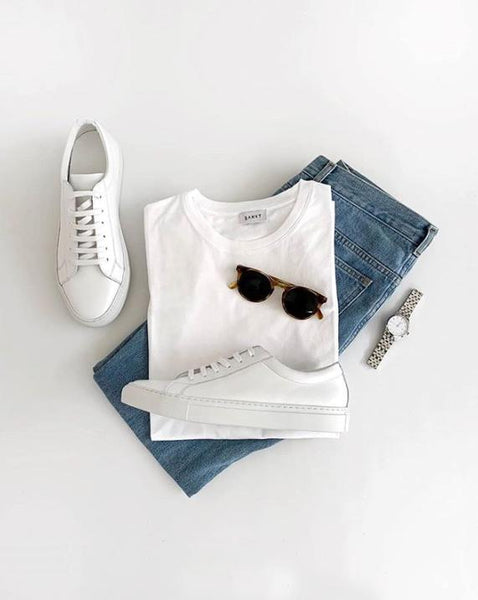 And you can match it with some jeans with frayed edges to quickly create a fashionable style. Although such a shape is simple, it has an excellent visual effect. Besides, the blue and white tone is very suitable for summer.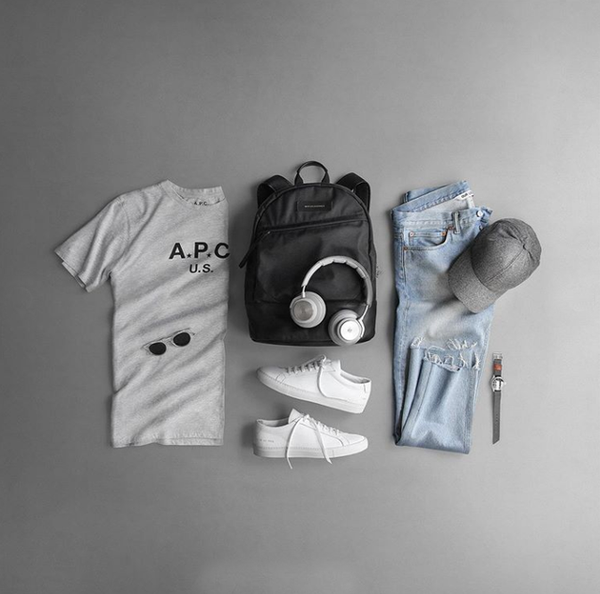 White T-shirt + Khaki Pant
It is highly recommended to wear white shirts with khaki pants, which are not out of date. The shape is also lovely, even if you wear a fitted version. In such a shape, if you match it with a pair of retro sneakers with brown rubber soles or a nylon belt, coordinating with the overall tone of the shape, so the shape will also become more layered.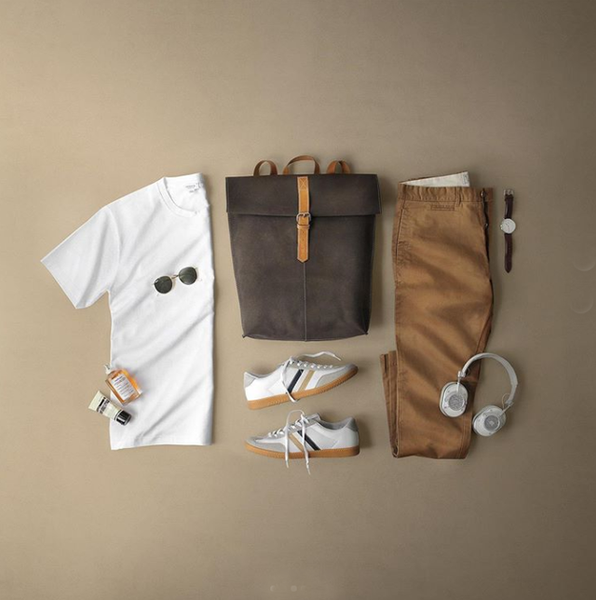 Of course, in addition to matching khaki, this white T-shirt is also fashionable and versatile with other colors of casual pants. Still, you should make good use of the changes in clothing accessories in modeling to create a different style.
Just like the style of khaki pants, you can change the type of shoes, add a baseball cap or khaki canvas belt, and your style will become more youthful and fashionable.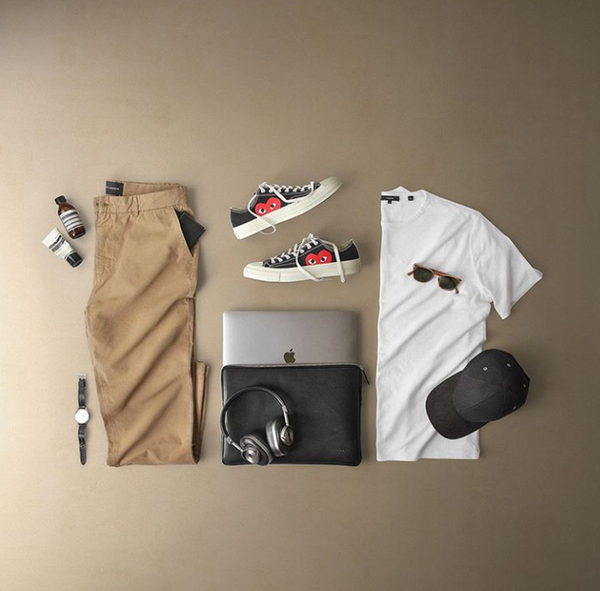 II. A Cool Pair of Shorts
Shorts are exclusive items in summer. Wearing them can make the shape cooler and breathable, which is necessary for creating a simple shape. Moreover, shorts are versatile and can deduce different styles.
Take the most classic twill cotton shorts, for example. Although this style is straightforward, you can also show various kinds. The shape is full of literary and artistic style with a striped short-sleeved shirt with a Cuban collar. Now, the versatile white shoes can echo well with the contrasting stripes so that the shape appears more prosperous and integrated.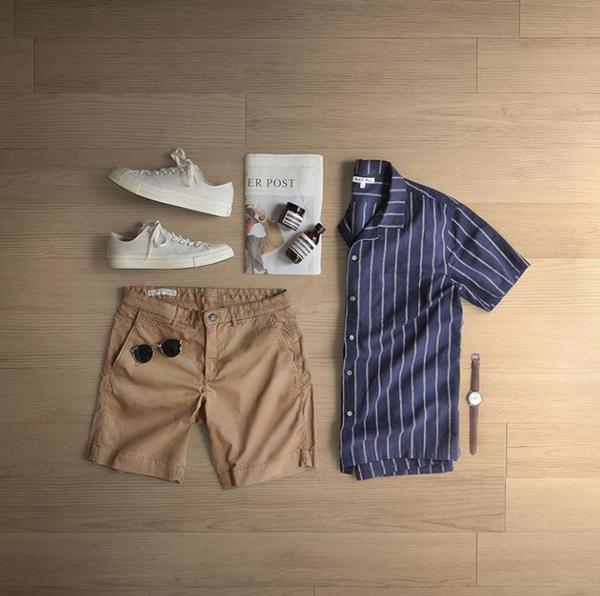 The style of shorts with a long-sleeved shirt and nylon belt is also highly recommended so that the shape of long-sleeved shirts will not appear too rigid. The combination of khaki and navy blue is very classic. With some white decorations, the figure looks much more uncomplicated.
In summer, the combination of green, white, and black colors is eye-catching. Under the effect of contrasting colors, the shape will not appear monotonous, so sometimes, we should pay attention to the change of tone when matching.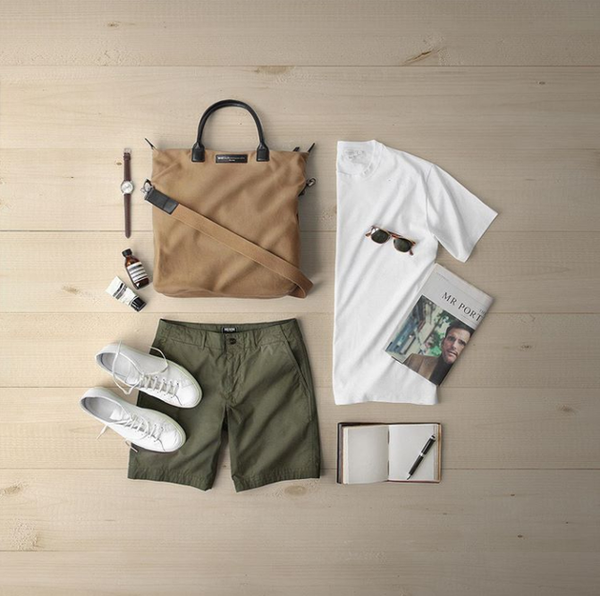 A pair of navy blue beach shorts with a striped sailor shirt has some ocean elements, which is very suitable for creating a seaside holiday style. In daily collocation, you can also change into a white linen shirt, which also looks refreshing.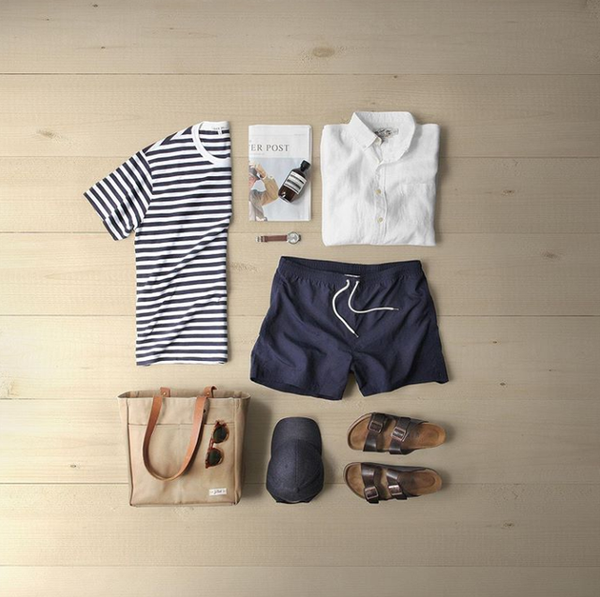 III. A Short-sleeved Shirt
The short-sleeved shirt with a simple and fitting shape is generally casual, unlike the oversize style or Hawaiian shirt. At this time, it can be adjusted according to the tone.
Blue and white are a must in summer. White short-sleeved shirts are very harmonious with jeans, but we should also pay attention to the length of trousers and keep a sense of simplicity so that the shape will look very generous.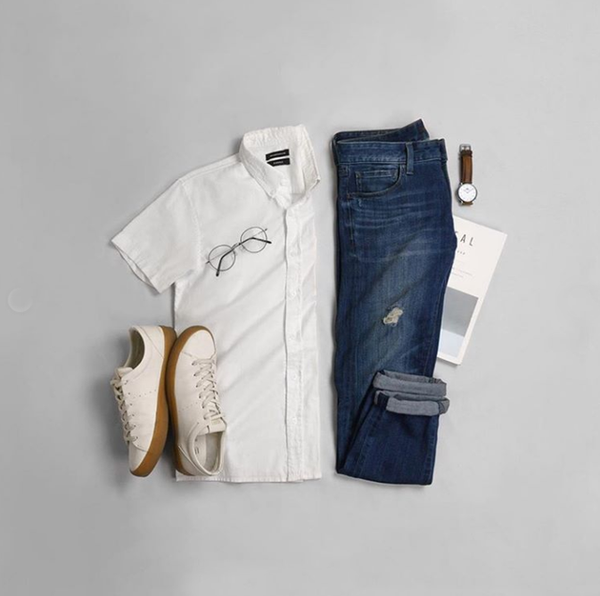 In light-tone modeling, you can match it with a pair of retro running shoes. The style will look simple and harmonious, and the boots and baseball caps make the modeling more eye-catching.
When navy blue is chosen for shirts and trousers, the shape will appear much calmer, but it is also easy to seem monotonous, especially in the shape of short-sleeved shirts. At this time, you can choose shoes that remain eye-catching, but they should also be coordinated with the overall color tone.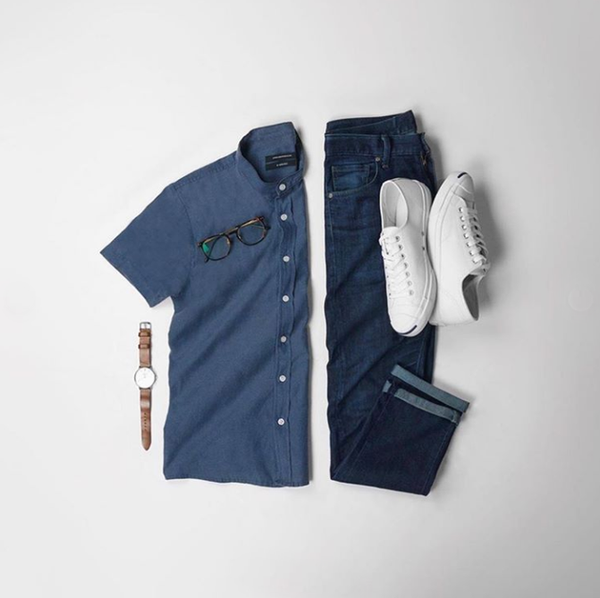 IV. A Youthful Striped Shirt
In summer, the classic blue and white striped shirt will give people a sense of freshness. It is very versatile and makes you look young and energetic.
A T-shirt with blue and white stripes, whether paired with white or dark blue trousers, appears very simple. Match dark blue pants with it is like a formula, which can be used every summer.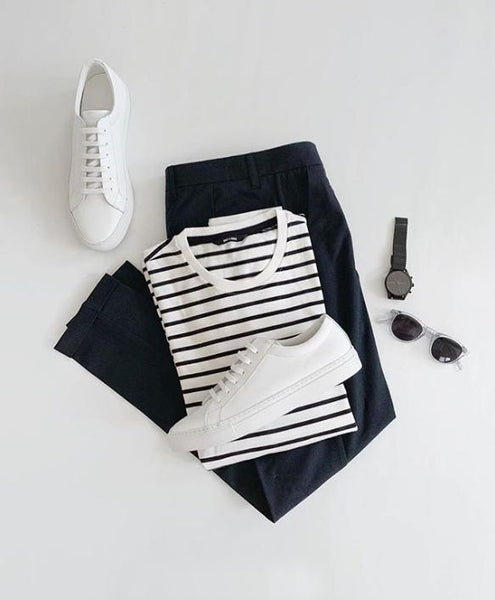 In the choice of pants, some casual pants, jeans, and sneakers are all excellent choices, but you must choose pants according to your leg type. We should not only consider the overall tone of modeling but also take into account the version changes of single products.
Relatively speaking, striped shirts are more difficult to harness than striped T-shirts, but the shape created can be very artistic and fashionable. In the case of little change in style and version, it is necessary to consider the style characteristics of trousers.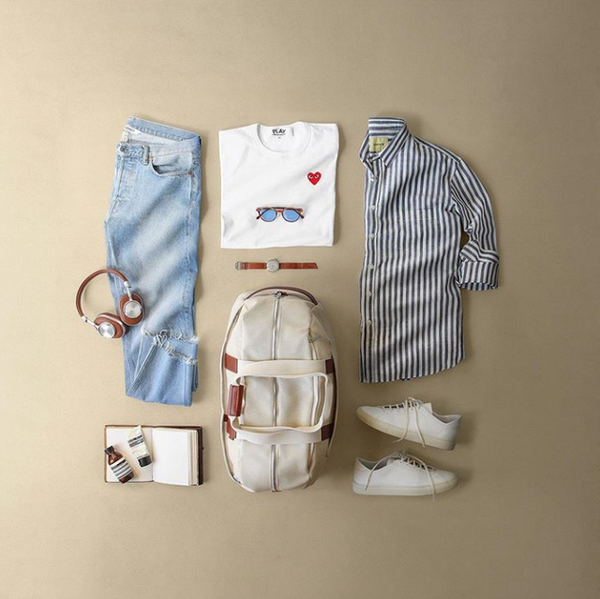 Light blue jeans with frayed edges are a good choice. The shape is not only uniform in color but also fresh and fashionable.
The style of matching shorts looks relaxed and casual. With a white T-shirt inside, the style is versatile and layered. Generally, the visual effect is prominent with the proper shape tone.
V. A Long-sleeved Shirt
The shapes of long-sleeved shirts have varied options. After all, their styles are vibrant. Many guys would rather wear a long-sleeved shirt than a short-sleeved shirt which is more challenging to match in summer.
Some calm men will choose a long-sleeved shirt in summer when the weather is hot. After all, long-sleeved shirts can create a more gentlemanly and elegant style.
A refined plaid style is necessary to create a casual manner. At this time, you can choose a pair of versatile casual pants to ensure the shape's versatility and make the figure appear more tasteful through some accessories, like watch, blet.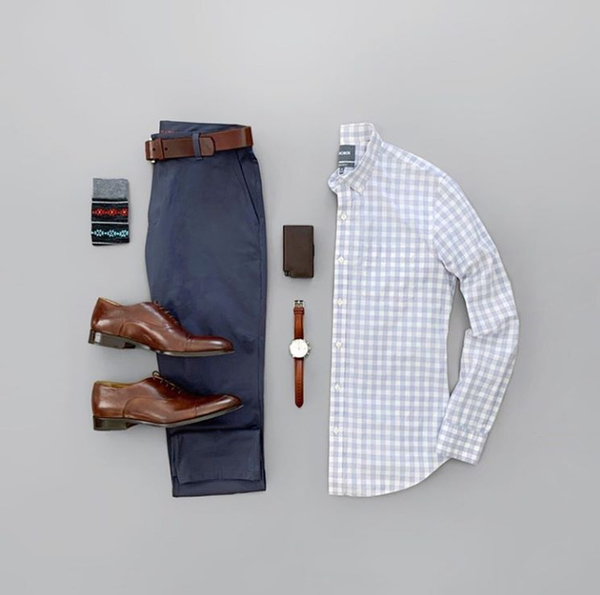 Whether matched with jeans or casual trousers, you can choose a pair of brown leather shoes and belts, so the shape will not appear too rigid. At the same time, it can show the delicate and fashionable side, which is very suitable for creating a relaxed style for men in the workplace.
When creating a casual style, there are more choices in shirts. It can make a fashionable style, whether white, denim blue, or blue and white stripes.
The white shirt matched with a pair of jeans makes the shape fashionable and versatile and appears simple and generous. With sports shoes, the shape of the white shirt will not seem conservative.
Many partners also like to match khaki pants with sky blue shirts, so we should pay attention to some changes in details. After all, it is easy to lose visual focus when matching two colors, so we should handle the details well in cuffs, feet, and hem.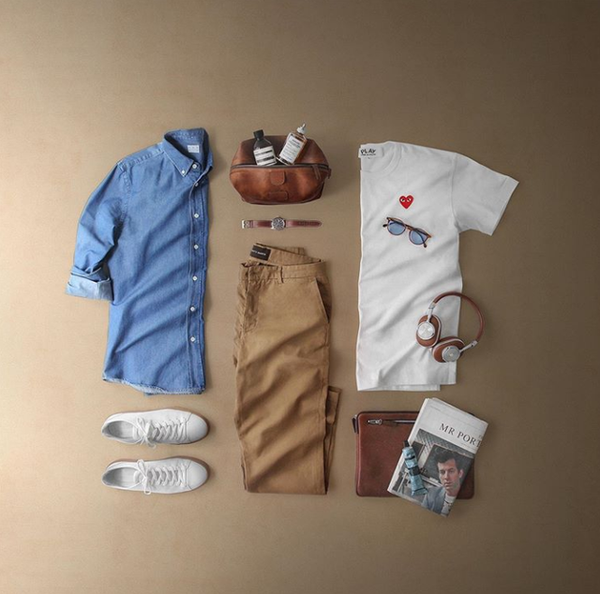 The T-shirt in Henley Collar is very literary and artistic when matched with casual pants. At this time, shoes should be based on versatile styles, and the shapes can easily create a sense of fashion.
Ready to dress sharp and command respect with the right accessory? Click here to discover Tonywell, the Professional Accessories Supplier.