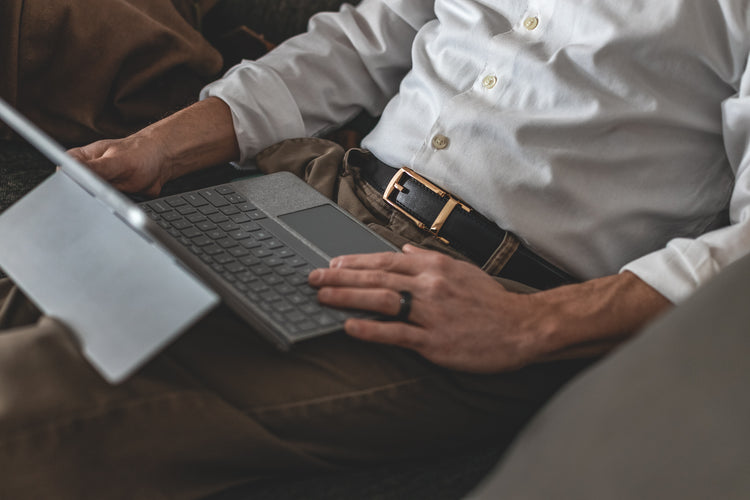 What Does the Belt for?
This is a dumb question to ask. Everybody knows the reason why we need belts so much.
Yes, it can help us to keep the pants from falling off.
Most recently, increasing people have started to regard the designer belt as a complementary role to their daily outfits. They believe a well-matched belt may become a good finishing touch to one's collocation. 
Actually, that's true. We can easily feel that men's belt is becoming an essential dressing item. But, many people are usually confused about how to choose a perfectly-fit men's belt. Especially when the online platforms take up the major offline shopping activities, these similar troubles start to exist.       
If you are having the same trouble, just continue reading and check what exactly we can do to find you a perfect men's belt!
How to Know Your Belt Size? 
There are three general ways to measure your own size for any belt. You can try the one you prefer.
Measure your waist size with any measuring tape.
This is quite a normal way to get the number we want at home. After the measurement, your waist size would be your ratchet belt size.
Remember to let yourself feel relaxed first before the measurement! Otherwise, you will feel super regretful about it when someday you eat a lot. Yeah, we all know it won't be good to wear an unsuitable leather belt after a wonderful meal. Also, if you have a sedentary lifestyle currently, it would be a better choice to approximate it to a little bit bigger size.      
Determine belt sizes from your old ones.
Making good use of what you already have would make things more manageable. Since the most suitable size absolutely would be implied by the used belts, you can simply measure them in case of other measuring errors. This method can save our money and time for the following belt order.
Just a reminder, the most accurate way is to measure the belt strap from the end where it connected the buckle to the hole that you usually buckle it.
Figure it out from your used pants.
Please don't forget that all belts eventually need to be paired with your pants! So, the advantage we can gain from their collocation is to find the perfect size according to your pants.
Why Do I Have to Pick the Perfect One?
After introducing so much about picking the right belt, someone may ask why I have to spend so much effort on figuring out the size. Shouldn't all belts be freely adjustable?
Right, these opinions are totally understandable.
Traditional dress belt is to use the hole and fixed prong to secure the belt. That's how people usually adjust and fasten their belts. However, as the public is increasingly conscious of their outfits, even a small belt still needs to be well-matched in the whole style.
Just imagine someone in a high-class suit, and his/her belt lefts a long extra part behind the back due to its wrong size. Even if he/she wraps up the excess part, it would still affect the overall impression. They would generally look so cumbersomely dressed. Then the belt couldn't help shape people's waistlines anymore. Therefore, it's necessary to choose the right belt, but also crucial to use it correctly.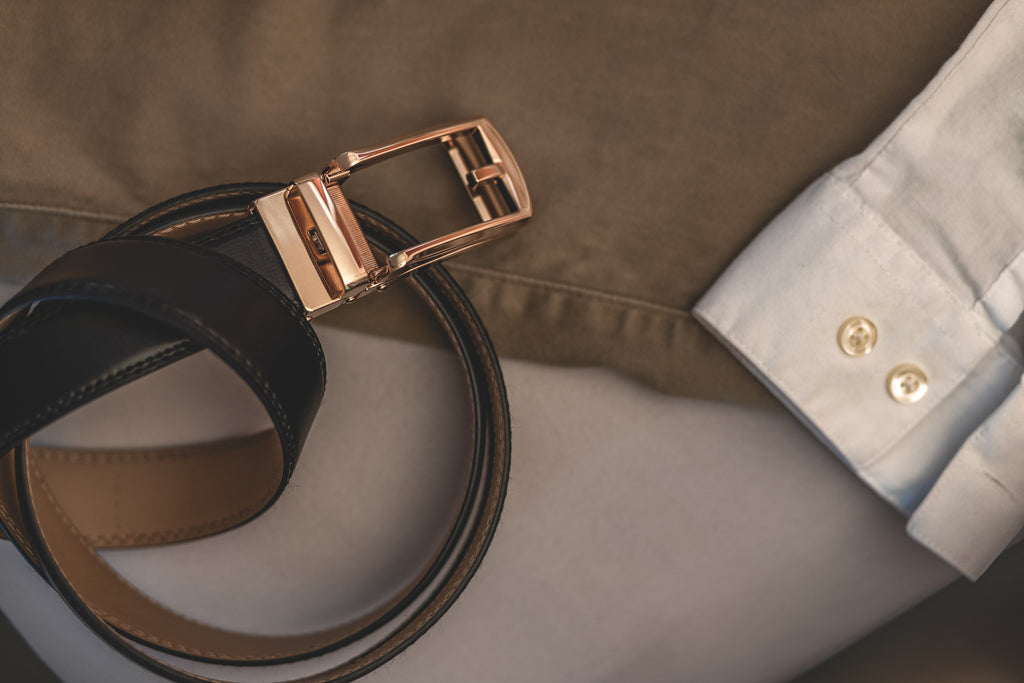 Why Should I Choose Tonywell?
Tonywell ratchet belts can help you perfectly avoid the problems mentioned above. You don't have to worry about sizes at all. We design Tonywell belts for every customer and aim to make the belt that can meet everyone's personalized requirements.
Tonywell belts can be easily cut with scissors. After receiving the belt, you only need to try it on and tailor it into a comfortable size. Tonywell prepares you with a precise scale at the end of every belt for reference when cutting. The following picture will explain how exactly you should do with it.

In the past years, men's belts are always famous for the prong-buckle style. It means people have to buckle the pin into the third hole, which can make the leather belt looks more beautiful and formal.
Recently, the holeless designer belt would be a more fashionable style among men. We can see many men's belts without holes named like automatic-buckle belts, sliding belts, and click belts. It will not easily leave any scratch or mark on your belt like the prong-style product always did. These are also Tonywell's best-selling products.
The highlights of these men's belts are the easy-to-adjust and replaceable buckle design. For automatic-buckle belts, you can simply adjust the buckle to a proper place and lock it in with compression. Make sure to adjust the leather belt to the center of your pant eventually. Also, Tonywell prepares a wide variety of awesome men's belt buckles for you. People can freely select preferred ones according to their daily outfits and the occasions they are going to attend.
Paying more attention to these seemingly unimportant details can help your outfit to have a qualitative change. This is why we say that the details make all the difference.
Since you already know all of the points that you need to pay attention to, just feel free to go shopping and pick your perfect belt!
Remember, you are the belt pro now!
Ready to dress sharp and command respect with the right accessory? Click here to discover Tonywell, the Professional Accessories Supplier.