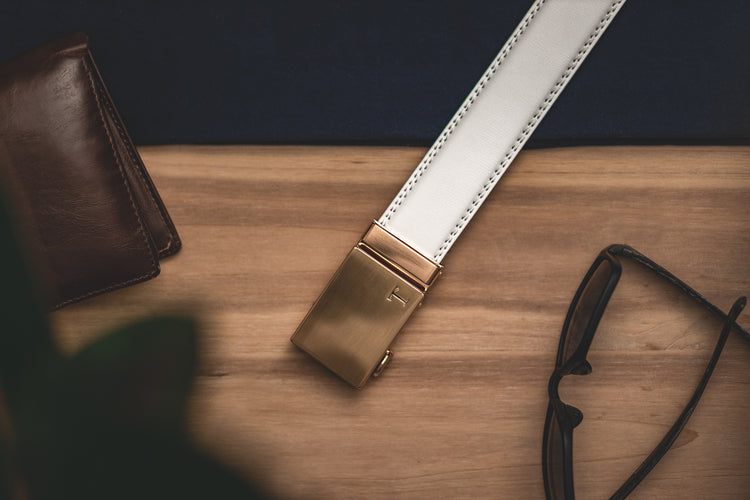 An essential accessory for everybody
People are now putting more effort into a well-matched outfit. That is how accessories become so important in collocation. Especially for men, belts play an important role among the few accessories available. This is also a very good test of a person's taste. Doing well is the icing on the cake; doing poorly may give the impression that too much force is being used rather than none at all.
There are many kinds of belts, and their usage has become richer with everyone's innovation. For example, the super high waist tying method has become popular recently and can help people elongate their body proportions.
But with its abundance of variety, many people instead start to feel confused about the selection of belts. After seeing all the advertisements and recommendations on the internet, they want to buy them. As a result, the belts you buy don't suit you, and after a while, you always feel like you're missing a belt. This is a waste of money and makes you want to use the belt less and less, and you are no longer even interested in collocations.
In fact, it is because people do not clearly understand the main role of the belt and the corresponding style. After I introduce the following belts that everyone must own, you will be able to know how to buy, what to buy, and how to match a belt.
Why do I need them?
In general, belts are used to tie around the waist. This can often play a role in matching the clothing to trim someone's body shape and optimize the proportions of the body. Of course, we should not put the cart before the horse, forgetting that its most basic role is to adjust the waist size of the pants and ensure that the pant can not slip off.
 For men, in particular, this essential function is especially important. This may be related to the differences in our physiology. A woman's hip circumference tends to be slightly larger than their waist circumference. And most men's hip circumference is basically less than or equal to their waist circumference. This also explains the phenomenon that men generally need to tie their belts more. Otherwise, the pants are easy to slip off.
When to wear a belt is closely related to the occasion and style of the outfit. You'll want a belt for the perfect partner for pants, preferably in leather for formal occasions. Matching shirts often need a fine belt to do the accent. The standard is whether or not the top will cover the pants button. Daily wear jeans also have to wear a good belt. The pants at the same time also have a certain decorative role. The swimming trunks, or sports shorts, generally use the elastic band that comes with the inside of the pants.
In addition to the practicality of belts in everyday wear, men are more often than not concerned with the effect that belts can have on their aura. The belt's quality, brand, and price can affect how others evaluate them. Sometimes, a fine belt can also reflect a person's attitude, including the rare sincere feelings. For example, is he well prepared for your date? We can easily tell from it how much he really cares about you. Instead, from the perspective of women, they care more about the decorative effect belts can bring to them.
Five belts you must have!



A dark genuine leather stitched belt is the most versatile fashion item for men. If it is a formal occasion, the belt buckle should be in a simpler style as well. In addition, the formal belt will look more coordinated and elegant if it can be unified with the color and material of the leather shoes.
It is the best tool to set off your temperament: low-key and businesslike. Leather fabric can be rich in texture and can be recovered quickly. The leather surface tends to be hard and shiny. It can be worn with any of your formal wear or casual pants, and the overall style will not be abrupt. This kind of belt is mostly used for business occasions; it can show your professionalism. For those who are not good at matching, a dark belt can solve many of your problems in deciding which one to wear.
In fact, we can also make this matter simpler. That is to buy a dark-colored reversible belt. For example, this reversible belt from Tonywell offers you more options to match.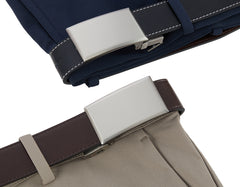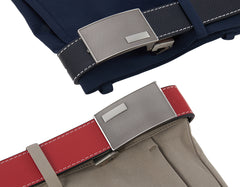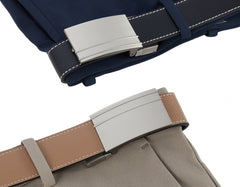 You'd better not wear your formal belt on casual occasions! The second essential belt leans toward the original leather color, such as light brown and dark brown. There are also many fabric materials to choose from: soft leather, nylon, and plastic. This kind of belt is more suitable for casual pants and jeans in various colors. It gives people a more relaxed and comfortable feeling. Belt buckles are not simply limited to metal buckles; they can also be made of various materials.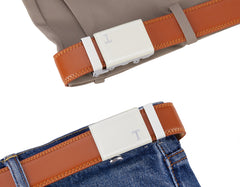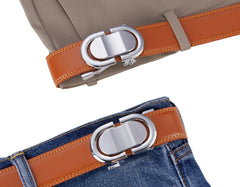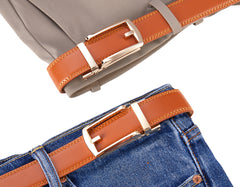 In addition, you need to have a casual-style belt on canvas. Canvas woven material is characteristic in appearance while being durable and breathable. It is usually paired with a metal buckle, making it resistant to wear and tear and suitable for outdoor activities. The colorful shorts, casual pants, and khakis would become super matched with it during spring and summer.

Belts with individual designs are becoming more and more popular. We can see many belts in rare materials and belts with ornaments on the market. For example, some young people prefer to have studs on their belts. As an accessory, belts can indeed help us show our personality. Sometimes, a colorful or designer belt will make you stand out when you want to dress up a little more boldly. Imagine wearing an all-black outfit with a designer patterned belt! It must be so cool and attention-grabbing!
Yes, you read that right! There's no denying that when your pants fit perfectly, your outfit is good enough. It's time to put your belt on vacation and get your tummy relaxed.
The matching principles you'd better know.
Last but not least, I'll give you a few more suggestions on how to wear the belt. Hope it can help you!
a) Remember this omnipotent collocation principle: dark colors always with dark colors and bright colors with bright colors.
b) For a shorter lower body length person, we advise you to wear a slightly brighter colored belt to enhance the waistline proportions.
c) Buckles and straps can be of special or quirky design but remember not to have both on one belt at the same time.
d) Never wear the suit with a casual belt!