Of course! The incongruous combination of belts and shoes is simply a disaster. It makes people think you are very unreliable. Especially if you are a professional, choosing the right belt with shoes can enhance your competitiveness in the workplace. There are many styles of belts. It's not easy to select a suitable belt when you search for thousands of them on the shopping website.

Should Your Belt Match Your Shoes?
Before you go out, you should ask yourself this question in the mirror. This is the number one problem fashionable men need to pay attention to the belt. Different occasions need to match belts of different colors and textures to show your personality and respect for the host.
Maybe you once had this situation: you are a special guest of activities that need fashionable shoes. Your dress shoes are black. Your belt is brown. What should you do? You're not sure if your belt matches your shoes. You are so confused that it hinders your judgment of whether you dress or not. The most basic general principle is that your belt should always be the same color as your shoes. The colors of the two need not be the same. But at least brown shoes with a brown belt. The black loafers are unified with the black belt. But in addition, there are other nuances you can't control.
Can i wear a black belt with brown shoes?

There must be a black belt in your wardrobe, but have you tried to match it with brown shoes? Black belts and brown shoes often form a sharp contrast. If you choose dark pants, you might as well try this match. In addition. If you wear light-colored pants, you may find these three colors very incongruous on your body. Therefore, generally speaking, we need to avoid this kind of collocation.
Can i wear a brown belt with black shoes?
Same answer as above.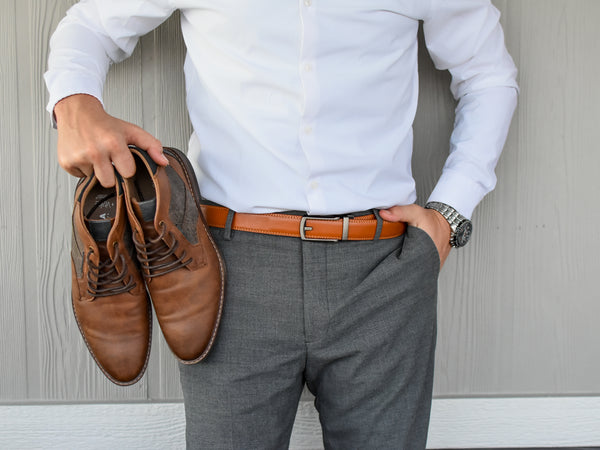 How to Match Your Belt to Your Shoes?
Here I summarize the following points to help you easily choose the right belt for yourself:
Your belt color needs to be consistent with your shoes. For business people, dark gray is a better choice; this color has a very advanced feeling. If you feel black is a bit monotonous, you can try the gray + black combination. It will not look too lively, will make you look very calm and suitable for the vast majority of ordinary people's choice. And the colorful canvas belt is more suitable for young people.
The shiny metal buckle on the belt is the first thing to catch people's attention. It should be noted here that bright leather for shoes is not always matched with metal needle buttons. Colorful cow leather shoes are likely to dominate. When choosing metal, it is best to check it with low-key matte loafers to make the overall image more formal.
What kind of belt material to match shoes requires your judgment and choice? The most durable belt material is nylon. It can't be cut or poorly used. No matter what kind of leather it is, as long as it is used frequently and not cherished, it will have the problem of peeling.
If you want to buy a more textured belt, I suggest you consider the following points: your budget, the texture of the belt, and the material of leather shoes. For example, if you wear casual clothes every day, I suggest you consider a canvas belt, which is cheap and durable. Canvas belt, I think, is synonymous with youth. Generally speaking, the color of the leather belt is the most monotonous dark color system. The canvas belt is quite different. It can be colorful, like its suitable age level, full of youth and vitality.
Consider the occasion of each item.
It's just right to match a canvas belt with canvas shoes for a 20-year-old boy. It's very suitable to match white socks, jeans, trousers, and shorts. It's simply a versatile artifact. Boys of this age can't use suits for the time being. Leave the leather belt at the formal cocktail party.
If you are a person who often works outdoors, I suggest considering the polyester belt with outdoor sports shoes and black cotton socks, which is different from the nylon material in the front. This belt is more durable and comfortable than nylon.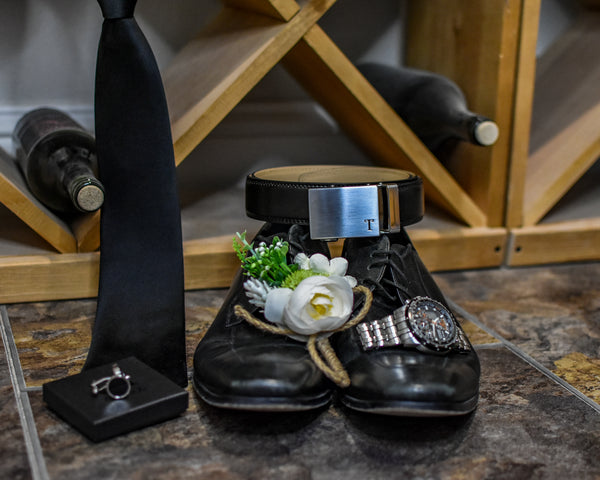 Conclusion
There are no strict matching rules between belts and leather shoes. You need to explore the two matching rules in real life constantly. If you're having a hard time with this, brown and black belts are generally great for all kinds of shoes, and this combination can be well paired with some beige and white knits.
Ready to dress sharp and command respect with the right accessory? Click here to discover Tonywell, the Professional Accessories Supplier.