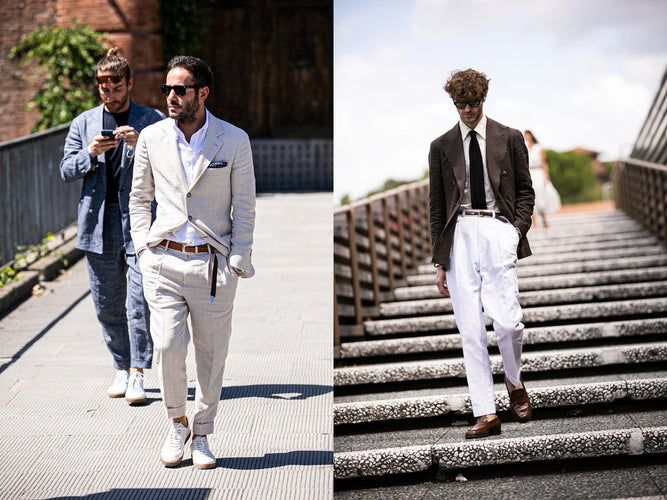 A loose and casual T-shirt or a formal and solemn dress suit, which one would you like at a high temperature of 30 degrees Celsius? The chances are most people will choose T-shirts for comfort and coolness, but in fact, there are always occasions that require dress suits.
As a representative of men's sense of high-fashion and texture, dress suits are favored by some men in every season. Because they can reflect the great manner and elegance that ordinary items fail to achieve, making the whole look energetic and fancy. However, what would it be like to wear a dress suit at 30 degrees Celsius? You can easily be fashionable and comfortable, as well as fresh only if you observe the following tips when wearing dress suits at a high temperature.
I. Choose Appropriate Types and Styles
Whether it is fit or fluid is essential for choosing suits successfully. Unlike women's matching style, which can take the blazer directly as a fashion top, people often wear them in the form of a suit in daily life.
A suit that fits the figure indeed makes the whole look more formal, but it also has a bound and dull feeling. So, trendsetters often relieve tedium feelings and add a sense of leisure by rolling up trousers and unbuttoning the collar when wearing a conventional style suit.
In fact, loose blazers have been widely used in women's fashion, and they are also capable of being applied to male looks. A loose blazer will make the whole look much more fresh and comfortable, and the visual bondage will be swept away, which is fashionable and classy.
II. Different Pant Types can Relieve Dull and Bound Feeling.
Alike, different types and styles of trousers can also make the look diversified, so you don't have to stick to dress pants.
First of all, loose and pleated trousers will make the whole look more casual, sweptwing away the formality of dress pants and appearing more energetic and fresh.
Elegant and thin material can create a cool, casual, and handsome image, which balances the inherent solemnity of the suit to achieve elegant and stylish.
Since the fabric and shape of trousers can greatly change a style, you might as well try the novel matching of shorts with suits. Although shorts are not suitable for many formal occasions, the combination of blazers and them is enough to set off a fashion trend.
III. Match Diversified Items.
On the basis of suits, all fashion talents opt for novel and unique collocation to greatly increase the fashion level, eliminate the contradiction between suits and summer, and make the collocation more seasonal.
Simplify Inner Layer; White T-shirt is more Masculine.
The dress pants are not the only choice, and so are the inner layers. They are not limited to shirts and ties. Many fashion stars select a more concise white T-shirt as the inner layer, which not only simplifies the overall line of the outfit but also stresses masculinity through the inner layer fitting figure.
Multi-Type Shoes Transform the Overall Style.
There are also a variety of options for shoes. Cropped pants and loafers expose the ankle, which eases the dull feeling, and adds a bit of wildness to the elegant suit. The overall style is transformed into the yuppie style, which is more fashionable.
The option of sports shoes will make the look more dynamic, and enable you to become much more lively. If it is combined with bright colors, an age-reducing effect can be achieved. But do remember to change pants of the same style as sports shoes to avoid strong conflict feelings.
Helpful tips for getting right shoes is to match belt color.
IV. Say Goodbye to Traditional Color
Another reason why it is difficult to connect suits with hot summer is color matching. Suits are always dominated by dark colors, and the comfortable tone in summer is often based on fresh colors.
Light color can alleviate dull feeling to a great extent, while pure white is too formal. Beige and khaki are the best choices between the two. Many trendsetters combine the two colors in collocation to highlight the gradation without being heavy.
Grain or pattern design is also a good choice to alleviate the solemnity of the suit except for solid color. The stripe design is simple and fashionable, and the multi-color combination makes the collocation more gradational.
Even if the overall color of the suit is mainly dark, adding stripes with bright colors on this basis can effectively add a sense of gradation and make the collocation more vibrant. If you are bold and trendy enough, you can also choose a contrasting color to add uniqueness.
The more "exaggerated" pattern design should be a combination of printing and contrast color. It has to be said that this can greatly shift the visual focus, reduce the existence of the suit and increase the attention to the design and color. Through such bold color matching, the summer atmosphere is fully mobilized with an elevated level of style that no one else has.
Wearing a suit at a high temperature of 30 degrees does sound intimidating, but it is not that unbearable in fact. Following the tips above, you can go well with suits even in the hot summer!