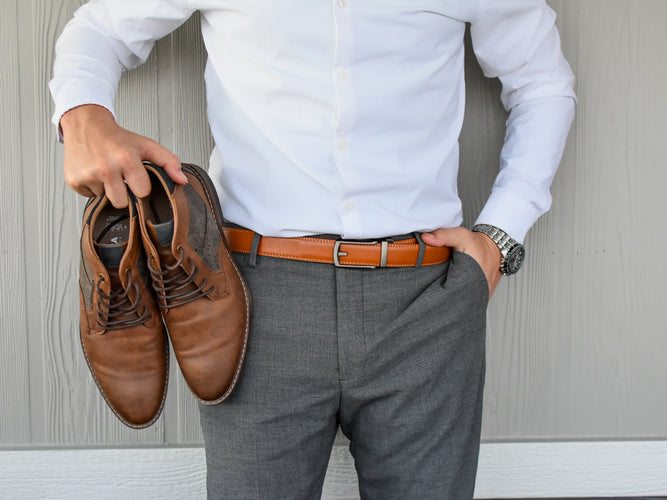 Every day is made up of various choices we make, and what to wear is definitely one of the most important and frequently asked questions we ask.
Days of dressing in fixed format are far behind, and the renovation tide is on the rise for Men's styling with the acknowledgment that everyone is unique in his own way. Therefore, 'how to pair,' i.e., select and match small add-ons (accessories) onto our basic clothing options, shows up in our agenda.
Undoubtedly, basic attire items like pants, shirts, or jackets set the major tone for our style. It is also true that accessories help set up the persona of who we are and set us apart from the crowd, especially when everyone needs to follow a certain hard-dressing code. With that being said, please also bear in mind that accessories are like icing on the cake. There can be various recipes for the icing. There are also principles to follow to leave out unnecessary drama. Here are some tips and golden rules for matching the accessories to let you score and make you more attractive.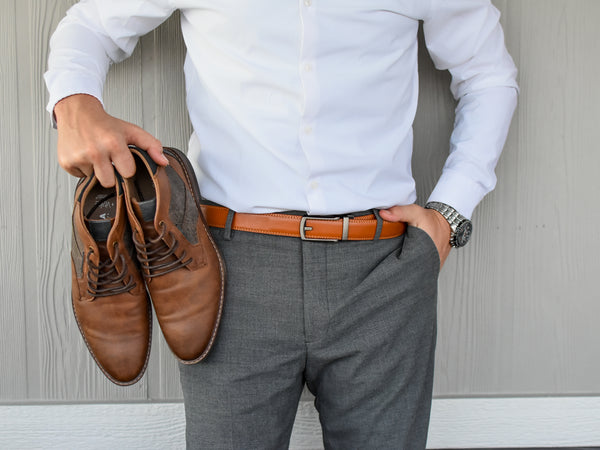 Tip #1: Cherry Pick Must Have's
Start with the necessary and most commonly used accessories, including belts and watches, and make the best use of them.
Those items have both pragmatic and styling functions. Therefore, it can be a versatile toolkit for dealing with different occasions. Devils are in the details, do not underestimate the magic those basic accessories can do. Make sure to keep the style of your accessories consistent with your overall clothing. 
Wearing a watch is definitely one of the first and foremost actions you could take to level up your style and, at the same time, keep you on the right track. While the tricky part with a watch is that there are too wide varieties in both price ranges and styles that can easily get lost, making the right purchase decision and matching it well with your overall style is crucial. Here are some shortcuts to help you navigate:
Think about the places and social surroundings where you would wear the watch. 
For example, a classy and solid watch is needed in formal business settings where you are most likely to wear suits. Note that it does not imply that you must strive for a high price tag. What is important is a good selection of materials and colors. Neutral colors like silver and black are more likely to be linked with being mature and modest; a stitched leather band or hollow-out clock dial case can demonstrate your exquisite taste.
And for more casual occasions, you can select a well-designed, polished watch with your personal preference, e.g., if you are a tech maniac, then Smartwatches are a good choice; if your overall clothing is casual sportswear, then pick a functional watch with canvas belt to pair.
Matching your watch with your body shape is also a good reference. 
If you are strong and tall, it is better to select a watch with a larger dial, while if you are lean, you could go for a more exquisite one, with a silver and light band color.
Next, let's talk about belts, almost another everyday accessory needed for Men. 
However, as opposed to styling, belts are more for functional uses and are often neglected. It's time to pay more attention to your belt and uncap its potential.  
We want to reiterate the golden principle that when paring, remember to keep consistent with your overall clothing style, especially in terms of texture (e.g., leather, canvas) and color scheme paring (e.g., dark, light). You could start with a classy dark color belt that would play safe and be versatile for all occasions. For colors and texture, you could refer to your daily shoes.
Tips for simplifying the process are:
1) shop for the occasion. 
For formal business settings, belts made with genuine leather and dark color are a good choice; for business casual and smart-casual, you could expand to tooled or high polish leather. For casual and daily outwear, feel free to include webbing and canvas and try some light colors.
Also, note that with Black or White Tie dressing, belts are not recommended. Instead, you could consider suspenders.    
2) Borrow the ideas from Men's guidebook or use Sort functions to view Featured/Most popular items on E-commerce retailers.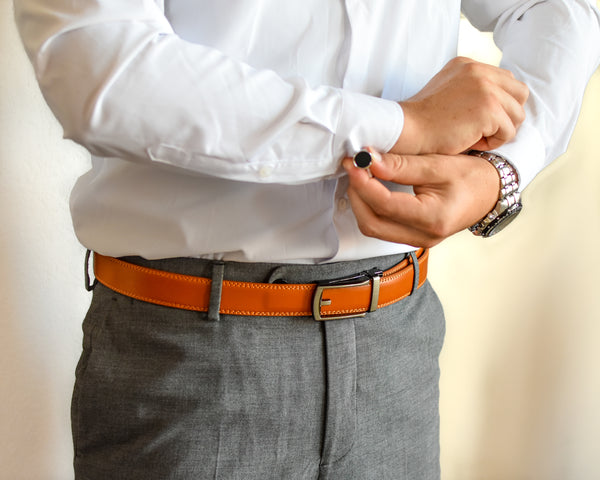 Tip #2: Small & Personal Add-Ons 
Jewelry is no longer Women's only nowadays; with Rings, Bracelets, and Necklaces being introduced and popularized, there is no reason that we exclude them as our personal add-ons.
As a matter of fact, bracelets are mostly like to showcase your true persona and offer an extra bonus for your styling.
Major categories of bracelets include Chain bracelets, Beaded bracelets, Leather bracelets, and Anchor bracelets. Usually, you could wear them separately, especially when you would like to add on some spice for your overall outfit. You can also combine it into a set. 
Beaded bracelets and Leather bracelets are quite suitable for wearing in multiple ones and versatile with casual and business casual outfits.
As for Chain bracelets which are good at creating masculinity and coolness, we would advise you to purchase a classy one with decent quality since it is and can be durable.
On the fancy and styling end, the necklace is not to be missed for sure. Navigate your selections with your style, and add an accent to them. Usually gold necklace is shinier, as opposed to a silver one which is relatively low-key.
You can make the paring decision based on your outfits to compliment your styling. 
There are also other areas for you to explore in terms of Men's accessories, for example, Suit related accessories: Tie, Pocket Square, and more shiny parts like Sunglasses and Hats, which will be covered in our next article. Stay tuned!