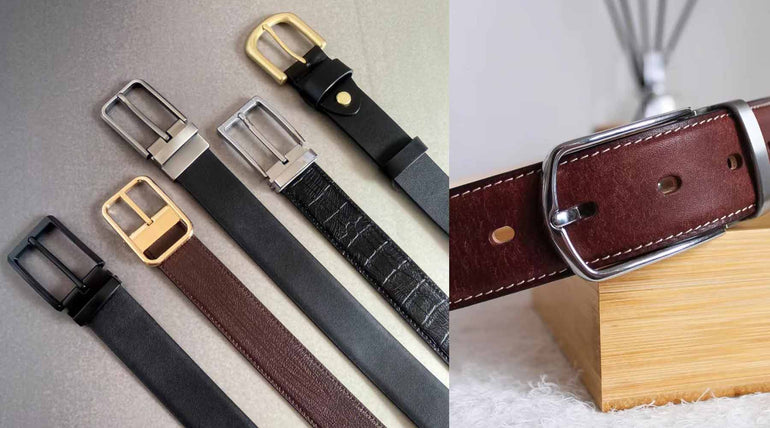 Who doesn't love a good belt? It's a staple in any wardrobe, and it's not hard to see why: belts are functional and fashionable and can be used to accentuate your outfit or provide a bit of structure.
Belts are also a great way to express your style—after all, they're the only part of your outfit you have complete control over! If you want to make a statement with your accessory game, then the right belt is an easy way to do so.
But how to measure a belt for the right fit? Well, don't worry! In this article, we will teach you how to measure a belt and answer some frequently answered questions about measuring belts!
How to measure a belt?
How to measure a belt? Well, the most important part of measuring a belt is getting the correct size. Belts typically have one or two prongs that fit into holes, and the measurement is taken from the buckle's tip to the hole you use most often.
If your belt has five holes, for example, you will take the measurement from the tip of the buckle to the center hole (usually hole number three). Here are some easy steps for how to measure a belt!

Wrap a flexible measuring tape measurer around the waist of your pants or trousers. Make sure not to overlap ends while taking these measurements; hold snugly but do not pull too tight, as this will give inaccurate readings.
After completing step 1, record the result in inches (or centimetres if using metric). This final figure shall be considered the true waist of your trousers' or pants' size.
Examine existing belts that fit well—check where they sit on trouser loops. Good-fitting belts should generally ride in the middle belt loop without sagging towards the backside or pulling the front side upwards.
Measure old belts from the end (not including metal/leather tongue/buckle assembly) till the point where it meets the pant loop -this distance provides a good starting guide when picking a new replacement belt!
For men, 5–7 cm/2-4 inches above the natural waistline works best, whereas women may want something closer to true hip level depending upon personal preference and body shape. 8–10cm/3–4inches tends to provide more versatility!
How to pick the correct belt size?
There are a few things to consider when picking the correct belt size.
The first is your waist size. You'll want to measure around your natural waistline, which is typically just above your hip bones. Once you have your measurement, add 2-3 inches for comfort. This will be your belt size.
The second thing to consider is the width of the belt buckle. Standard belts have a 1-inch wide strap, but if you're looking for something more substantial, look for a wider strap - up to 2 inches wide. Wider straps can help distribute weight better and can be more comfortable if you carry heavier items on your belt (such as a gun holster).
Finally, think about how you'll be using the belt. Any standard width and length will work fine if it's simply for everyday wear with jeans or khakis. But if you plan on using it for more strenuous activities - such as hiking or rock climbing - then you'll want to make sure the belt is made of a sturdy material (such as leather) and has a robust buckle that can stand up to some abuse.
Once you've considered all of these factors, picking the right belt size should be a breeze!

FAQs on how to measure a belt!
1. What size belt should I buy for a 32 waist? 
When it comes to choosing the right size belt, there are a few things you need to take into account.
First, your waist measurement is just one part of finding the perfect fit - you also need to consider the width of your pants' loops and your own personal preferences.
Second, belts usually come in even sizes (like size 36 belt), so you'll want to round up if you're in between measurements.
And finally, don't forget that different brands may have slightly different sizing standards, so it's always best to try on a few different options before making your final decision.
With all that said, let's get back to our original question: what size belt should someone with a 32-inch waist buy? In general, we would recommend going with a 34-inch belt - this will give you plenty of room to adjust the tightness as needed and should still be able to fit through most pant loops without issue comfortably.
Of course, ultimately, it's up to you to decide what feels comfortable and looks good. If you prefer a looser or tighter fit than usual, then by all means, go for something outside of our suggested range!
2. Do you measure a belt from the inside or outside?
There are a few schools of thought on how to measure a belt. The most popular method is measuring from the outside, which is also the easiest way to do it.
To measure from the outside, simply take a tape measure and wrap it around your waist where you wear your belt. Make sure that the tape measure is snug but not too tight, then note down the measurement in inches or centimetres!
3. Is each belt hole an inch?
According to most sources, each belt hole should be an inch apart. This ensures that the belts fit properly and don't slip through too easily.
There are some exceptions to this general rule, though – for instance, children's belts may have smaller spacing between the holes so that they can adjust as needed.
Additionally, if you're wearing a thicker belt (such as a 2-inch wide style), then the holes may need to be spaced further apart so that everything stays secure!
Conclusion
We hope you've enjoyed this blog post on how to measure a belt. We know that there are a lot of different leather belts out there, and we wanted to give you a guide which will help you make the right measurement for your needs. You also can go through how to size ratchet belt from this blog.
Also, if you have any questions or want more information on this topic, please don't hesitate to contact us in the comments below!
Ready to dress sharp and command respect with the right accessory? Click here to discover Tonywell, the Professional Accessories Supplier.