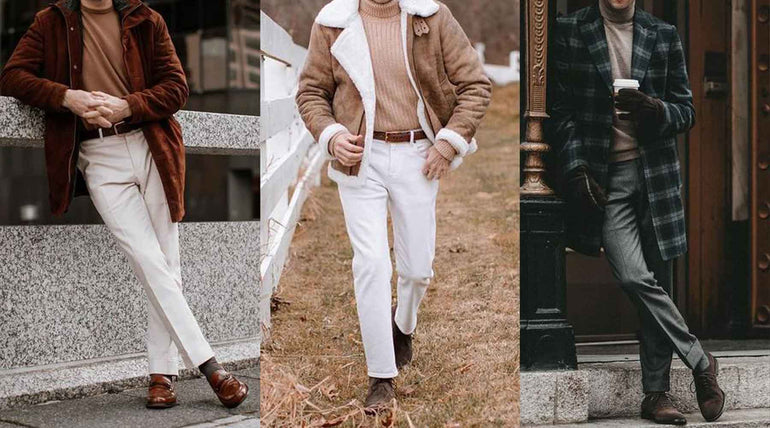 Regarding men's wear in the workplace, suits and ties are indispensable. However, in many people's eyes, serious and formal suits always have something to do with a stuffy old cadre, and it isn't easy to show personal charm.
How to wear fashionable clothes in the workplace with a gentlemanly demeanor and fashion sense without losing texture and high level?
Follow fashion bloggers on instagram or youtube channel, fashion brand. And use these items well, and you can quickly become a stylish man in the workplace.
Suits, coats, shirts, ties, belts, shoes, and other items are essential in workplace matching, but how to show the fashion sense of these items, you must master the matching methods these items. If you wear casually, the things that can be seen everywhere in the workplace will not show the difference between you and others, but after mastering the correct matching method, your style will become more outstanding.
I. From the Inside Out, Choose the Right Suit.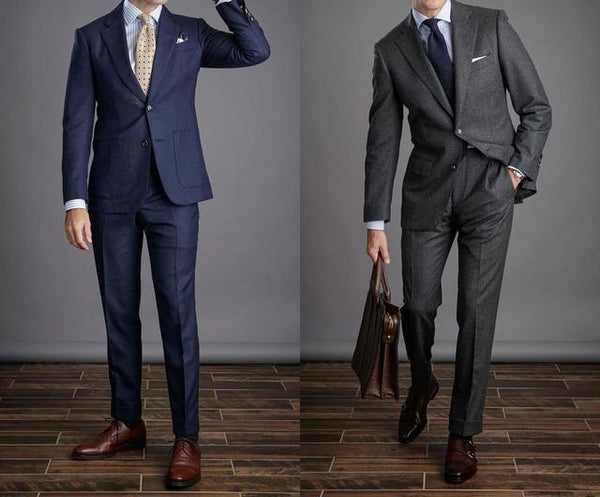 A suit is one of the basic shapes for men in the workplace. The straight suit tailoring combined with smooth fabrics makes the body look more stylish and straight, enhancing the whole person's bearing and Gentlemanliness. When matching a suit, you should not only choose the right Coat but also take into account the inside and create a fashionable gentleman's shape from the inside out.
Suit color determines the style
First, you should choose the right color for your suit. In many cases, boys will take the conservative color of black, gray, or navy blue as the best choice for suits. Indeed, suits in these colors can make the whole person more solemn. With proper tailoring, they present a high-quality shape with temperament without losing texture.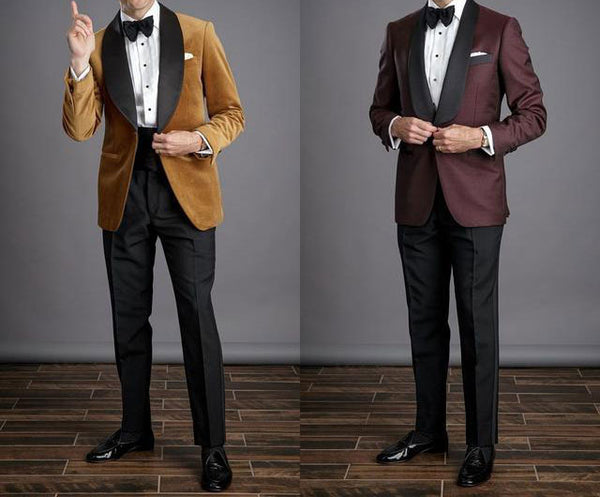 However, you can also be bold and choose some suit colors with a unique personality to make your matching more eye-catching. Warm colors and bright colors are not widely used in suits and jackets. If you choose such tints, you can quickly become the crowd's focus and earn enough return rates. It should be noted that a suit with a jump in color can only show its fashion sense when it appears on the right occasion.
In addition, you can also choose a suit jacket with a sense of grain to make the shape appear richer. Compared with solid color suits, plaid and other decorations will naturally bring a bit of British style to the body, making the matching look more eye-catching and fashionable. Compared with solid color suits with jumping colors, the application scope of textured modeling is also broader.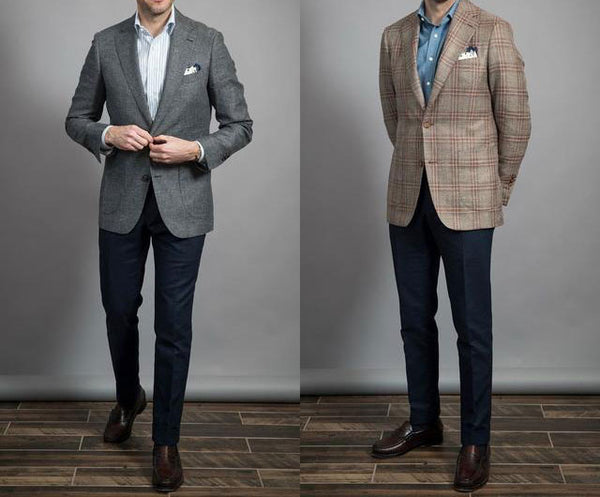 Choose the correct interior for a versatile look
In addition to choosing the right suit jacket, the influence of the interior on the overall shape is also very critical. In fact, the interior of a suit jacket is not the only one. There are not only many choices but also different matching ways. Controlling the interior of a suit can also make the shape more fashionable.
1. Shirt As a Auit Interior
Usually, men in the workplace will choose shirts as the interior of suits, which are matched with ties and leather belts to make their shapes more formal. The suit jacket with darker colors is combined with the shirt with brighter colors, which makes the shape layered through comparison and easily creates a brilliant shape.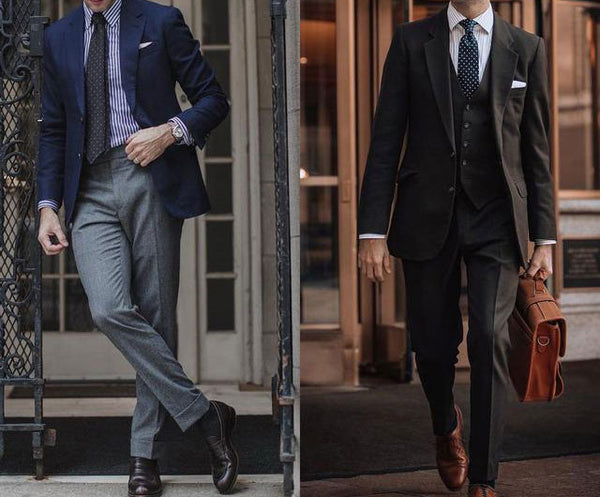 Or simplify the tie and choose a casual way to wear a business suit: unbutton the shirt's neckline to create a slight V-neck. Compared with ties and bow ties, this way of matching will be more easygoing, but the shape will not lose its high-level texture, but it looks simple and generous without losing the propriety.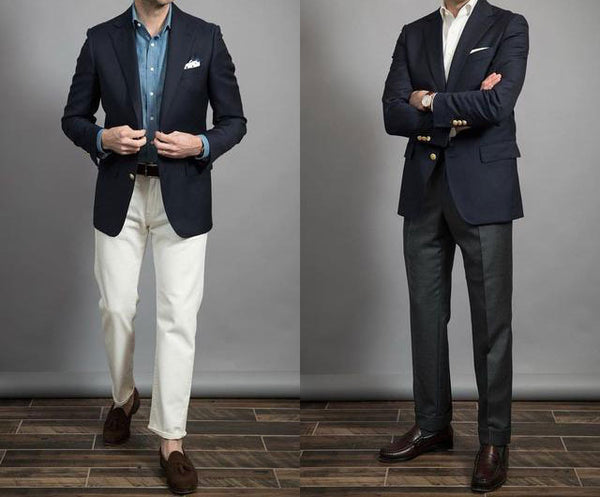 2. Turtleneck Sweater As an Interior
In addition to the shirt, the high collar sweater and the suit jacket can also show an unparalleled gentlemanly demeanor and high-grade texture. Sweaters with soft materials and close-fitting versions will naturally highlight the elegance and warmth of the whole person. This time, combined with the suit and Coat, it will add more male charm and easily create a textured workplace collocation.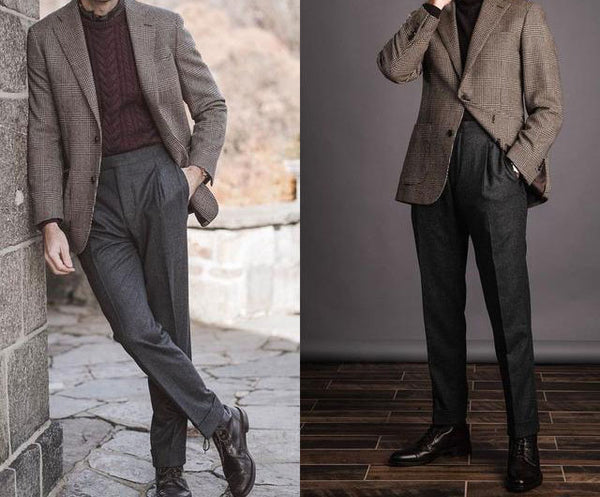 II. Long coats and short coats are also brilliant
When men wear in the workplace, they tend to focus on suits. In fact, you have more choices besides suits. Whether a long or short coat, it is a good item for shaping men in the workplace, and bloggers match it quite well.
 Try on a long straight coat
Tired of wearing suits, you might as well try a long straight coat. The slender version with smooth tailoring will not affect the modeling's formal sense and high-grade temperament. At the same time, it can lengthen the body curve through the straight tube version to make your posture look more refined and tall.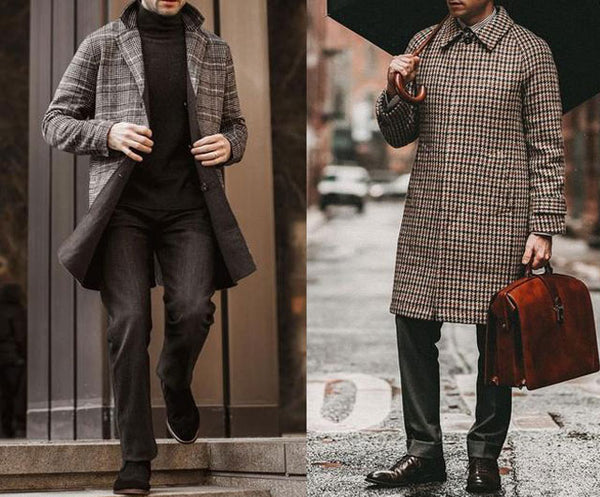 Coat combined with suit set
Or, wearing a long coat directly outside the suit can make the shape look more gentlemanly and high-grade. The fluency of long coat tailoring can add momentum and bring elegance. In addition, this wearing method is full of convenience, which can be folded outdoors. When you take off your Coat indoors, it is still a complete and appropriate exquisite outfit.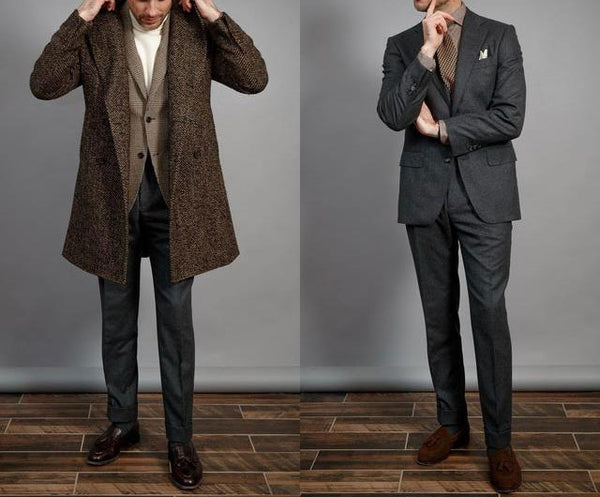 Short Coat slightly increases leisure sense
Who said that wearing in the workplace must bid farewell to leisure? Moderate leisure can make your modeling charm significantly increased. You can choose a short casual coat with a simple design like a blogger to strengthen the everyday sense of modeling, make the collocation bid farewell to stereotype and dullness, and easily create a fashionable and delicate effect.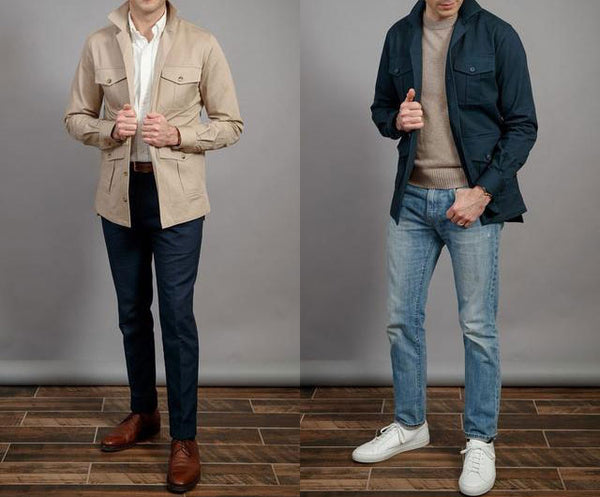 Outdoor, the same simple casual Coat can also create a male style in the workplace. Don't be afraid of the thick material of the single product. As long as the color matching is not too complicated and vivid, and when combined with proper tailoring and appropriate matching, the fashion degree of the shape can soar.
How to wear fashionable clothes in the workplace? Follow bloggers to master these fashion items and learn these wearing methods, and your style can become delicate, decent, stylish, and textured. You are easy incarnate the template for men in the workplace
Ready to dress sharp and command respect with the right accessory? Click here to discover Tonywell, the Professional Accessories Supplier.