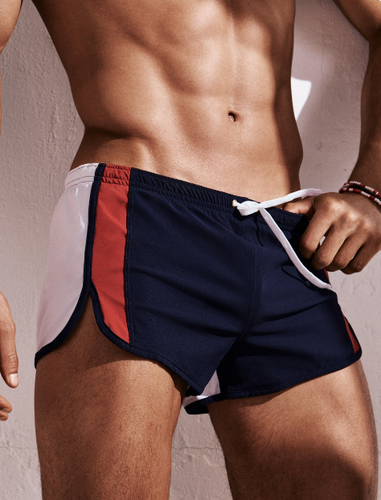 It is summer again. We sweat, get wet, and get sticky on the body. Summer is my favorite season of the year in that it is a time that girls get to have fun with dressing, skirts, shorts, hot pants, flip-flops, And so is it for men. People may still believe that dressing is a girlish thing, and men are not allowed to dress up even in a playful season like summer, so they don't get the most out of it! This is not fair. Men have the equal right to dress as girls and should bear in mind that they must make themselves look good for their benefit of themselves. Summer dressing for men, like that for girls, has plenty of choices. You can nail a look which dresses you comfortably and give people a sense of fashion at the same time. 
Let's start from the bottom, the pants. For men to be dressed in summer, traditionally, there are jeans, khaki shorts and swim trunks of medium length. But in real life, you may have more choices apart from these. You can wear a pair of light-washed jeans in summer because they are the basic foundation for bright colors combination. Their bleached or faded shade of blue is why you should wear them in summer because they make it summerish. You can choose tight jeans or the baggy type of jeans, whichever fits your physical body shape or make you feel cooler. Jeans are better for going with a casual belt. Based on the shoes you wear, if they are dark, you can pick a dark-colored belt. On the top, you can match it with whatever attire, as long as you like it. Usually, younger men will wear a solid-colored polo or T-shirt. If you want to add the look with some twist, you can wear a shirt with a loud print in bright colors. That surely will make you different from the others.
Chinos are a very popular alternative for jeans in summer. Because they are made of 100 % cotton in a twill weave, and they have solemn colors such as dark green and gray, it makes them both a casual piece and a formal statement. When you wear chinos, you have many options on the plate. You can wear a white shirt or shirt in other solid colors per the color of your pants, or you can wear a simple T-shirt with a distinctive print on the front. Here are the common colors for the chinos: gray, black, white, dark green, navy blue, shallow brown and beige. Here is an example of how to match chinos with a T-shirt: A pair of dark green chinos with a black T-shirt or gray chinos with a white T-shirt. Khaki chinos are the panacea color for T-shirts of all colors, whether purple, red or yellow, and you can look cerebral like Sheldon and hip in the meantime. For chinos and jeans, you need to wear a belt. Click here if you don't know how to pick one.
 

Summer Swin Trunks For Men
Swim trunks are for sandy beaches and pools. The good thing with swim trunks is they are fast to put on. You often see them with an elastic band or rope on the waist to fasten the shorts around the waist. They have multiple colors, lengths and patterns. Long, medium-long, solid colors, Hawaiian print or simple, bold letters on the hem, etc. You have more than enough to choose from. If you wear swim trunks, you can wear T-shirts or strip naked on the top, which constructs a sexy look, only if you are at the pool.
 Tip for Formal Summer Looks

Enough with the casual looks. Let's share some insights on formal summer looks. When the business meeting is unavoidable, and you have to appear in formal business attire, but at the same time, you must keep it breathable and cool, what should you wear? It is easy. For the top, pick a short-sleeved business shirt and wear regular suit pants on the bottom. Skip the thick fabric, like wool and opt for the breathable fabric so that your legs won't sweat heavily. Whenever you wear suit pants, you must wear a belt. However, you don't have to pick a formal one, since it will make people and the environment a bit rigid. Go with a casual one instead, or you can click here for more information on belts. You need to know beforehand that you don't need to wear a tie unless it is a long-sleeved dress shirt and formal suit you are wearing. A summer dress shirt and a necktie look a bit overdressed.