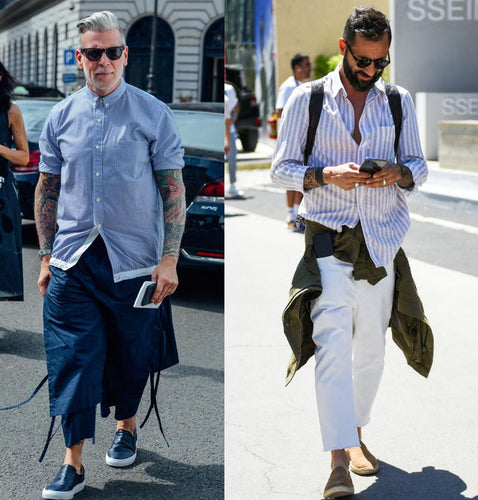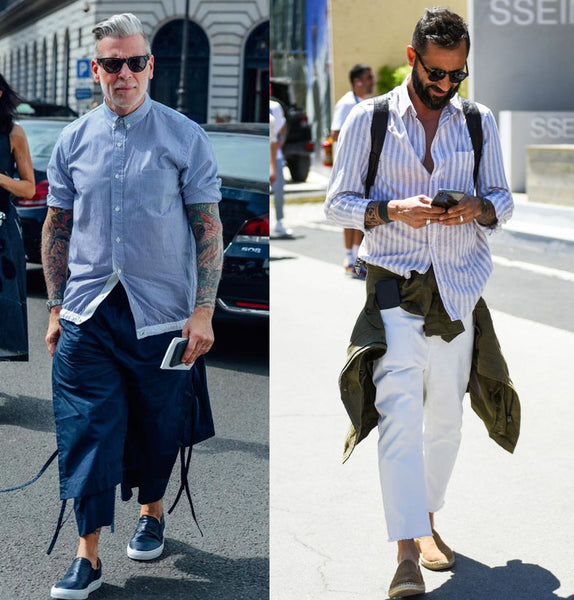 A shirt is a single versatile item. Fashion people often welcome it. In terms of style, The essential components of shirts are solid colours and stripes.
Although the two styles are similar, there are significant differences in appearing. Compared with the pure colour shirts, the striped ones can eliminate the worry of "conservatism" after wearing them.
I. 2 Ways to Wear Striped Shirts
The first type of basic wear is a full button-up shirt. Without any skills or too much difficulty, this method is helpful for men who do not have ideas in daily dressing. A simple striped shirt with a pair of casual pants makes the street look simple in spring and summer.
But it should be noted the collar part. Men, whose neck and shoulders are not very thin, should leave some space for the neckline. A slight V-neck can reduce the depression of the upper body, improving the body line.
The layering wearing is familiar to everyone. As a common way to wear in winter, it is also practical for shirts. Layering Striped shirts on light-coloured T-shirts will create a superimposed effect. It is prominent for both functional and stylish. If you're outside and it gets a little chilly or hot, you can close the buttons on your shirt to get protection from the cold or the sun.
The overlapping method is not easy to make mistakes. To maintain a balanced state, you should note that the inner matching type should be suitable, not too wide or too narrow as much as possible. If you are a skinny man, it makes you look a little less thin because it adds a bit of bulk to your upper body. But it also helps to cover up a bit from showing fatter.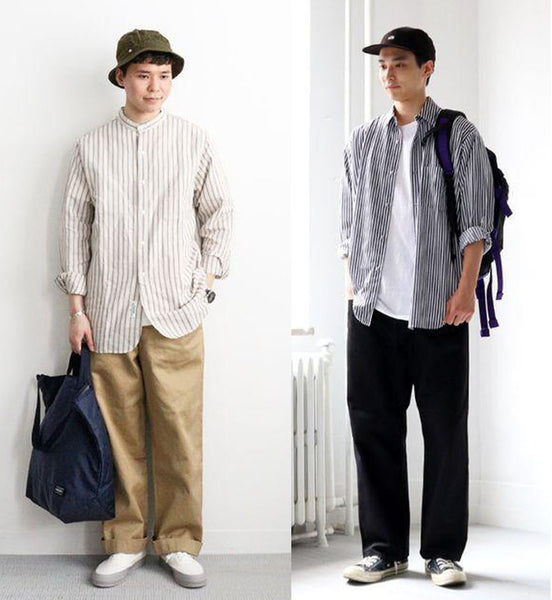 II. 4 Ways to Style Striped Shirts.
Striped Shirt + Khaki Overalls
Overalls are indispensable in summer. Khaki is warmer in colour, so it is more suitable to use lighter colours when matching to weaken the cumbersome visual atmosphere. Matching with a khaki canvas belt to better show the body proportion. And the colour is consistent with the overall matching.
Striped Shirts + White pants
How does the striped shirt of the blue series not have the effect of wearing a patient suit? Wearing a white belt makes people look energetic on the whole. The silver buttons make people feel visually cool in summer.
In summer, a suitable pair of shorts is essential for a man afraid of heat. The short-sleeved striped shirt, with loose and straightforward black shorts, built a profound and generous shape. It has a strong sense of age reduction while being casual. Even short boys can wear it. Paired with a nylon belt gives a sense of light-weight in summer.
Striped shirts + Black Loose Pants
When you can't find a way to wear it daily, the trendsetters must have loose black pants, which can help you eliminate the trouble. This type of pants can effectively show thin and versatile. With a black canvas belt appears the body proportion the lengthens.
The pure white T-shirt is the inner layer, and the black-and-white striped shirt is used as the outer layer. Such a niche style is not monotonous. The versatile black loose pants are the lower layer, and the black nylon belt is matched. The whole body dress well sets off the fashionable and juvenile sense, and the style is the ultimate, fresh, casual and handsome.