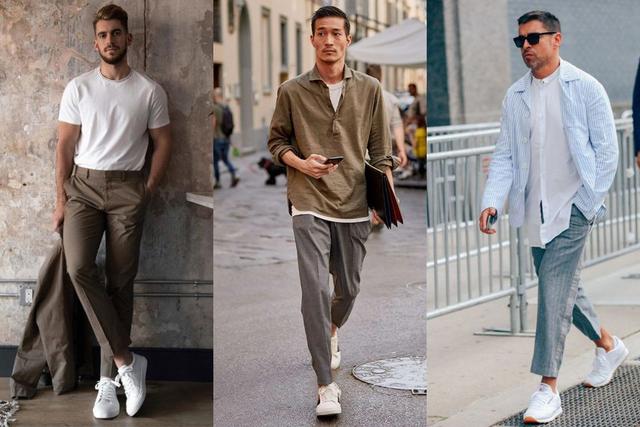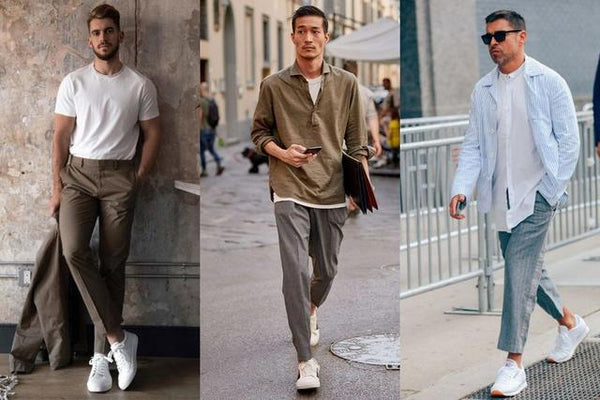 When it comes to suiting pants, people tend to stereotype that they can only match leather shoes, are suitable for formal occasions, and are the favorite of middle-aged men. In fact, there is no limit to fashion. Each item has its own unique and novel collocation, such as suit pants.
The versatile white shoes have a tremendous age-reducing effect. At the same time, the light color matching and simple and generous style also bring some freshness to the hot summer days. Matching the white shoes with suit pants and accessories like a metal belt can form a very fashionable combination: comfortable, chic, and exquisite!
In fact, no matter the style of suit trousers, material or the type of white shoes, you can make changes to create different styles. White canvas shoes are more youthful and energetic, while leather shoes with leather belts are more weighty and can avoid being top-heavy. The looseness of suit pants will also affect the overall dressing effect.
At the same time, there are various ways to wear the combination of suit pants and white shoes. You can get in place quickly with this combination no matter what style you want to take. Don't you get it quickly?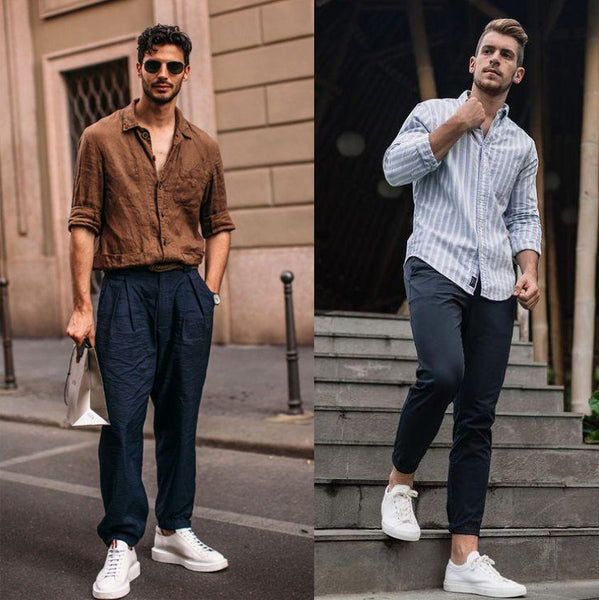 Different designs, different styles
The combination of suit pants and white shoes sounds simple, but many matching skills and choices need attention. The two have many different styles. When they are combined, they will naturally construct different types. At this time, they should choose according to their own temperament.
Light and breathable canvas shoes are the representative items of preppy style, which will show lightness and vitality after wearing them. At the same time, pure white canvas shoes will give people a refreshing feeling. Therefore, in the combination of suit pants and white canvas shoes, ensuring the clean lines of suit pants is the key to maintaining the whole handsome and energetic.
The suit pants with pleated waist and hips are more comfortable and more inclusive to the body. For some men facing the dilemma of getting fat, the slightly loose waist, and hip lines avoid the embarrassment of tight bondage, while the convergent trouser legs and the metal texture of the belt show temperament, which is suitable for both formal and leisure.
Ultra-loose wide-leg trousers are representative items of leisure fashion and remarkable style. It is not appropriate to use too thin white shoes, but a type with a slight sense of massiness should be selected to support the wide trousers and avoid being carried down by top-heavy shoes.
Choose the material that suits you
Style choice significantly influences the overall temperament, while the material affects the style effect. You can achieve both appropriateness and fashion by choosing suitable materials.
Conventional trousers material is a mistake-free choice, with moderate thickness and smooth fabric, making the overall temperament more formal and making the whole person more stylish.
Chiffon, lighter and thinner than suit material, has a more drooping feeling and looks more breathable. Even if you choose a dark color, it won't make others feel dull. Of course, when the temperature is soaring in the summer, this material is also quite comfortable, and it is difficult not to wear a sense of fashion with the clean and refreshing white shoes.
The material of overalls often matches the ultra-wide version. The formal feeling will be slightly inferior to suits and chiffon, but it can be more carefree. However, the material of overalls often has a certain sense of folds, which will make the overall collocation more hierarchical.
The above three materials are the most commonly used in suit pants. The thin corrugated material is worth trying if you want to show your unique personality. Vertically extending pleated lines make the lower body more slender while matching loose trousers is more casual and natural, and matching white shoes and belts is comfortable and fashionable, which is quite eye-catching.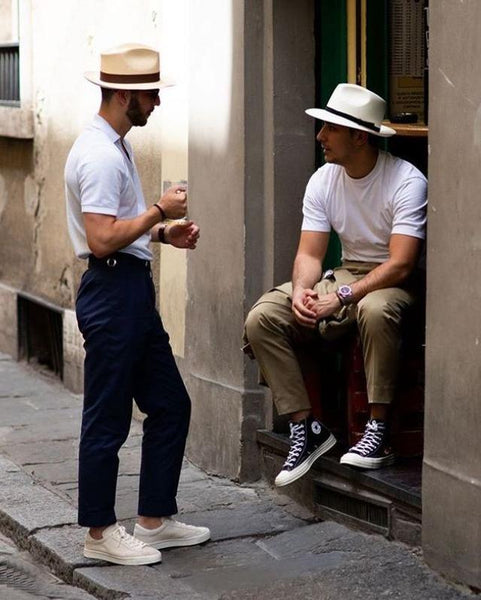 What kind of top to match
After getting the combination of suit pants and white shoes, we should consider how to wear them brilliantly. There are different choices in both the selection of tops and matching them.
Color matching should be harmonious and natural
Most of the time, men will choose a pair of versatile black trousers. At this time, they can select T-shirts with the same color matching as suit pants to highlight the overall feeling, while the exact color matching simplifies the connecting lines of the waist and avoids dull and bloated feelings. At this time, white shoes can brighten the overall color matching, and it has the effect of relieving boredom.
Color reference is also a common technique when choosing color matching. If you select dark bottoms, the proportion of white shoes on bases is relatively tiny. You can match it with a pure white T-shirt to make the overall collocation more hierarchical, and the color matching is quite harmonious.
Of course, the jacket can not only choose solid colors, but also the coat with printed patterns is a high-quality choice to add fashion sense and make fashion sense burst. As long as the color matching is not too abrupt and the overall tone is consistent, you can quickly master fashion!
Adopt corresponding materials
In addition to color matching, when choosing tops, you can also use materials that correspond to suit pants to make the overall matching more harmonious. For example, suit pants with a wrinkle sense can be matched with the same  vicissitudes of the top and an adjustable belt. The overall style is entirely integrated, more energetic with versatile white shoes.
Suit pants have never been exclusive to middle-aged men, and leather shoes have never been a fixed match of trousers. Try white shoes, and you will find that the combination of trousers and white shoes can be so fashionable. This summer's fashion trend is easy to handle!