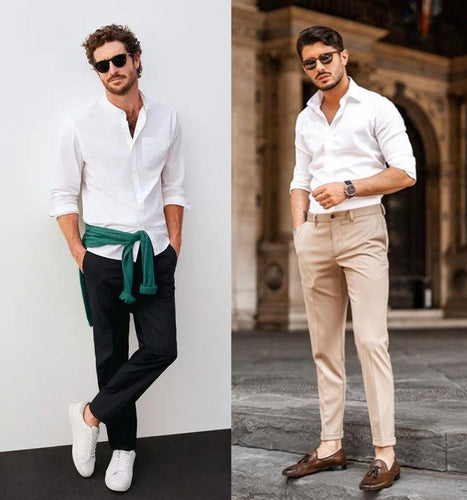 Often, the shapes created by some simple items can show your clothing matching ability, just like the simple white T-shirt, white shirt, and white shoes in summer. Although these three items seem very monotonous, some fashion masters can use them to create exquisite and perfect shapes.
And some buddies, it is precise because the style of such pieces is very simple, so they do not have too much inspiration for collocation, and the shapes they create appear monotonous and boring. In fact, in the fashion circle, every item has its charm. Only when you can wear it can you show its characteristics and advantages.
White Shirt, white T-shirts and white shoes are three classic white items. Their most prominent feature is good versatility, but their simplicity will test everyone's matching skills. So often, a man's fashion choices are good or not. It can be seen at a glance how he wears these three white items.
Similarly, these three items are very versatile, so they are very popular with fashion masters. They can be seen in different styles.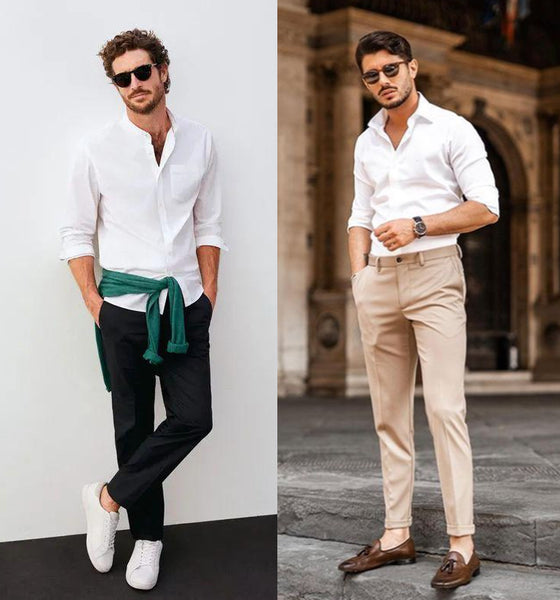 The white shirt is not as stiff as you think
In most people's eyes, the white shirt is a very rigid and conservative piece, which can only be used to create a formal or business style. In fact, the shape of a white shirt is also very flexible and changeable, which can create different charms through version, fabric, and combination.
Change of collocation
It can show fashionable charm when worn on fashion icons like this seemingly formal white shirt. With slim black pants and black-and-white shoes, the overall black-and-white tone of the shape makes the shape very stylish.
The white shirt that fits with nine-point trousers makes the shape look calm, suitable for some office men. But at this time, the pattern of pants and the style of leather shoes will also affect the overall effect. For example, cropped pants, loafers, and belts are the perfect combination in summer. The shape is calm and will not appear too rigid.
A change in style
In addition to the loose and narrow changes of the version, a simple white shirt can also have different characteristics in the collar, placket, hem, and pocket. Many times, these details make the shape different.
Just like this small stand collar style, it will obviously become casual. The shape will look fashionable when matching it with 9-point trousers and small white sports shoes. Therefore, when choosing a white shirt, you should pay attention to the changes in these details.
Characteristics of fabrics
In summer, some cotton and linen styles are also trendy. This kind of fabric has good breathability and is more comfortable to wear, but also the texture of the material will be more casual, so the shape will not be dire.
Whether used with jeans, shorts, or casual trousers, this style is very versatile and can show different fashion styles.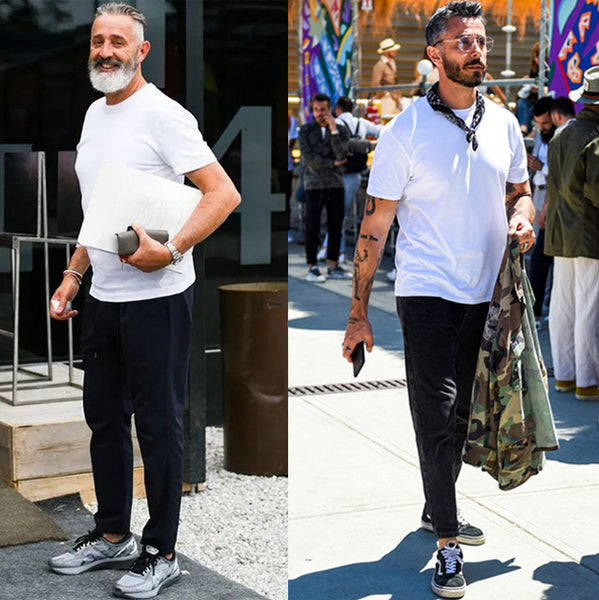 The white T-shirt should be chosen according to personal style
The white T-shirt can become a piece with a very high appearance rate in summer because it is comfortable and simple and because it has an excellent effect. It can present a simple and elegant fashion charm.
Among them, the most significant change in white T-shirts is the version and fabric, which will directly determine the comfort and fashion of the shape. Therefore, the white T-shirt that seemingly looks the same should also be selected according to its style.
Choose fit, not tight
Many people are still vague about the change of the T-shirt version. In fact, there is still a big difference between the tight and regular fit versions. Fit style is more versatile and can be matched with different styles of trousers. On the contrary, the slim style is easy to show the characteristics of the body, which is not very friendly to those who get fat.
The style of a white T-shirt with casual trousers is also a must for gentlemen. This combination is very suitable for summer. The shape creates a calm and elegant charm and has a fashionable style so that the matching of the white T-shirt will not become monotonous and boring.
The loose shoulder style is suitable for a youthful look
Some loose shoulder-falling versions can make the shape more fashionable, which is very suitable for some young and stylish people. Generally, wide fabrics can be used to look heavier so that the straightness of the shape will become better
The loose version is matched with trendy trousers such as shorts, sweatpants, and overalls, and the effect is outstanding, which can create a young and energetic side.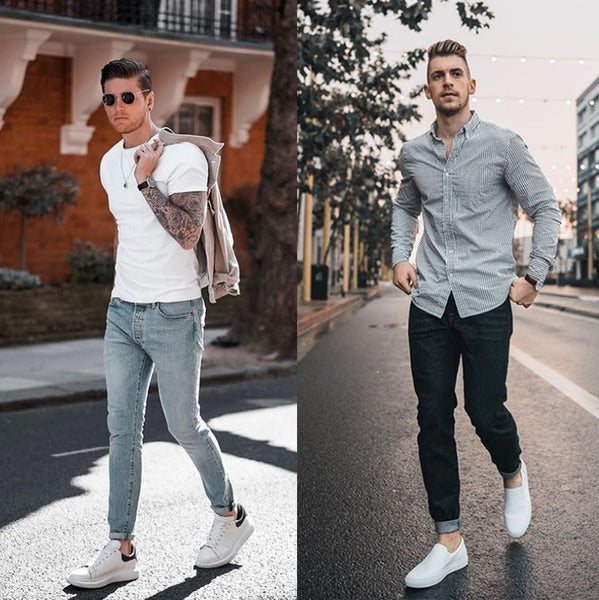 The "panacea" in the matching of small white shoes
If you "step on thunder" when matching small white shoes in image shaping, then there must be a sense of disobedience in modeling. Small white shoes have always been very versatile and can play the role of "panacea." But if you want to make the shape more tasteful, then the small white shoes and suitable belts should be perfectly coordinated with the overall style so that the shape will look more exquisite.
When choosing wide-leg pants, some small white shoes with low tops and flat soles are good choices, which can better ensure the overall visual effect of the shape and easily create the fashionable style of literature and art.
With a pair of white socks
In today's trend, large white socks with small white shoes are a bright combination, which can easily show the charm of the trend, but at this time, it should also echo and coordinate with the style of clothes on the body, so that the shape can be seen as a whole.
The shape of small white shoes can be smaller when matching with slim-fit pants.
The size of shoes can also be selected according to the version of the pants. For example, when wearing slim-fit pants, the shape of the shoes should not be too large. After all, there are many styles of shoes. Although they are of the same size, their sizes are different in different types. If trousers are slim, match them with a pair of shoes with a larger volume, so the overall visual effect will appear uncoordinated.
When the color of shoes and the hue of shapes are combined, and the color of shoes and belts are combined, the figures will look more rich and layered. The combination of white T-shirts and jeans can easily create a simple and fashionable style. So buddies, in summer, put these three white pieces on properly, which can also show your ability to wear clothes.