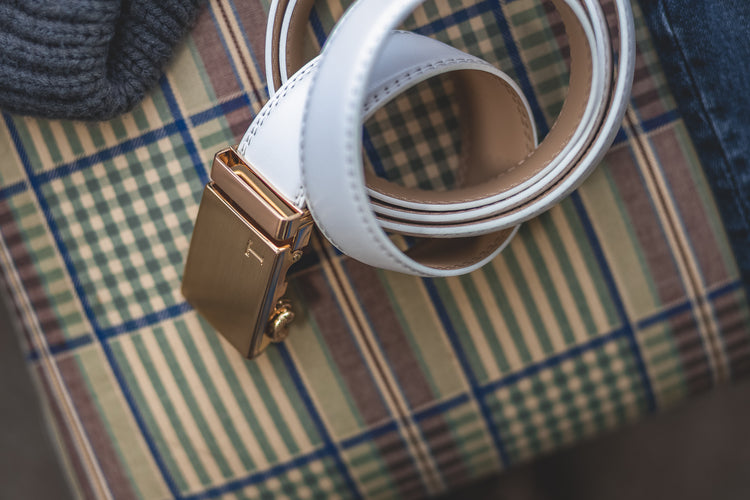 Are these questions bothering you?
Is this belt wrong?
Is it okay to wear pants without a belt?
How to match the suit with a belt?
What kindly of belt matches my jeans?
There are confusingly many regulations regarding men's belts. But most can be broken if you know how to do it.  Here, we offer you the guideline for men's belts. The following shows you some incredible tricks about how to deal with the belt.
Advantages of the belt
As a fashion accessory, the belt indeed is mainly used to hold the wearer's trousers in place. If you skip the belt, your pants may fall down, especially if they're too big for your waist. As you can see, there is a crowd of fashion-crazy men wearing a suit with fancy belts. It creates a more complete and stylish outfit that others can impossibly do. Attractive combinations, such as a black belt with jeans or a white belt with jeans, can make women attracted to you.
Is the belt a must for you?
It's important to remember that a belt isn't just a fashion accessory. It's there to make your pants fit your body better. So, wearing a belt can also give your slacks a better fit. If you don't know what to do, we also recommend wearing a belt. A solid black or brown belt and matching shoes will never be completely wrong in any crowd or space. But this is not always the right choice. A belt will make you look great if you're wearing the same color, especially in casual wear. It's a great way to create contrast, so your shoes don't stand out too much. You can also use belts to add texture and interest. The more you think about what your belt is for, the more likely you will find the perfect belt for any occasion or everyday wear. If you Always missing a belt to match your whole look, why not check Tonywell. We offer you a wild range of belts for your preference with first order 10% OFF and FREE SHIPPING ON ALL ORDERS.
Here we are going to talk about whether we should or should not wear a suit with a belt.
At the beginning of the 20th century, men did not wear belts. They don't even have belt rings in pants! Instead, they put pull rings on one side of the pants to adjust the waist size eventually. They use curly suspenders to fit pants. Belt loops became the "thing" of men's fashion when mass production and standardized size came into play. To this day, bespoke clothing without belt loops is still popular. The best way to skip the belt and create a minimalist version is to have your pants that fit your waist perfectly. Because the belt increases the waist area, it blends in with the rest of the body. If without the belt, you will get smoother contours. 
Basically, belts are not suitable for extremely baggy pants, nor should they be used as a lifesaver for overly baggy pants. Tightening the belt affects the fabric and can also make you look sloppy. You should give the pants to the tailor and let them deal with your pants.
Separates often look better with a belt, which draws people's attention to the other pieces of your outfit. A blazer and pants form a continuous line that makes you look taller and thinner, while a belt makes you look shorter and fatter. Breaking your lines is actually a plus if you're tall and thin. Belts can add visual interest to suits and clothes. If you have a very creative belt, try it out and see how it goes. After all, the belt itself will still make you look shorter, just less so. If you like to wear one piece of clothing, it's worth wearing a suit every now and then.
While modern, fashion-forward men think that a suit without a belt will have better lines and a more formal look to show off your cut. But older or more traditional men might say you must wear belts and suits together. Does a suit need a belt? That is more up to you than a hard and fast rule. However, the fashion rules of modern people are more and more "do whatever you want". So if you think a belt makes a suit look perfect, wear it. 
I highly recommend the Tonywell Men's Genuine Leather Ratchet Belt with Automatic Buckle. We offer to customize your ideal waist size with 32-inch to 45-inch waist sizes, and you can cut the belt strap by quickly following the size markings on the strap to wear within minutes. Match with casual jeans, party costumes, and bridegroom wedding attire for daily wear.

Jeans as workwear originated in the early days of ready-to-wear. Workers don't have tailors to make their pants fit perfectly, so they need a belt for support. Jeans look weird without a belt. Jeans are also the original symbol of men's casual wear, although you can wear them with suit jackets and business casual wear. Keep in mind that jeans were designed for work, so the belt is the only standard used to adjust the fit of jeans. I suggest a wider and thicker belt than a suit in honour of tailors.

Those Automatic white Buckle Leather Belt for Man are made of 35mm(1 5/8") wide, smooth leather with no needless holes to crack or wear out. And it is easy to use by sliding the belt into the buckle and pulling the strap through. The click buckle simply auto-locks the belt.
But, as you can see, it comes down to a fashion choice. Some would argue that while a formal shirt and jeans should come with a belt, you can wear a casual T-shirt without a belt. But wearing a belt or not depends on how you feel about your appearance. The type of buckles you wear with your outfit and whether you wear a tight belt will also determine the form or appropriateness of your outfit. 
From formal to casual, belts are an excellent choice for men. Chunky people look good in these clothes because they make people's eyes look up and taller than they really are. Remember, belts should also fit your body shape. Don't worry about finding the perfect belt. Read "HOW TO CHOOSE A PERFECT MEN'S BELT" and find a belt you like. 
To belt or no belt, that is a question. After all, it naturally comes down to you and your preference. Check out Tonywell, you will find you the right answer.